Australia's spectacular palm cockatoo is being put at risk by proposed bauxite mines, conservationists have said.
The Cape York palm cockatoo, Australia's largest cockatoo, is listed as vulnerable under Australia's federal environment laws. About 3,000 mature birds are thought to exist, and their numbers are declining.
It is considered a distinct subspecies of the palm cockatoo, which includes another subspecies found in Papua New Guinea.
One of the key threats facing the bird is loss of habitat from mining bauxite to make aluminium, according to advice given to the environment minister, Greg Hunt, in 2015 by the government's independent threatened species scientific committee.
The advice recommended that Hunt "ensure impacts from mining activity do not further reduce the amount of available breeding and foraging habitat". Despite that, it found 85% of the palm cockatoo's woodland habitats were covered by mining or exploration leases.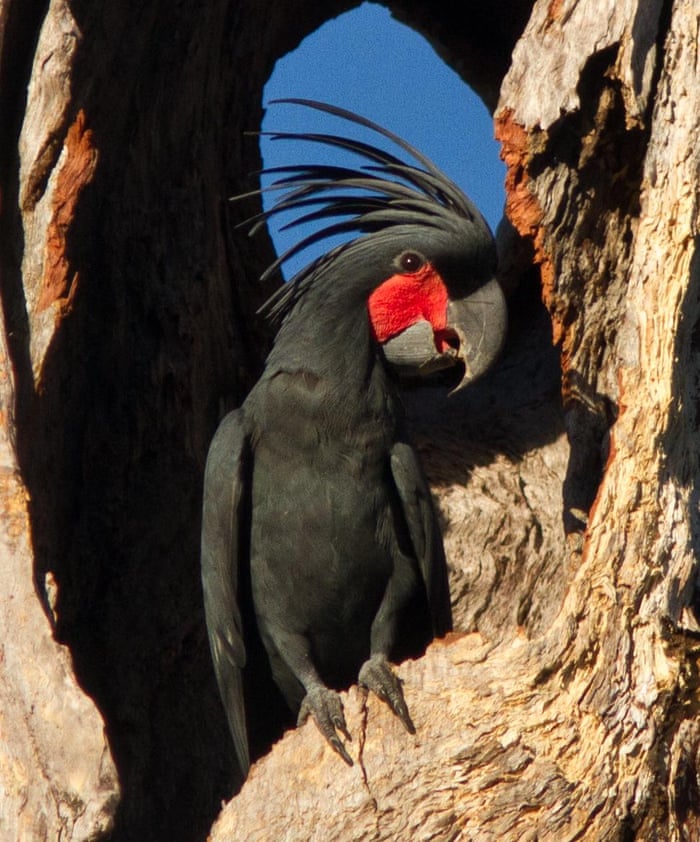 Under current environmental laws, the cumulative impact of mining could be considered, but to do so a regional strategic assessment needed to be conducted, which was rarely done. And under the Coalition government, those laws were being weakened as part of a policy to cut "green tape", and devolve approval powers under federal laws to state governments.
Australia is the largest producer of aluminium, and prices have increased as demand from China rises. Australia's biggest aluminium resources lie in Weipa in Queensland, in key palm cockatoo habitat.
Andrew Picone, from the Australian Conservation Foundation, said the palm cockatoo was an example of why a new set of stronger federal environmental laws were needed, which routinely considered cumulative impacts.
He said although each individual proposed mine might have an insignificant impact on the overall population, the cumulative impact would be huge. And with the price of aluminium ore increasing, the threat could increase.
"The fact that it's already listed under the EPBC act, that in all likelihood, unless we change the threats, it is going to go to extinct," said Picone.
"[Australian Conservation Foundation] is calling for a new generation of stronger national environmental laws – ones that can give strength to the identification of critical habitat and ensure that that information then informs planning decisions and resource use so that we can protect the key areas that are essential for these species."
Labor has said if elected it would retain federal oversight of national laws, and the Greens have pledged stronger laws and the establishment of an independent federal Environment Protection Agency.
This article was first published by The Guardian on 09 Jun 2016.