Barn owls suffered their worst year on record in 2013 as they struggled in the bitterly cold spring, conservationists have said. Results from barn owl monitoring schemes around the UK revealed the number of sites where nesting took place last year was significantly down in every area compared to previous years, and some surveys found no nests with eggs in at all.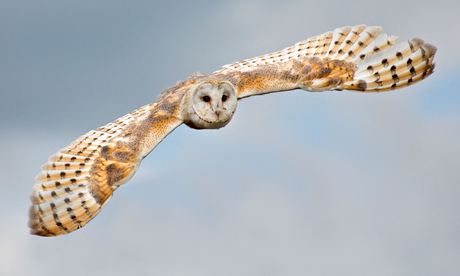 Overall the number of occupied nests was down 71% on the average across all previous years, according to the Barn Owl Trust, which collated the information from 21 independent groups stretching from Jersey in the Channel Islands to south-west Scotland.
A survey in Berkshire which normally finds 14 nests in use and a surveyor in Yorkshire who normally finds 25-30 occupied nests both found none at all, while surveys in Buckinghamshire and Sussex were both down more than 90% on normal levels.
Conservationists described the situation as the "worst year ever recorded" for the flagship farmland species.
The dramatic drop in nesting was largely down to the freezing spring in 2013, with the coldest March since 1962 which left many barn owls dead, a report by the Barn Owl Trust said.
Almost four times as many dead barn owls were reported to the British Trust for Ornithology in March 2013 than normal and by mid-April it was possible that there were fewer barn owls alive in the UK than at any time since records began, the report said.
David Ramsden, senior conservation officer for the Barn Owl Trust said: "It's a lot to do with the fact that March was like January. Just when it should be getting warmer and mortality should have been dropping, it continued."
The icy weather, which reduced the availability of the bird's small mammal prey, was the latest in a series of extreme weather events going back to 2009 which had hit barn owl populations, he said.
"If we stop having frequent extreme weather events the population could recover in a couple of years to what it was before the extreme weather events began in December 2009."
But even those population levels were not terribly high, as the barn owl had suffered a historical decline from the mid 1800s through to the late 1980s, as a result of increasingly intensive agriculture which affected barn owls' habitat and prey.
A survey in the late 1990s revealed there were around 4,000 pairs.
Ramsden said the population had probably increased from that level in the face of early springs and mild winters over the past decade or so, before being hit by a string of extremes starting with the very cold winter of 2009-10.
Whether the barn owl could recover from the record lows seen in 2013 would depend on whether climate change would mean more extreme weather conditions, with cold winters affecting barn owls more than wet weather or drought, he said.
Land management also played a role, he said, adding that creating habitat for flagship species such as barn owls would also boost other wildlife such as birds and butterflies.
This article was first published by the Guardian.