Exotic bee-eaters have had their best ever breeding attempt in the UK with eight chicks fledging from two nests, conservationists said. Two pairs of the brightly-coloured birds, which are normally found in the Mediterranean, have nested on the Isle of Wight this year.
Three chicks fledged from one nest on National Trust land, in a small valley on the Wydcombe Estate, and another five from a second nest. There were originally thought to be nine chicks, but one did not survive. An adult bee-eater was first spotted at Wydcombe in mid-July by dragonfly survey volunteer Dave Dana.
A nest – a burrow in the ground – on the estate was located and a 24-hour operation to protect the site from egg thieves was launched by the National Trust, RSPB and Isle of Wight naturalists. Their efforts paid off, with chicks first sighted on 15 August. The second nest, on nearby farmland, went undiscovered until last week.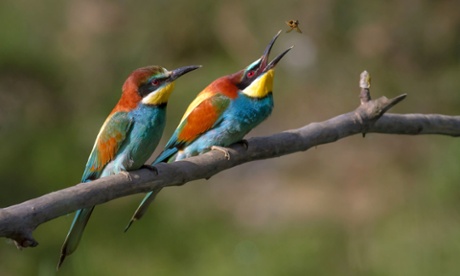 National Trust film of Mediterranean Bee-eaters breeding on the Isle of Wight
Dana said of his sighting of the adult bird: "I'd just come from counting golden-ringed dragonflies at a stream and I thought 'that bird looks a bit different!'. Its flight path seemed almost triangular. I didn't really appreciate the bird until I got home and looked at the photos.
"I'd always wanted to see a bee-eater in this country but I never thought it would turn out to be a major wildlife event."
More than 3,000 people have come to see the bee-eaters since news of their nesting attempt broke, with part of the site opened to public viewing once the eggs had hatched and the threat from egg collectors had subsided.
With eight chicks from two nests, it is the most successful breeding attempt on record by the birds in the UK. The last successful attempt, in County Durham in 2002, produced two chicks, and was the first for 50 years. Before that two pairs raised seven young in Sussex in 1955.
The birds are expected to leave for southern Africa within the week, flying thousands of miles to reach their winter feeding site, but they – and other exotic species – could be increasingly seen in the UK, according to experts.
National Trust wildlife adviser Matthew Oates said: "Climate change may well lure other Mediterranean birds, and migratory insects, to our shores. There are exciting times ahead for UK nature lovers.
"Bee-eaters are usually faithful to breeding sites so we're hoping that they return in 2015, but this will be dependent on weather and other perils of migration that birds face."
Keith Ballard, site manager at the RSPB's Brading Marshes reserves on the Isle of Wight, added: "To have four bee-eaters arrive on the Isle of Wight, nest safely, and return as 12 is a fantastic result, exceeding all expectations. It's been hard work but a great pleasure protecting these birds whilst allowing people to enjoy seeing them as well."
This article was first published by The Guardian on 02 Sep 2014.