The warm and sunny summer of 2013 enabled British farmland butterflies to bounce back from a crash in numbers in 2012, a new survey has found. Results of the Wider Countryside Butterfly Survey (WCBS) show that the majority of farmland species have recovered after the worst year on record for butterflies in 2012, when 52 out of 56 British species monitored suffered declines as a result of miserably wet weather. Individual species that recorded an increase in 2013 included the brimstone, common blue, small and large skipper and small tortoiseshell.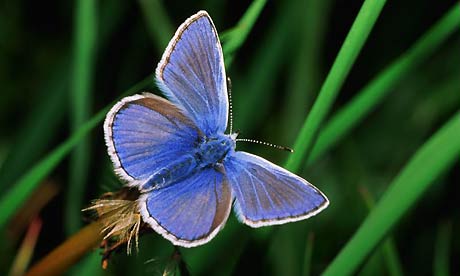 The annual survey, conducted by a coalition of conservation agencies aiming to assess the health of butterfly populations across the wider countryside, counted butterflies in more than 850 areas of 1sqkm in England, Wales, Scotland and Northern Ireland during July and August.
Recorders saw an average of 85 butterflies of five species per survey during the two-month period – almost double the numbers recorded in 2012.
After a harsh winter and delayed spring, the summer of 2013 was among the 10 warmest summers since records began, with 588 hours of sunshine making it the seventh sunniest summer. A prolonged heatwave in the middle of July saw temperatures regularly passing 30C. In contrast, 2012 was the UK's second wettest year on record, with downpours and flooding.
Wet and windy weather disrupts breeding, with butterflies sometimes dying before they can reproduce, greater incidents of egg mortality and susceptibility to pathogens, especially fungi. Hot summers – provided there is no drought that kills food sources – are ideal for the insects to breed. "Butterflies are cold-blooded so a hot summer heats them up well and gives them lots of energy to fly around, and creates lots of good nectar sources for feeding," explained WCBS co-ordinator, Dr Zoë Randle.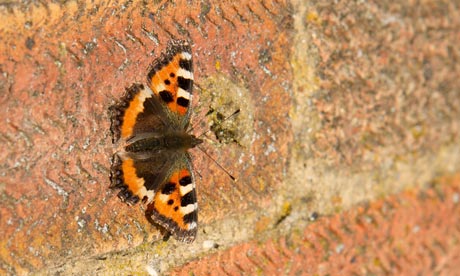 "Farmland butterflies really thrived last year primarily due to the fantastic summer weather which provided ideal conditions with several recording their best ever WCBS results."
The small tortoiseshell, which has suffered an ongoing decline, recorded its best summer since the start of the survey, which began in 2009. More than 6,833 individuals were counted, with the butterfly seen in 80% of squares compared to just 40% in 2012.
In 2012, numbers of the common blue plummeted by 60%, but the species enjoyed a good year in 2013 with an average five-fold increase in abundance per square surveyed. The small copper and brimstone also thrived, and were both more widespread and abundant than in the previous year.
The large white and small white butterflies, commonly known as "cabbage whites", were also recorded in large numbers, with more than twice the number of large whites counted per square and five times the number of small whites in 2013 than in 2012.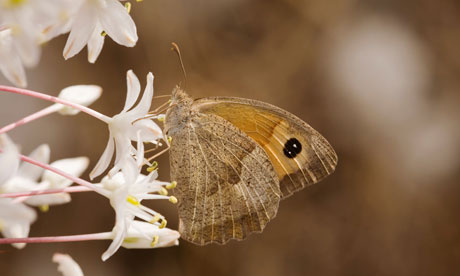 For the fifth year in succession, the meadow brown was the most widespread and abundant species, the survey found. The butterfly was recorded in more than 90% of squares with 8,000 more butterflies counted in 2013 than 2012.
The holly blue and red admiral were among the species that did not fare as well, with a fall in numbers for both species compared to 2012.
Butterflies play an important role in the ecosystem as pollinators and as prey in the food chain, and are considered good indicators of biodiversity.
According to government figures, butterflies of the wider countryside on farmland have fallen by 49% since 1990, reaching a historical low point in 2012. While there have been fluctuations in numbers from year to year, the overall change in their populations since 2007 is assessed as deteriorating.
According to conservationists, the best farmland habitats for butterflies are unimproved grassland containing a range of native grasses and wild flowers, with good breeding areas provided by hedges and field margins, set-aside fields and farm woodlands.
Kate Risely, who co-ordinates the butterfly surveyors at the British Trust for Ornithology (BTO), said: "These results demonstrate the value of large-scale volunteer surveys for monitoring country-wide trends in butterfly numbers. Recording butterflies and birds at the same sites gives us a unique insight into the health of our countryside."
The WCBS is run by Butterfly Conservation, the BTO and the Centre for Ecology & Hydrology as part of the United Kingdom Butterfly Monitoring scheme.
Farmland butterflies: winners and losers 2013
Species with the highest levels of occupancy and abundance:
2. Peacock
3. Small white
4. Large white
5. Common blue
In terms of occupancy these three species fared worse than in 2012:
1. Red admiral
2. Holly blue
3. Gatekeeper (didn't do well in terms of abundance either)
This article was written by Jessica Aldred for The Guardian.