Britain may have a spectacular new butterfly: dozens of continental swallowtails have been spotted along the south coast after being filmed emerging from pupae in gardens and allotments for the first time.
Unprecedented footage, which will be broadcast on Springwatch tonight, shows the first British generation of this charismatic, colourful butterfly hatching out in an ordinary garden after large caterpillars were spotted feeding in suburban Chichester, Eastbourne and Hastings last summer.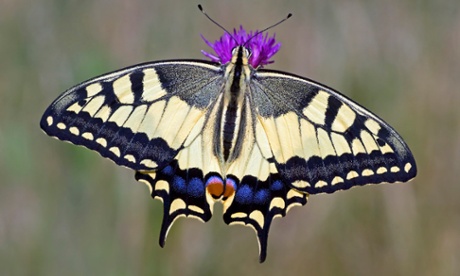 It raises hopes among butterfly lovers that the continental swallowtail will establish a permanent foothold in Britain, the first of potentially dozens of exciting new colonists created by climate change.
There is already a swallowtail subspecies in Britain, Britannicus, but it is a smaller, weaker insect than its continental cousin and is only found on the Broads in Norfolk. The continental swallowtail, gorganus, is larger and far more robust, with its caterpillars able to survive on common garden plants including carrots, fennel and hogweed – raising hopes it could soon be seen across the country.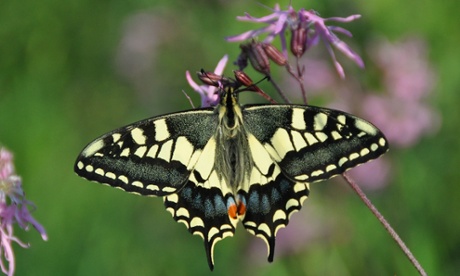 Fine weather enabled significant numbers of the continental swallowtail to cross the Channel last summer and this unmistakable butterfly was spotted along the south coast from Devon in the west to Dungeness in the east. These butterflies laid eggs and their caterpillars and chrysalises prospered over a fine autumn and a mild winter.
"This could be the start of something really big – the colonisation of southern England by the continental swallowtail – or it could simply be the result of a fine summer," said Michael Blencowe of Sussex Butterfly Conservation, who monitored their pupation and survival over the winter. "Looking at the way butterflies are moving their distribution further north in Britain it's only a matter of time before continental species come across the Channel and start to 'stick' in southern England."
Blencowe said it had been "emotional" to watch over the pupae in people's gardens all winter. One pupa, nicknamed Bob, never hatched, but others which he worried had become dehydrated defied fears to emerge as adults.
The butterflies also refused to perform for the cameras. A Springwatch crew filmed an unmoving chrysalis for seven hours only for the adult to emerge 20 minutes after the cameras were packed away, but filmed others later. "It's been more traumatic than exciting for me," said Blencowe. "I love insects but getting emotionally involved with them on an individual basis is not a good idea."
Since the turn of the century, 27 new species of moth have colonised Britain, with a further 89 moth species establishing breeding populations in the country over the 20th century, some a result of human-assisted arrivals via the horticultural trade but many – like the continental swallowtail – arriving under their own steam. Some may be judged pests but others will find a harmless niche in our countryside or towns.
Richard Fox of Butterfly Conservation said: "We know that our native butterflies and moths have undergone massive declines over the last 50 years as a result of the human 'management' of the landscape but there are exciting things happening as well."
This article was written by Patrick Barkham for The Guardian.