Two crane chicks have hatched in Gloucestershire which, if they survive, will become the first wild-born cranes in the west country in four centuries. One chick was born at the Slimbridge wetland centre last May but died just days later due, experts believe, to the cold and wet weather in the early summer.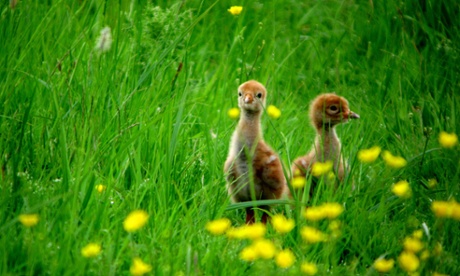 Cranes reestablished themselves in the Norfolk Broads in 1979, where several generations have been hatched, and the Great Crane Project has reintroduced them on the Somerset levels and at Slimbridge in Gloucestershire.
The tall birds were once common in Britain, giving their names to many towns and villages, such as Cranleigh, Cranbrook, Cranfield, but were wiped out as a breeding bird by hunting and the draining of wetlands 400 years ago.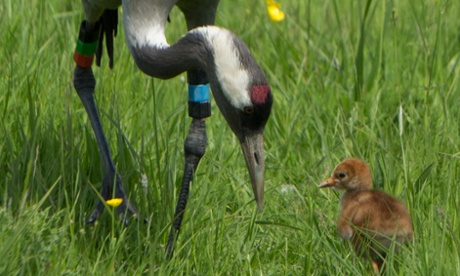 A spokesman for WWT Slimbridge, which has employed people dressing in grey robes to feed the cranes, told the Guardian that he thought the chicks stood a good chance of surviving. "They're largely on their own now – we want them to grow up to be wild birds. But they have a good fighting chance, as there seems to be lots of food at their nest, and there are plenty of people watching them."
Nigel Jarrett, WWT's head of conservation breeding, first spotted the newly-hatched chicks on a webcam. "It's incredibly exciting to be on the cusp of a new generation of totally wild cranes that will hopefully start to re-colonise parts of Britain that haven't seen cranes for four centuries. There's been an overwhelmingly positive response to the return of the cranes from people across the west of Britain. They are a fantastic advert for restoring wetland habitats," he said in a statement.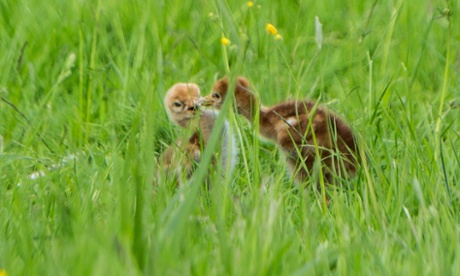 At a related reintroduction site on the Somerset levels where a total of 76 cranes have been released, ten cranes from the flock formed five pairs, two of which built nests and laid eggs this year. Unfortunately, the eggs were taken by a predator, which conservationist believe may have been a fox.
A spokesman for the RSPB, which runs the project with Slimbridge, said: "While this is disappointing, it is perhaps not surprising. Nest location in cranes is a learned behaviour. This year these birds, showing their youthful inexperience, built their nest in shallow water easily accessible to ground predators."
This article was written by Adam Vaughan for The Guardian.