It is known as the Dutch Serengeti, a bold project to rewild a vast tract of land east of Amsterdam. But a unique nature reserve where red deer, horses and cattle roam free on low-lying marsh reclaimed from the sea has been savaged by an official report after thousands of animals starved.
In a blow to the rewilding vision of renowned ecologists, a special committee has criticised the authorities for allowing populations of large herbivores to rise unchecked at Oostvaardersplassen, causing trees to die and wild bird populations to decline.
It follows growing anger in the Netherlands over the slaughter of more than half Oostvaardersplassen's red deer, Konik horses and Heck cattle because they were starving.
After a run of mild winters, the three species numbered 5,230 on the fenced 5,000-hectare reserve. Following a harsher winter, the population is now just 1,850. Around 90% of the dead animals were shot by the Dutch state forestry organisation, which manages the reserve, before they could die of starvation.
For two months, protesters have tossed bales of hay over fences to feed surviving animals as the Dutch Olympic gold medal-winning equestrian Anky van Grunsven joined celebrity illusionist Hans Klok in condemning the "animal abuse" on the reserve. Ecologists and rangers received death threats from the rising clamour on social media. Protesters compared "OVP" to Auschwitz.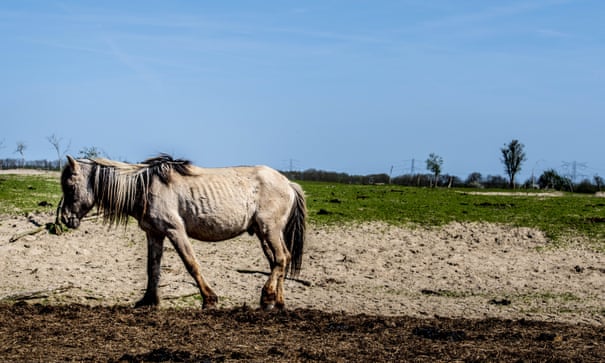 Oostvaardersplassen was only created in 1968 when an inland sea was drained for two new cities. An industrial zone turned into a marshy haven as it lay undeveloped during the 1970s. Dutch ecologist Frans Vera devised the innovative use of wild-living cattle and horses to mimic the grazing of extinct herbivores such as aurochs, and Oostvaardersplassen became an internationally renowned rewilding reserve, celebrated in a 2013 Dutch film called The New Wilderness.
But in a drastic "reset", a special committee convened by the provincial government this week called for a halt to the rewilding principle of allowing "natural processes" to determine herbivore populations. Instead, large herbivore numbers should be capped at 1,500 to stop winter fatalities, the committee said, with new forest and marsh areas created for additional "shelter" for the animals.
"This experiment has absolutely failed," said Patrick van Veen, an animal biologist whose petition to stop animal cruelty at Oostvaardersplassen has been signed by 125,000 people. "You'd expect 20 or 30% to die of natural causes including starvation each year but the population grows in summertime and there is no control mechanism – normally you'd have predators such as wolves but it's too small an area to have predators."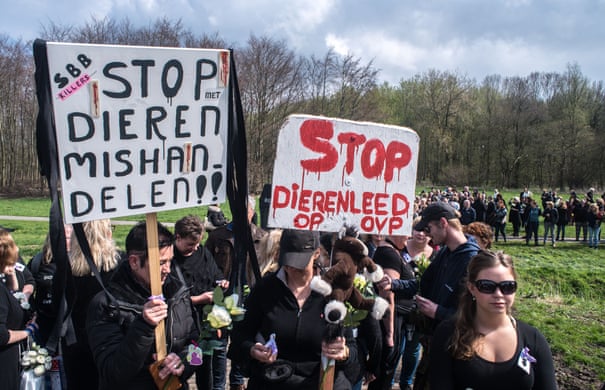 As the report was delivered, a small group of women stood outside the provincial government building wearing purple ribbons. A watching policeman joked with them that they were "the hooligans".
For protesters, Oostvaardersplassen is a secretive experiment devised by distrusted elites – public access is restricted to much of the reserve because the wild Heck cattle are considered dangerous. Jamie Wiebes said OVP made her "ashamed" to be Dutch.
Alongside a band of 50 people, she's risked €400 fines – and high-speed trains – to lug bales of hay across a railway line and feed the animals over the fence. The group said they delivered 410 bales on one night. "It's not only the hunger, it's neglect," said Wiebes. "The horses have open wounds, their hooves are broken, their teeth are broken, they have white mites on their backs. If you put up a fence, you have to take care of what's behind the fence – you do in zoos, and even in prisons you have to provide child molesters with food and water. You cannot do a 'project' with animals. They are living things."
From public lookouts, and from trains that skirt its southern border, Oostvaardersplassen in late April looks a bleak and denuded landscape: dead trees collapsed across tightly grazed grass and visibly thin horses and deer. Rangers now move animal carcasses – deliberately left to provide food for everything from beetles to ravens – away from the railway line because of public distress.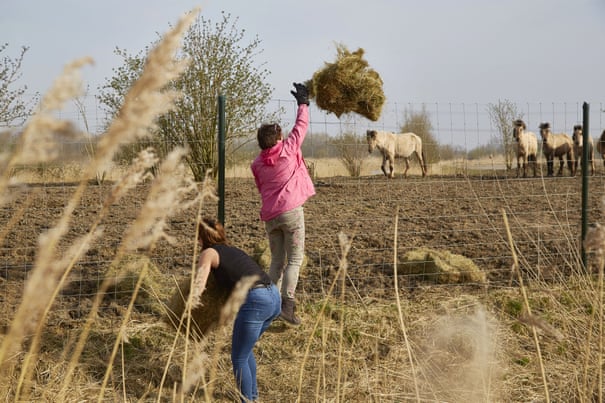 But a tour of the full 5,000 hectares with Han Olff, professor of ecology at the University of Groningen , reveals a different picture. Half the area is marshland into which the grazing animals don't go, creating a sanctuary for rare birds from bearded tits to sea eagles.
"Some people say the ecosystem is dying. Some people, like me, say the ecosystem is just coming alive," said Olff, pointing out that the dead trees are a source of food for hundreds of beetle species and shelter for small mammals.
Olff admitted the committee's report had been "a bit of a setback for what's called rewilding – trusting natural processes, putting in large grazers, letting go of the traditional management of cultural landscapes". But he rejected the idea that this version of rewilding was abusive towards the grazing animals whose populations are regulated by the natural availability of grass.
"A small group of people have made a tremendous noise, especially horse owners," he said. "They withhold a free life from their horses and justify that by feeding them too much food. Here the horses can choose its own mates, form social groups and sometimes die because in the herd they are the weakest link."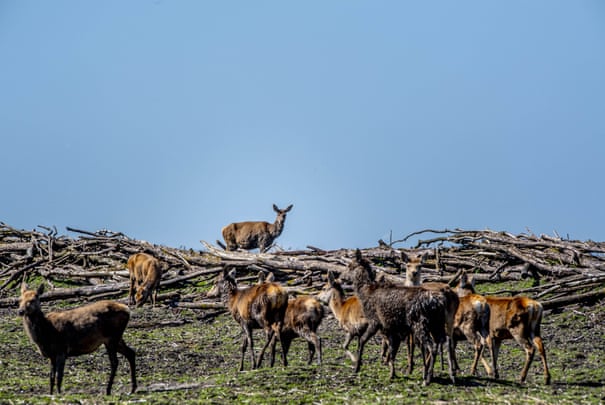 Ecologists hope that if more of the reserve is opened up to the public, visitors will better understand that the challenging sights – dead carcasses, dead trees and thinner-than-livestock animals – "are part of the cycle of life, to use a Disney term," said Olff. "People say it's a desert, it's been overgrazed but they don't see the landscape variability, so we need to much better allow access to the grazing and marsh areas to tell the story of this young, developing ecosystem."
According to Olff, the biodiversity of Oostvaardersplassen is still burgeoning. Bird declines are not because of "overgrazing" by the large herbivores but due to a loss of reedbed because it's grazed by geese. And while bird species such as reed warbler have disappeared from the heavily grazed areas, they are still present in the marshes, and new species – lapwing, avocet, shellduck – have arrived because the grass is tightly grazed. The trees that have died are species that can't adapt to grazing but those that can, such as blackthorn, are very slowly replacing them.
"There isn't another Oostvaardersplassen in western Europe. People tend to focus on what you lose and ignore what you gain. It's just changing, it's not better or worse, it's just something different. Traditional conservation managers make a plan saying 'This is what we want to keep – period'. This dynamic way of managing nature is new, it's different but it's not an experiment."
This article was first published by The Guardian on 27 Apr 2018.