More than 50 wild Bewick's swans flew into WWT Slimbridge Wetland Centre in Gloucestershire last night, marking the start of winter for many UK wildlife lovers. The swans famously return from arctic Russia each year to the wetland reserve established by naturalist Sir Peter Scott.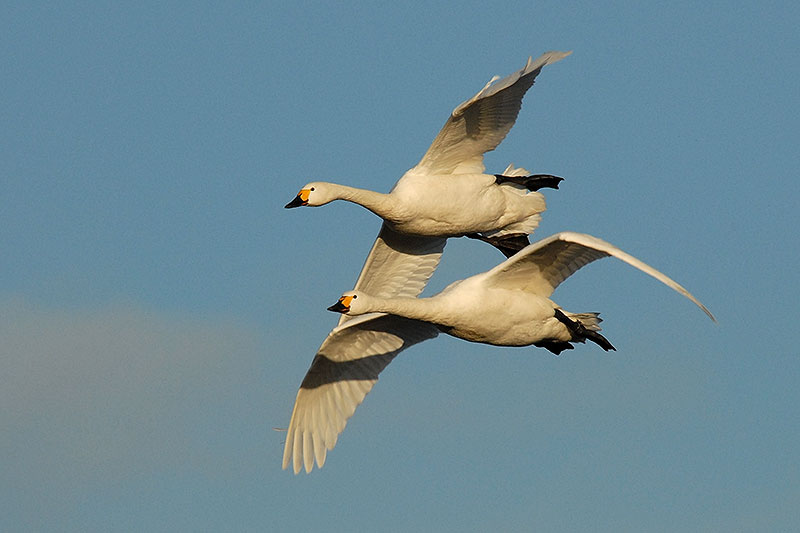 The arrival of lots of swans – dubbed a 'swanfall' – coincides with the week's sudden cold snap. It regularly leads to speculation on the coldness and length of the winter to come.
WWT Wildlife Health Research Officer, Julia Newth, records the swans' movements throughout the winter and knows each one individually. She said:
"The mix of clear skies and a north easterly wind at this time of the year is a sure bet to bring frosts and swans. It's a magical time at WWT Slimbridge. Many of these swans have been visiting for years and it's great to know that old faces have made it safely, and to see the young that they have brought back from the breeding grounds."
The arrival of swans and cold weather is closely linked. The swans' autumn migration is broadly prompted by the shortening days, but changes in the weather influence the precise timing of their movements from Russia to the UK. While the weather is autumnal on the continent, they wait in the Netherlands, Germany and Denmark, until a cold north easterly wind gets behind them.
The Slimbridge Bewick's swans have been the subject of one of the most intensive wildlife studies in the world. Each individual is identified by the unique pattern of yellow and black on its beak and its life history recorded. The study will celebrate its 50th anniversary this winter and WWT researchers are expecting to enter the 10,000th swan on their database.
Julia Newth continues:
"Sadly Bewick's swans have been in serious decline for the last twenty years. They have suffered some poor breeding seasons in recent times and the long migration from Russia is fraught with dangers. Anyone who comes to see them at WWT Slimbridge, should know that their visit helps support the conservation of these beautiful wild birds."
Julia keeps a blog about the Slimbridge swans and her research at http://www.wwt.org.uk/wetland-centres/slimbridge/diaries/bewicks-swan-diary/.
With winter in full swing, it's a beautiful time to visit a Wetland Centre as the landscape becomes a winter wonderland. WWT Slimbridge Wetland Centre is holding wild bird feeds every day at 4pm until the end of February, so you can get up close and watch these beautiful creatures being fed, from the comfort of a hide – a truly unforgettable experience.
While we can't guarantee the weather, you're never far from shelter at any of the purpose built WWT Wetland Centres. All nine centres including Slimbridge have comfortable hides, easy buggy and wheelchair friendly pathways, fully stocked cafes and gift shops and disabled and parent & baby facilities.
This article was written and published by National WWT News.