One of the world's rarest birds has laid eggs in captivity for the first time, in what wildlife experts say provides new hope for the species' tiny wild population.
Only around 200 breeding pairs of critically endangered spoon-billed sandpipers remain in the wild, where they make an annual 10,000 mile round-trip between their Russian Arctic breeding grounds and wintering grounds in south-east Asia.
Efforts began to establish a flock at the Wildfowl and Wetlands Trust in Slimbridge, Gloucestershire, in 2011 as a back-up to the wild population in case conservationists could not reverse declines of up to 25% a year in time to save the species.
Now seven eggs have been laid by two female spoon-billed sandpipers at Slimbridge, with a further seven potential breeding pairs.
Each bird usually lays four tiny eggs, taking the mother almost a week to lay a clutch weighing a total of 32g (1 ounce) – more than her entire bodyweight, experts said.
The eggs have been taken into an incubator and will be examined in the next few days to see if embryos are developing.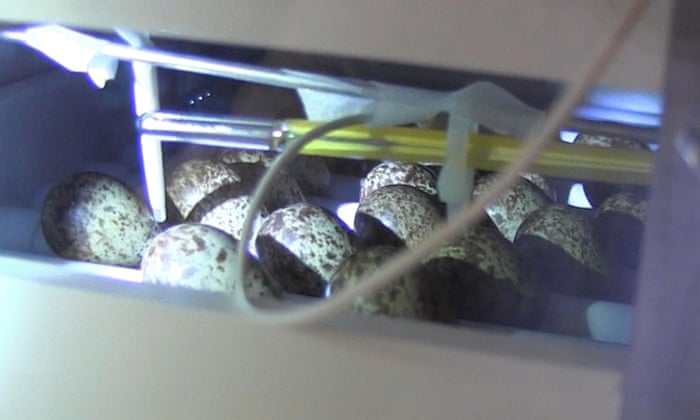 Laying eggs at Slimbridge is significant for the species, which has never bred in captivity and whose extreme lifestyle migrating between the Arctic and the tropics makes it hard to recreate conditions in captivity for successful breeding.
WWT head of conservation, Nigel Jarrett, said they were now on the road to breeding spoon-billed sandpipers in captivity, which was "the ultimate insurance policy for the species in the wild".
"For the last two years – ever since all the spoonies came into maturity – we've been doing everything short of playing Barry White to get these birds in the mood for love.
"And for two years we've come up scratching our heads and feeling a bit deflated," he said.
"So when we found the first egg last week we almost couldn't believe it. We've had two mums busy laying and the significance of it is only just starting to hit home.
He added: "In the wild they migrate from tropical Asia to Arctic Russia to breed, experiencing huge differences in temperature, habitats and daylight along the way.
"Each of those factors could play a part in getting the birds' hormones surging, so we've done our best to recreate that experience in aviaries in Gloucestershire."
Special lightbulbs, timer switches and lots of sand and netting have helped the conservationists get the birds to breed, he said.
In the wild, spoon-billed sandpipers have been hit by loss of inter-tidal habitat in east Asia as they migrate south from their Russian breeding grounds and bird trapping by villagers in their wintering sites in Bangladesh and Burma.
But since the flock was established in captivity, the wild population has started to recover with help of an international conservation effort.
This has involved various measures, including taking wild-laid eggs into aviaries and releasing the birds on fledging to boost numbers of young birds, and tackling threats they face in the wild.
This article was first published by The Guardian on 14 Jun 2016.