England's only resident golden eagle is likely to have died after failing to appear this spring, wildlife experts fear.
The bird, which has been a resident at Riggindale near Haweswater, Cumbria, since 2001, has not seen by RSPB staff since last November, and would normally be seen at this time of year building a nest and displaying to attract a mate.
Lee Schofield, site manager at RSPB Haweswater, said: "When the eagle didn't appear last month we thought there was a chance he might be hunting in a nearby valley but over the past few weeks we've been gradually losing hope."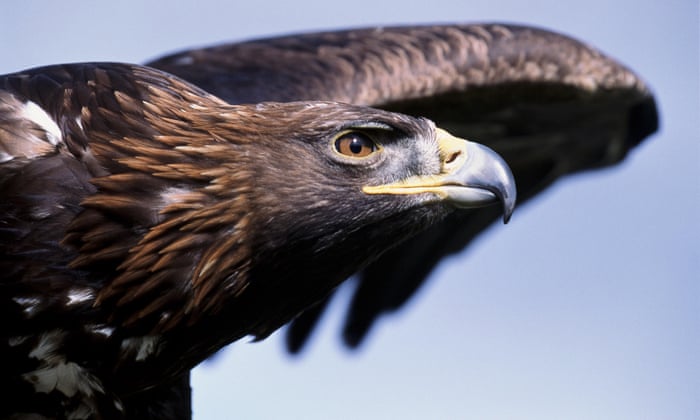 The eagle, who did not have a name, was believed to have been around 20 years old and had lived alone since the death of his mate in 2004.Advertisement
"We will probably never find out what happened to him but as he was … an advanced age for an eagle, it's quite possible that he died of natural causes," Schofield said.
"His disappearance marks the end of an era as he has been an iconic part of the Haweswater landscape for the past 15 years. During this time, thousands of visitors have travelled from across the country hoping to catch a glimpse of him at the Riggindale eagle viewpoint."
Adrian Long, of Birdlife International, said it was incredibly sad news. "Raptors are at the top of the food chain, and eagle species need big areas to live. We must remember that decades of altering our landscape and habitats has caused this iconic bird to no longer patrol the skies of England. I hope that eagles will one day be seen flying again the hills of England again, with perhaps some of the Scottish population moving south."
Birder Alan Tilmouth, who broke the news on the @Birdguides Twitter account on Wednesday evening, said: "The Haweswater golden eagles probably provided many thousands of birders their first experience with an iconic bird, for many it will be the only golden eagle encounter they have had in England.
"We'll wake tomorrow to a country less wild than before, nature one step further from us, one step closer to simply being a shadow of itself."
Dawn Balmer, head of surveys for the British Trust for Ornithology, said: "It seems likely that this magnificent bird has died of natural causes, and in this wild landscape it's unlikely a corpse will be found. We can only hope that the small and vulnerable golden eagle population in south-west Scotland increases and expands in the future, and that some eagles disperse into England"
The RSPB said the eagle was not tagged or ringed as it was too hard to catch them.
Golden eagles arrived in the Lake District from Scotland in the late 1950s and a pair first bred at Haweswater in 1969.
There are an estimated 440 annual breeding pairs in the UK, which are mostly found in the wide-open moorlands and mountains of Scotland.
Eagles have traditional territories and nesting places which may be used by several generations. They have been illegally killed in the past and are still occasionally poisoned, or have their nests robbed.
The original male died in 1976 and was replaced by Britain's oldest known eagle who lived until he was at least 30 years old. In turn, he was replaced in 2001-02 by the most recent male. The original female was replaced in 1981 by the last female who died in 2004.
Although it is unlikely that golden eagles will take up residence again at Haweswater in the near future, the conservation organisation is undertaking an extensive programme of habitat restoration which it hopes will eventually encourage eagles to nest again at the site.
Schofield said: "At the moment the Lake District isn't particularly attractive to golden eagles as there is a shortage of suitable habitat and food. By restoring a range of natural habitats at Haweswater, we hope this will lead to an increase in wildlife, including birds and small mammals, which would provide a sustainable food source for golden eagles."
This article was first published by The Guardian on 14 Apr 2016.