Dramatic footage released last week by an animal welfare group shows a wild orangutan trying in vain to fight off destruction of its rainforest habitat in Borneo.
The video, filmed in 2013 but posted on Facebook on June 5th for World Environment Day by International Animal Rescue (IAR), was shot in Sungai Putri, a tract of forest in Indonesia's West Kalimantan province that is being destroyed for timber.
Most of the remaining forest in the Sungai Putri landscape lies within a concession held by PT Mohairson Pawan Khatulistiwa, a logging company.
The video shows an orangutan running along the trunk of a tree that an excavator has just knocked down. The orangutan reaches up to grab the excavator bucket, but loses its balance and falls to the ground.
IAR says the orangutan was subsequently captured and brought back to the group's wildlife rehabilitation center in Ketapang.
"This desperate orangutan is frantically seeking refuge from the destructive power of the bulldozer; a machine that has already decimated everything else around him," IAR wrote in the Facebook post. "Despite all the obstacles thrown at them, our team were able to rescue this orangutan and bring him to safety."
Sungai Putri is one of the most important refuges for orangutans left in Indonesian Borneo. According to orangutan expert Erik Meijaard, Sungai Putri may be home to over 1,000 orangutans.
"At about 57,000 hectares (141,000 acres), [Sungai Putri] is a sizable piece of forest enough to provide a home to between 750 and 1750 orangutans," he wrote in an analysis on the track of coastal peatland. "This makes it the third largest population of this Critically Endangered species in the province."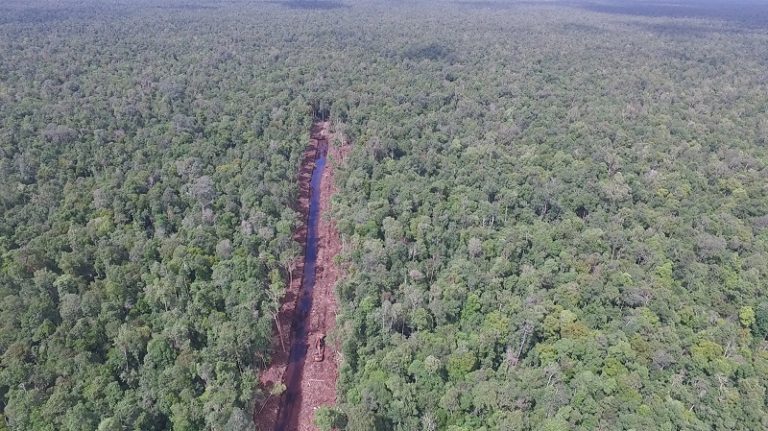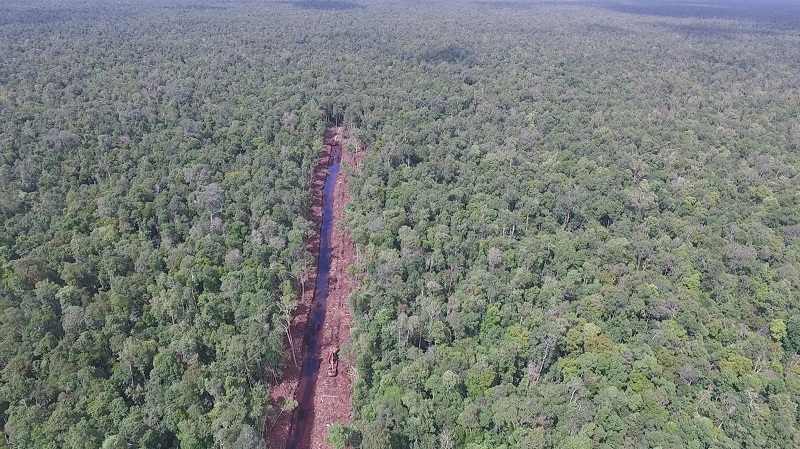 The canal through the peat swamp forest in Sungai Putri allegedly dug by PT Mohairson Pawan Khatulistiwa. Image courtesy of International Animal Rescue.
A report released last week by Greenpeace revealed that deforestation is continuing within Sungai Putri despite a high-level Indonesian government commitment to protect the forest.
"This is a major embarrassment for the Indonesian government, which has consistently promised to protect Sungai Putri," Greenpeace campaigner Ratri Kusumohartono said in a statement.
Greenpeace and IAR are calling on the Indonesian government to stand by its commitment.
"Sungai Putri is home to one of the largest populations in the world and we are at a critical point for the Bornean orangutan, without forests like this they can't survive," Karmele Llano Sanchez, program director of International Animal Rescue in Indonesia, said. "It is time for the Indonesian government to ensure the full protection of Sungai Putri, its environment and wildlife."
This article was first published by Mongabay.com on 15 Jun 2018.