The vast distances gannets fly to catch fish are being tracked in "real time" for the first time using the 3G mobile network.
People are being given the chance to see how Britain's largest native seabirds journey through the English Channel from nests off Alderney in the Channel Islands to find food for their chicks, with data from GPS tags uploaded onto the web.
The data has already revealed a fishing trip totalling more than 500 miles through the Channel and one bird has been tracked flying up as far as the Thames Estuary.
The information from the GPS tags will be useful in understanding the consequences of off-shore developments such as wind farms on wildlife, conservationists said.
Devices fitted on the tail feathers of the northern gannets record location and connect them with any 3G-enabled mobile network they come into contact with, at which time the tags download a track of where the birds have been, sending it to a website.
Experts behind the scheme, being run by the Alderney Wildlife Trust, the British Trust for Ornithology (BTO) and the University of Liverpool, say it is the most real time form of monitoring that has ever been attempted for birds at sea.
The website where the flight paths are uploaded also has a live webcam streaming images of the gannets nesting on a exposed 25 metre high (82ft) rock three miles offshore, where 2,200 pairs of the birds nest.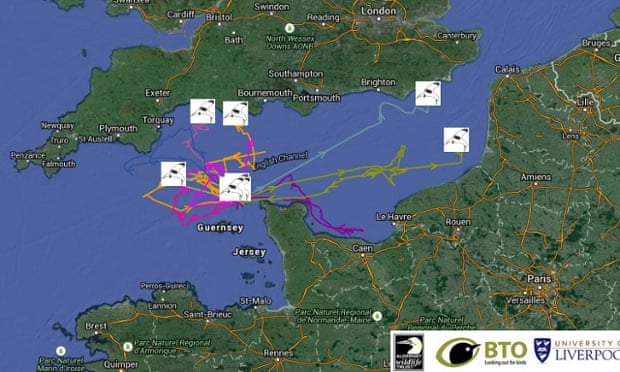 Alderney's northern gannets are the most southerly breeding population of the birds in the British Isles, and the species is "amber listed" amid conservation concerns that it only breeds in significant numbers at a small number of locations.
Joan Edwards, The Wildlife Trusts' head of living seas, said: "Tagging these magnificent birds is already showing that if you build a wind farm in English waters it might have an effect on the birds of Alderney and other far-flung breeding colonies.
"Animals move big distances and we need to take this into account when off-shore developments are planned."
This article was first published by The Guardian on 22 Jun 2015.