Jane Goodall, the renowned conservationist, and a group of wildlife activists are some of the unexpected entrants in a lottery to hunt up to 22 grizzly bears near Yellowstone national park.
Their goal is to infiltrate Wyoming state's first grizzly bear hunt in 44 years by acquiring licenses they have no intention of using.
"We just thought it was a really proactive and specific way to get our voices heard," Judy Hofflund, one of the organizers of the lottery protest, told the Guardian. "We wanted to protect the grizzlies and we would agree to pay for a tag, do everything legally, and shoot them with a camera and not with a gun."
In June 2017, the US government delisted grizzly bears as an endangered species despite the pleas of conservationists. This allowed Wyoming, Montana and Idaho to plan limited bear hunts.
And in May, Wyoming's Game and Fish commission voted 7-0 in favor of a grizzly bear hunt.
"The bears are still so vulnerable," Hofflund said. "It's crazy that seven people get to decide that these bears get to be hunted so soon. That feels pretty nutty to me."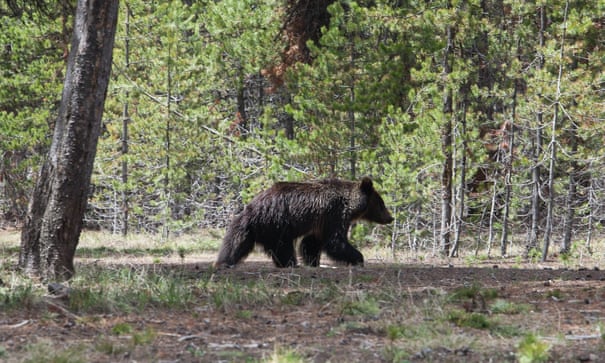 Hofflund said she and four other women gathered in her living room 10 days ago and brainstormed how they could save the grizzlies. They devised the plan to infiltrate the lottery and within hours had created a website and social media accounts for their movement, which they call "Shoot'em with a Camera, Not a Gun". And they arranged to place five days of advertisements in the local newspaper, the Jackson Hole News and Guide, encouraging people to register for the lottery.
The group also raised more than $28,000 online to help fellow activists who might not be able to afford the cost of the license. Those who get a licenses must pay $602 if they are from Wyoming and $6,002 if they are from outside Wyoming.
Renny Mackay, the Wyoming game and fish department's communications director, said roughly 7,000 applications were submitted before the lottery closed on Monday at midnight. "We view this as something the public of Wyoming asked for," Mackay told the Guardian.
The hunt is split into two zones. For the suitable grizzly bear habitat where the animals live and are monitored, up to one female or 10 male bears can be hunted. For the area the department considers an unsuitable habitat because bears can cause conflict, up to 12 bears can be hunted.
The activists' efforts could be impeded in the suitable habitat because one hunter will be allowed to hunt at a time until the quota is reached. "They have to prove they take it seriously, that they aren't just entering it and then walking away," Mackay said.
Mackay was not surprised by the effort to infiltrate the lottery because the plan to hunt has been subject to significant criticism since the Obama administration first raised delisting the bears as a threatened species in March 2016. More than 650,000 people weighed in during a public comment session that followed, including 125 Native American tribes that oppose hunting the bears.
Home to 700 bears
About 50,000 grizzly bears once covered North America, but their population plummeted in the 1850s with widespread hunting and trapping. There were only 136 of these bears in and near Yellowstone in 1975, when the Endangered Species Act was signed and introduced protections for the population in all continental US states except Alaska.
About 700 bears live there now and Mackay said that the population has recovered enough that limited hunting is safe for the population.
The hunt could be held up, however, because a federal judge is due to respond next month to a lawsuit against the government's decision to remove grizzly bears from federal protection.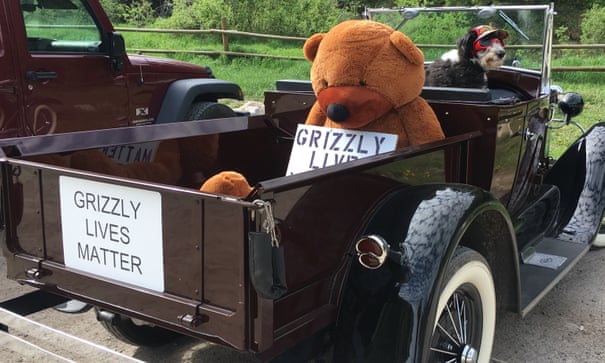 One of the hunt lottery activists, Ann Smith, has raised $82,000 in support of that lawsuit and for a year has been driving an antique truck with an enormous stuffed bear holding a "Grizzly Lives Matter" sign to bring attention to the cause in her home of Jackson Hole.
Shoot'em with a Camera has also found high-profile support from Jane Goodall, who entered the lottery with no intention of using the license. "The aim with her and many others' participation is to preserve and protect grizzly bears by limiting the number of licenses that are used to actually hunt and kill the bears," Shawn Sweeney, the director of communications at the Jane Goodall Institute, said in an email.
Hofflund, who said she has been visiting Yellowstone national park for 50 years, said she always loved grizzly bears but was especially enchanted by grizzly mother 399, one of the most famous bears in the world.
The at least 20-year-old bear became famous after being spotted frequently with her three cubs near roadways in Grand Teton park. This accessibility has lured visitors to the park and inspired the 2015 book, Grizzlies of Pilgrim Creek.
Hofflund said of her 10 to 12 grizzly sightings, she has seen 399 three times – including once when she saw a man in a crowd of people burst into tears because he was so happy to see 399 alive.
The crowds that gather to see the bears in their natural habitat are what inspire Hofflund to push for their protection.
"Those people are so excited," Hofflund said. "I wanted those people's voice to be heard. We all did."
This article was first published by The Guardian on 18 Jul 2018.