"Many parks advertise themselves as sanctuaries but they are not," says Maria Mossman, founder of non-profit group Action for Elephants UK. "Never go to a park that advertises shows, unnatural behaviour, tricks or painting – and please, never ride an elephant."
Mossman, who has been involved in elephant activism since 2013, and also organises global marches, says that real sanctuaries will limit contact with the elephants, with visitors observing them from a distance the majority of the time.
She warns travellers to avoid anywhere offering riding or allowing bathing sessions with elephants: "In some places this means a lot of people every hour with the elephants in the water – it's not natural for an elephant to be in the water all day with lots of people climbing all over them."
Looking on review sites and images online before visiting elephant camps is also advised. Avoid any companies calling themselves "sanctuaries" that are using bull-hooks or chains, or lacking basic provisions of water, food and shade.
Vicki Brown, editor at Responsible Travel, says that the prevalence of riding perpetuates the industry. "It increases demand for captive elephants to be used as tourist attractions – which means more baby elephants must be captured from the wild, or sometimes bred for a life in captivity," she says. "Captive elephants should be allowed to live as naturally as possible, so if they are forced to display unnatural behaviours – such as dancing, painting or playing football – this is being done for the tourists' benefit, not the elephants'. Don't visit these places."
The cruel process of intensively conditioning the elephants to obey keepers and allow people to ride them goes largely unseen by tourists. "In order to ensure they are safe around humans, the baby elephants must be broken in – a brutal and distressing process known as 'crushing the spirit'," says Brown. "They are kept in a tiny pen to prevent movement, with their legs tied tightly. They can be severely beaten with sharp objects, screamed at and starved of food and water, which can last for several days or weeks. The psychological impact then means that the fear of being beaten will ensure that the elephant 'behaves' around tourists."
Unfortunately, riding elephants is still one of the most popular tourist activities in Asia. A two-year study by World Animal Protection (WAP) in 2017, investigating 3,000 elephants at tourist venues across Thailand, Sri Lanka, Nepal, India, Laos and Cambodia, found that 77% of them were living in inadequate conditions that were "severely cruel" and "deeply concerning". This included being chained up when not performing, with no interaction with other elephants, a poor diet, and stress-inducing noise levels. It also found that there had been a 30% rise in the number of elephants at tourism venues in Thailand since 2010.
Mossman believes that "the tour sector needs to play a much bigger role" in clamping down on animal tourism overall. Earlier this year, Tripadvisor announced further changes to its animal welfare policy, following the "no touching of wild animals" addition in 2016. The company has now also banned sales of tickets to "animal shows and performances where animals are forced to perform demeaning tricks or unnatural behaviours". But it still lists these attractions on the site, and has been criticised for not going far enough. "We would question how educational touching captive wildlife can really be," Brown says. "It also permits encounters in zoos where 'physical interaction is initiated by the animals themselves', claiming this is 'a natural behaviour'. But in their natural habitats, wild animals almost never initiate contact with humans, so to describe this as natural is misleading."
So what should travellers do if they see abuse happening? "Do your bit by leaving your own review to warn other travellers. It really does work – many camps are now becoming ride-free as a result of pressure from tourists, the industry and the media," Brown says. "Photos and videos are especially powerful tools, so be sure to capture evidence if you can. Share on review sites and social media. Tweet them directly."
She also suggests that if you book through a tour operator or agent, raise your concerns with them – many do not have representatives on the ground and only find out about bad practices through travellers alerting them to it. "This is how several of our campaigns have come about – so it really can have a positive impact," she says. "And if you meet other travellers along the way, warn them. Word of mouth is a powerful tool on the road, particularly in hostels. Do spread the word about the good places you visit too; they need all the support they can get."
Although many elephants spend their entire lives in captivity, an increasing number are being cared for by organisations that allow them to live in natural, big, open spaces with other elephants, the correct food and veterinary care. "Ethical tourism is the way forward for captive elephants," says Mossman, who notes that in many areas, particularly in Thailand, there is no longer adequate land to release them into the wild.
Brown also suggests that keeping ex-working or captive elephants in sanctuaries can be the best option. "The vast majority will never be released, as they have been habituated and cannot fend for themselves in the wild," she says. "Volunteers are very much needed at the sanctuaries – it takes an awful lot of work to care for an elephant. Just preparing food can take hours a day!"
With so many organisations now claiming to be sanctuaries, which ones do the experts say are OK to visit or volunteer at? (Find a full list of companies and elephant camps to support or avoid on the Responsible Travel website.)
Thailand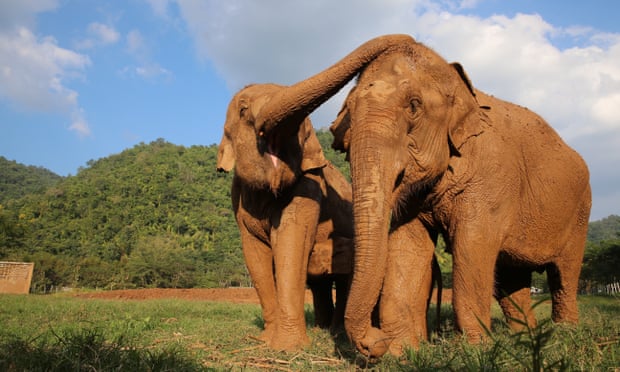 Elephant Nature Park – A retirement home for rescued elephants, founded by Lek Chailert, renowned elephant conservationist. Considered to be a pioneer in the treatment of those in captivity. (Also supports Phuket Elephant Sanctuary, Phuket Elephant Park and Samui Elephant Park.)
Elephant Hills – One of the few completely chain-free camps in southeast Asia, with jungle tents offering natural encounters.
Boon Lott's Elephant Sanctuary – Guest numbers are kept low here, and profits are reinvested into elephant conservation.
Elephant Valley – Run by the award-winning Elephant Valley Project in Cambodia, with strict ethical animal welfare standards.
Burm and Emily's Elephant Sanctuary – Permanent home for old, retired and injured elephants, offering feeding and walking alongside them.
Samui Elephant Haven – One of the first ethical sanctuaries on Koh Samui, offering observation and feeding.
Mahouts Elephant Foundation – Offers camping trips to observe and walk alongside rescued elephants, who roam freely in the forest.
Cambodia
Elephant Valley Project – a registered NGO offering a "watching elephants being real elephants" experience.
India
Elephant Conservation and Care Centre – The country's first chain-free camp, located in Mathura, Uttar Pradesh.
Kenya
The David Sheldrick Wildlife Trust – An orphan rescue and rehabilitation programme with a high success rate in releasing animals back into the wild.
Mwaluganje Elephant Sanctuary – A community-owned conservation project.
Laos
Elephant Conservation Center – Rescues elephants from the logging industry or tourism. Also has a breeding programme.
Namibia
Elephant Human Relations Aid – Runs family volunteering, and also works with wild elephants and communities.
Nepal
Tiger Tops Elephant Camp – A tented camp where visitors live amongst the elephants.
Myanmar
Green Hill Valley Elephant Park – A family-owned refuge for ex-working elephants. Also has a reforestation centre.
South Africa
Space for Elephants Foundation – Programme includes working with the community to re-establish lost migratory routes.
Sri Lanka
Elephant Transit Home – Allows visitors to view orphaned elephants from a platform at feeding times.
Elephant Freedom Project – A shelter with a small number of elephants, including one rented from her owner to prevent leasing her out to a trekking camp or zoo.
This article was first published by The Guardian on 11 Aug 2018.