Cases of the illegal persecution of British birds are continuing to rise, according to the latest figures from the RSPB. The Birdcrime report, published on Friday, shows there were 208 reports of the shooting and destruction of birds of prey in 2012, including confirmed shootings of 15 buzzards, five sparrowhawks and four peregrine falcons.
In the same year there were more than 70 reported poisoning incidents including nine buzzards and seven red kites, the report found. But the numbers of poisoning incidents has fallen in recent years, with 101 reports in 2011, 128 in 2010 and 153 in 2009.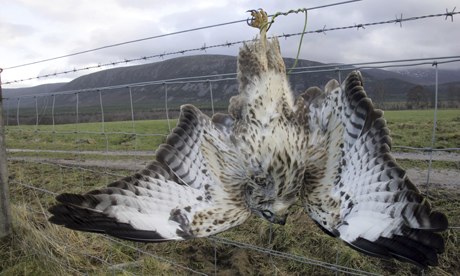 The RSPB said it was difficult to tell whether there was a decline in poisoning overall because not all incidents are reported, although there were early signs in Scotland that the number of incidents were fewer. This is possibly due to the introduction of the offence of vicarious liability, where employers and landowners are held legally responsible for the wildlife crimes committed by their employees.
"Levels of reporting could potentially be less but the real numbers may be higher as many incidents are likely to go unnoticed and unreported," said an RSPB spokesman.
Some areas of the UK's countryside including parts of the Peak District, Yorkshire Dales and Northumberland have become "no-fly zones" for birds of prey, the report warned, with grouse moors the key issue affecting some bird of prey populations. The intensively managed upland has prevented the populations of species such as the golden eagle and hen harrier from occupying parts of their natural range, especially in England.
Martin Harper, the RSPB's director of conservation, said: "There are few sights in nature as breathtaking as witnessing a peregrine stooping or hen harriers skydancing. These are sights we should all be able to enjoy when visiting our uplands. However, these magnificent birds are being removed from parts of our countryside where they should be flourishing."
The report comes at the end of the first year since the 1960s in which hen harriers failed to breed successfully in England – despite enough suitable habitat to support more than 300 pairs. Just two pairs attempted to nest this year in England, but both failed.
Harper said current legislation was failing to protect the hen harrier. "The absence of successfully breeding hen harriers in England this year is a stain on the conscience of the country. It is therefore vitally important that the government brings forward changes to wildlife law in England and Wales that deliver an effective and enforceable legal framework for the protection of wildlife."
Birds of prey have been protected by law in the UK since 1954. But the current laws regulating wildlife are spread over a collection of acts dating back to 1829, resulting in a legal landscape that has been called "out of date, confused and often contradictory".
In 2011 the Department for Environment, Food and Rural Affairs tasked the law commission with a review of UK wildlife law. In October, the independent body set out its proposed principles, which will be published as final recommendations for a draft bill in summer 2014.
They included measures to bring into line with EU regulations the rules on the killing and capture of wild birds, extending criminal liability to those who ultimately benefit from wildlife crime and introducing stronger penalties. Most wildlife crimes committed in the UK carry a maximum sentence of six months' imprisonment and/or a fine of up to £5,000.
The RSPB said it was "heartened" by some of the commission's recommendations, but called for the introduction of vicarious liability throughout the country to punish employers whose staff commit wildlife crimes. This may already be having some deterrent effect in Scotland with a reduction in the number of confirmed poisoning incidents, it said.
This article was written by Jessica Aldred for the Guardian.