The harpoon had clearly done its job: All around its tip the fin whale's flesh and organs were shredded, turned into a bloody pulp.
"It was a good shot," says Kristjan Loftsson, pointing to the gaping cavity. The grenade-tipped weapon was embedded deep inside the 60-foot mammal. The violence of the impact meant that – in his view – the whale would have died instantly.
If there's one man keeping Iceland's controversial whaling industry alive, it's Kristjan Loftsson. He owns Hvalur HF, the only commercial fin-whaling company in the world.
He's also the chairman of HB Grandi, a major fishing and fish-processing company, making him one of Iceland's richest men. He is one of the whaling industry's most vocal proponents. He explains the controversial process in simple terms.
"These whales are all around, and we come out and shoot them. That's it." The meat, Loftsson says, is "healthy, with no other hormones, the best you can get."
'Sustainable' Whaling
Fin whales, which can grow up to 85 feet long, are the planet's second-largest animal, smaller only than the blue whale.
Following years of hunting, they are listed as "endangered" on the IUCN Red List, a judgment accepted by many governments and conservation groups. Iceland disputes this, saying the estimated population of 20,000 fin whales in its sector of the North Atlantic is large enough to sustain limited hunting. It sets an annual quota at 154. It also allows the killing of the smaller minke whale, largely for domestic consumption. The minke is not listed as endangered, but the vast majority of minkes live in southern hemisphere waters.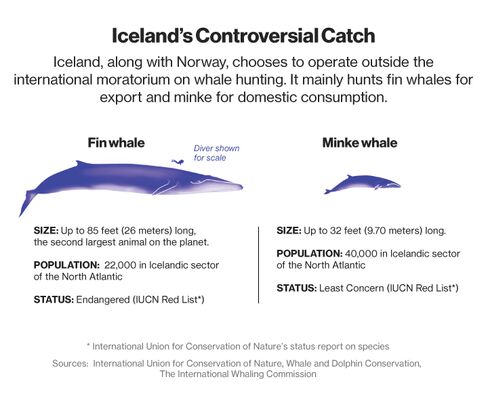 Iceland, along with Norway, has chosen to opt out of the International Whaling Commission's moratorium on whale hunting.
"Our whaling is based on scientific research and has to do with our policy of sustainable fisheries," says Ragnheiour Elin Arnadottir, Iceland's minister of Industry and Commerce.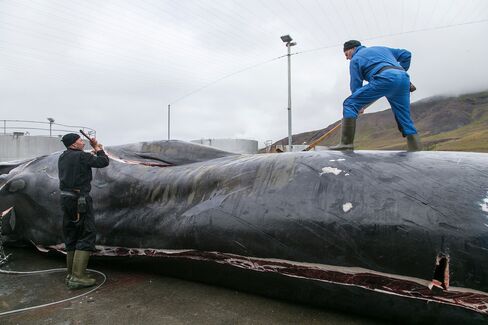 Very little fin whale is sold in Iceland. Loftsson's primary market is Japan. Exports to the country from a single season net him around 2.5 billion krona ($19 million), he says. The average whale provides 15 tons of meat.
To anti-whaling campaigners, Loftsson is an unfortunate relic of the past, a "hobby whaler" with deep pockets and a distorted sense of national pride.
"He believes the world has wrongly turned against him," says Sigursteinn Masson, from the International Fund for Animal Welfare (IFAW). Loftsson sees the practice as a "battle between good and evil," Masson says.
In 1986 the direct-action conservation group Sea Shepherd scuttled two of Hvalur's ships, halving Loftsson's fleet. Masson says Loftsson's continued anger over that episode is what drives him on.
In Masson's view, the whaling industry is in "inevitable decline."
"Whaling is completely unnecessary, without a doubt cruel and inhumane," he says. "We are seeing this industry in its final phase. I am absolutely certain about that."
Stefan Ulfarsson, co-owner of 3 Frakkar, one of Iceland's best known fish restaurants, sees things very differently.
Demand for minke whale meat is increasing, he tells us. "It's popular for Icelanders just to grill it, for example, very popular."
The chef, who serves up minke whale steak, whale sashimi and cured whale, points to Iceland's booming tourism trade as another growth area.
"Maybe 25 percent of our customers are here for the whaling, and lots of people come here right after whale watching. They want to try it."
Whale watching is exactly what Masson, and other campaigners, want to encourage. They see it as an example of how the whale population can be commercially exploited, without being killed.
"Whale watching is the second biggest leisure activity in Iceland," he says. "I think 99 percent of the tourists who come to Iceland, they are coming here to experience wild nature at its best.
"That means wild life, animals which are alive, but not on a plate."
This article was first published by Bloomberg Business on 03 Sep 2015.