Well, now…I've just about let my trip reports fall by the wayside. Let's carry on with this one, shall we? On the morning of our 2nd full day in the Park, we headed out bright and early. In the summer months, you can exit the camp gates at 04h30, and it effectively gets light around 05h00, with sunrise occuring somewhere between 05h20 and 05h30. As we cruised gently down the Shingwedzi river road, we saw the local baboon troop waking up…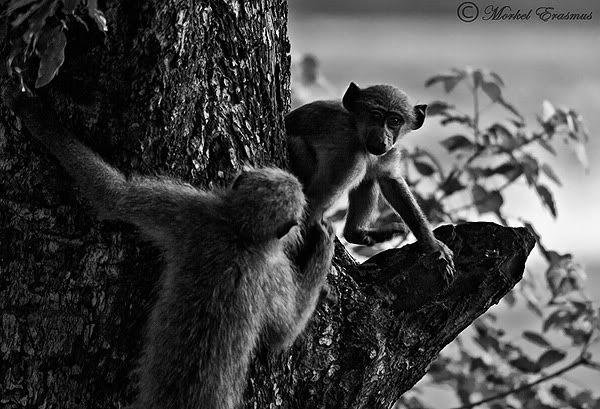 A few meters on we found the same family of Southern Ground Hornbills…in the trees!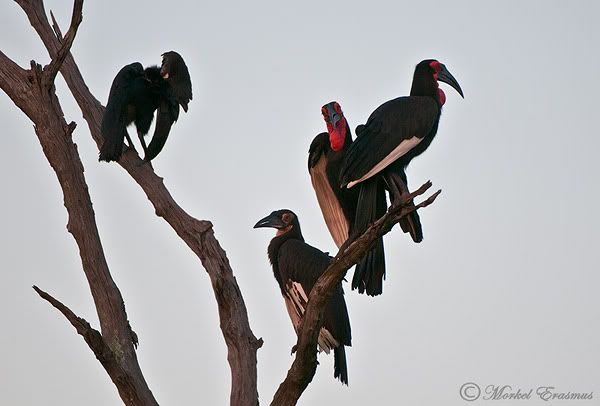 Still, not a few meters from there we found a couple of big buffalo bulls, with the usual cattle egret acting as bodyguard.
As we reached the main road running between Mopani, Shingwedzi and the far north, we turned south and spotted a young Spotted Hyena strutting along the bush. Someone in the camp had told us about a hyena den in this direction under the road in a drainage pipe. We presumed he was headed that way.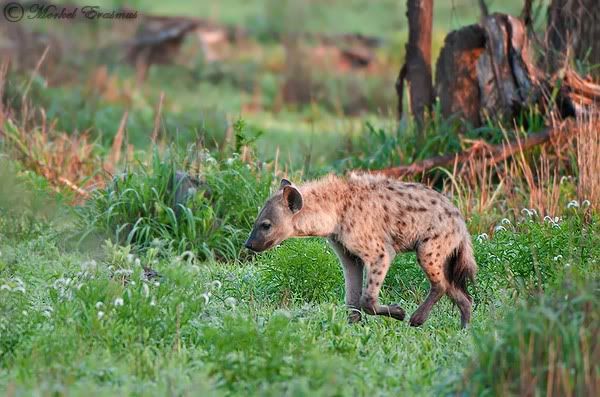 He was. We found some of the adults next to the road where the pipe is situated.
After sitting with them for a few minutes, they pushed off deep into the bush, so we turned around and headed north again, to see if we could spot where the hyenas had come from.
This shy bushbuck ewe came to greet us.
We crossed the Shingwedzi river bridge and found this little hyena lying in the road just across the bridge, all alone. We wondered if he/she was also part of the clan we saw at the drainage pipe…though it was at least 5km back.
He was quite lazy and just wanted to lie down. They probably had an eventful night.
We turned around (again). The original plan was to drive the Redrocks loop that morning, and we proceeded there. En route we saw a couple of Saddle-billed Storks in a tree. These birds are now endangered so it's always good to spot them.
The impalas had dropped their lambs in the late spring so there were plenty of little ones around – like this cutie!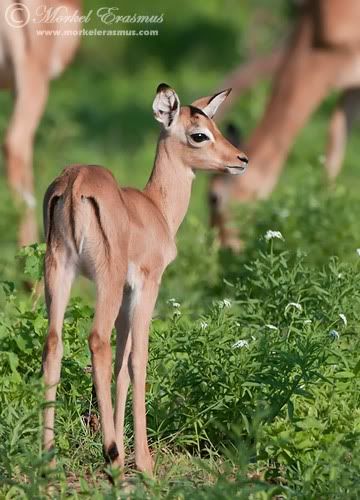 Summer is a great time for birding in Kruger. This is a Green Wood Hoopoe.
And this is a Whitefronted Bee-eater. Backlit and using rimlight to add mood to the shot.
I think I'll end this episode here…in the next one you will see interesting behaviour from an elusive and rarely seen antelope…!
Since picking up a DSLR camera for the first time, a little over 3 years ago, Morkel has been invigorated with an unbridled passion for the photographic art form. He has grown at a tremendous pace and put immense energy into the creation of his images. He absolutely loves spending time in the wild places of his native Southern Africa. From a young age he has been visiting legendary wildlife and outdoor locations, including the Kruger Park National Park and the Drakensberg Mountains, with his family. Now that he has found a way to share the natural beauty of his homeland with the rest of the world he is regularly out on photography trips. An Industrial Engineer by profession, and an accomplished artist in genres like music and poetry, Morkel has always enjoyed whatever allows him to express his creativity to the fullest. Photography turned out to be the perfect "marriage" between his engineering brain and artistic soul. "I hope that in some way I can raise awareness through my imagery of the plight of not only our wildlife but also the fragility of the last remaining wilderness areas that they call home." Morkel was recently honoured for his commitment to his craft by receiving a "Highly Commended" for one of his images in the 2010 BBC Veolia Wildlife Photographer of the Year competition. He is based in Mpumalanga, South Africa and even though he prefers going on safari with his family and friends, Morkel also leads the odd photographic safari and has recently begun presenting workshops in post-processing techniques.