Conservationists are applauding Canada for announcing it will be taking some important steps towards protecting an increasingly endangered family of orcas living in the Pacific Northwest.
These unique orcas, who are otherwise known as the Southern Resident killer whales, have gained increasing attention in recent years as they move closer and closer to extinction.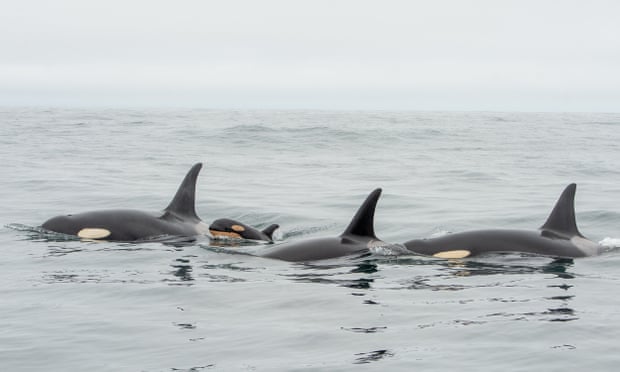 Even though they've technically been protected for years in the U.S. under the Endangered Species Act (ESA), and in Canada under the Species at Risk Act (SARA), they've yet to make a comeback. Today, with only 75 individual members left in existence in the wild, their population is the lowest it's been in30 years.
Unfortunately, they continue to face a host of threats ranging from boat noise to pollution, while one of their biggest problems now is a lack of their main food source:Chinook salmon, which is also endangered.
Now, however, Canada's taking action to address these threats through a number of measures that are hoped will build on actions already taken, including the $1.5B Oceans Protection Plan, and more recently the $167.4M Whales Initiative, to help these orcas survive.
Starting June 1, the government will be creating sanctuaries in important foraging areas in the Salish Sea that will be closed to vessel traffic, increasing restrictions on whale watching to reduce noise and disturbances, slowing vessel speeds to reduce noise, increasing restrictions on commercial and recreational salmon fisheries, increasing hatchery salmon releases, and increasing regulatory control of five key persistent organic pollutants, including flame retardants, oil and gas repellents, and prohibiting two toxic flame retardants.
"We are committed to working thoughtfully and collaboratively to address the decline and to promote the recovery of the Southern Resident killer whale population.
The measures announced today reflect the commitment to recover the whales in a manner that takes in account important economic factors and collaboration with First Nations and coastal communities," said the Honourable Jonathan Wilkinson, Minister of Fisheries, Oceans and the Canadian Coast Guard.
While there's still more to be done to ensure the survival of these orcas, a coalition of organizations that had previously petitioned the Canadian government to take emergency action under SARA, and took further legal action on the issue, are applauding the collective measures being taken here as a positive step in the right direction.
"The UN's stark report on the world's biodiversity crisis, released earlier this week, made it clear that governments around the world must take transformative action to prevent species collapse. Southern Resident killer whales are among the one million species at risk of extinction now.
Ecojustice is encouraged by the suite of measures the federal government introduced today, especially where those measures are legally enforceable," said Olivia French, a lawyer with Ecojustice.
Hopefully these actions will help give these beloved orcas the chance they need to recover, and will be further matched by efforts in the U.S.
While efforts are underway to address the threats these orcas are facing, their advocates are also still pushing to breach four deadbeat dams along the Snake River to restore salmon runs.
It's something that could be done without further study or delay, but it remains to be seen whether or not officials will get it done.
TAKE ACTION!
You can help by signing and sharing the petition asking officials in Washington to support recovery efforts for these orcas by breaching four lower Snake River dams
This article was first published by Care2.com on 15 May 2019.