South Africa is building a massive insect-rearing factory where thousands of flies will be fattened on food industry leftovers – animal manure, blood and brains from abattoirs – to produce food for farmed fish that will ultimately be eaten by people. When the factory opens in spring 2014, thousands of common houseflies, black soldier flies and bluebottles will be kept in large cages and plumped up on sugar, yeast and milk powder.
Each female will lay around 750 eggs or more, some of which will be kept there to breed the next generation. The remaining eggs will be moved on to a waste conversion centre, where they will hatch into larvae and gorge themselves, multiplying their body weight almost 400 times in as little as three days.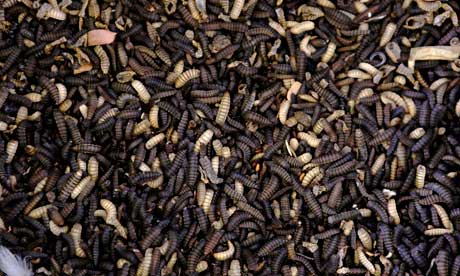 "It's about cleaning up waste locally and making the food chain sustainable," says Jason Drew of Agriprotein, the company that conceived the project and will operate the $3.7m (£2.3m) plant, which will be located in Stellenbosch in the country's Western Cape province.
More than half of the world's fish is now farmed, and with the wild fish that acts as food on the decline, the price of that fishmeal has doubled in 30 years to up to $2,000 per ton. Each 1kg of farmed salmon requires 3kg of fishmeal, jumping to nearly 20kg for each 1kg of tuna.
"There's a real sweet spot of opportunity right now in making fishmeal more sustainable," says Drew.
For the past five years, Agriprotein and its research partner at Stellenbosch University, Dr Elsjep Pieterse, have been tinkering with breeding small batches of flies on organic waste. In the past 18 months they've proven the process can work on an industrial scale and in May won an innovation award of $100,000 for their efforts.
By October 2014, Drew aims to be taking in 110 tonnes of waste per day at the plant, and churning out 17 tonnes of wet larvae. That won't nearly meet the anticipated demand from local farmers and fish-farmers.
A second, larger factory is planned for opening before the end of 2014, and will consume 165 tonnes of waste per day and the third 210 tonnes per day. A third factory is planned for 2015, when Agriprotein will start to license the technology to as many as 30 other countries who could replicate facilities.
Feeding the gluttonous larvae could eventually become a challenge. "We're trying to find as much waste as possible," says Drew. One option they're exploring is feeding them human faeces.
In time, they hope the larvae will be consumed by people, in products such as oils, or in medicines. As for eating them directly, "they're safe, but tasteless," says Drew.
This article was written by Olive Heffernan for the Guardian.