Time is fast running out for the rhinoceros. In their final stronghold of South Africa, rampant poaching for horn threatens to wipe out the last 20,000 southern white rhinos in less than two decades. Among conservation scientists, there is deep uncertainty over how best to respond to the poaching crisis. Many express reserved support for the controversial idea of a legalised international trade in rhino horn.
On Thursday, the high court in Pretoria lifted South Africa's ban on domestic trade after being petitioned by landowners who say the only way to protect the beasts is to make them too valuable to let die. Much of the poaching is occurring in Kruger national park, which is the size of Wales and lost 827 animals in 2014. There, the government has been forced to mobilise the army in a vain effort to combat poachers.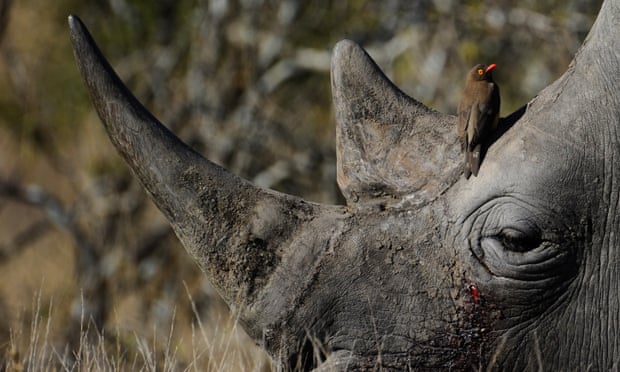 Rhinos in small ranches are easier to protect. Here, in semi-wild, fenced in habitats, they are bred by landowners who try to turn a buck through safari tourism. But in the present, high-security climate, the cost of keeping private herds safe is overwhelming landowners.
"If they don't find a way of making enough money to at least reimburse them for caring for the rhinos, they are just going to release them. And then they'll be dead. I mean they'll get poached right away," said Dr Daniel Stiles, a consultant on the illegal wildlife trade for the UN, International Union for Conservation of Nature and various NGOs.
But the raising of South Africa's domestic ban is likely to be meaningless, as there is little demand within South Africa. Horn is mostly consumed in China and Vietnam, where it is sold on the black market. Exports of rhino horn were banned in 1977 under the Convention on International Trade in Endangered Species of Wild Fauna and Flora (Cites).
"Who will buy it if export is illegal? Smugglers, I guess," said Stiles.
Under a legalised trade, proponents say the adults would be de-horned and the keratin powdered and sold on the Vietnamese and Chinese market, where it is a popular snake-oil cure-all. A 2014 study by Dr Enrico di Minin found the legal trade could generate up to $717m (£476m) profit each year. The extra commodification of rhinos will attract investment in game farms. Because horns grow back, landowners argue the resource is considered to be "renewable".
Di Minin said this amount of money, if it was directed to conservation efforts, was theoretically enough to stem the poaching crisis. Unlike deeply unstable central African countries where elephants are also suffering heavy poaching, he said South Africa's corruption was at a level where much of the money meant for conservation would be used for that purpose.
Stiles said the creation of a virtuous economic cycle was the "ultimate goal" of any conservation effort. "It means that people who live with wildlife benefit from it and the wildlife numbers don't go down as a result," he said.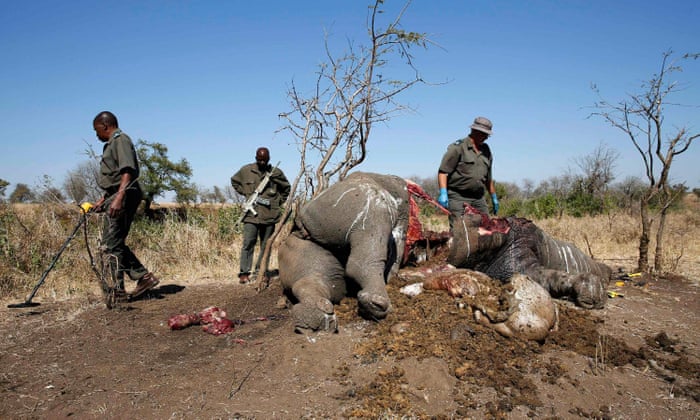 On Thursday, South Africa's Environment Ministry immediately appealed the high court's decision, meaning the ban stays in place for now. But the South African government is said to be strongly considering a petition to Cites next year in which they will call for the legalisation of horn exports.
Stiles said any move to overturn the four-decade old international ban was highly unlikely to succeed. "Unfortunately the animal rights people don't accept sustainable utilisation," he said.
A statement from the Save the Rhino NGO, which has yet to reach a conclusion on viability of the legal trade, said: "If South Africa does submit a proposal to Cites to trade in rhino horn internationally, and it is rejected, what exactly will these investors do with their newly acquired rhino horns?" It added that stockpiles of horn taken from dehorned animals on private farms as a means of deterring poachers were already vulnerable to theft.
Even if a trade to the Far East was made legal, di Minin said there was no certainty the huge spike in poaching in the past seven years and eye-watering prices on the black market (estimated at around $60,000 per kilo), would necessarily translate to high demand.
"It might be that it is extremely high and it might be that it is extremely low and it's just because these guys [the smugglers] are stockpiling in anticipation of future scarcity of the goods," he said.
The critical debate in rhino conservation divides those who support a legal trade and those who believe the only way to save rhinos is to kill demand in the Far East.
In the race against the poachers, there is no time to choose the wrong path. For those gambling that they can win the hearts and minds of the Chinese and Vietnamese before the last rhinos disappear, a legal trade has the potential to be a distraction. Or even worse, to actually bolster demand.
The World Wildlife Fund said it regretted the South African court's judgement. "Lifting the domestic moratorium can only encourage poaching and illegal activity, especially as it is likely to be misconstrued as a lifting of the current international trade ban," said Dr Jo Shaw, rhino programme manager for WWF South Africa.
"A legalised trade may indeed produce positive conservation outcomes or it may have a catastrophic impact on what is already a conservation emergency for rhinos – so caution must indeed be exercised," said Sabri Zain, director of policy at the anti-poaching watchdog Traffic. "To date, there are no known workable, practical mechanisms for the legal trade in rhino horn that have been proposed by the government. Thus, much of the attention and speculation around this topic seem premature."
Legal trade advocates often point to the example of South America's vicuñas, which have been managed for their fur since the 1990s.
Cristian Bonacic, of the Pontifical Catholic University of Chile, was one of the scientists who set up the vicuña programme. He told National Geographic the trade had worked for a short time. But the development of the internet and globilised trade had made it impossible to monitor all sales of vicuña fur. In the end, the experiment had made the poaching problem much worse.
"The romantic view that local communities can use an animal sustainably is simply no longer feasible in the 21st century," he said.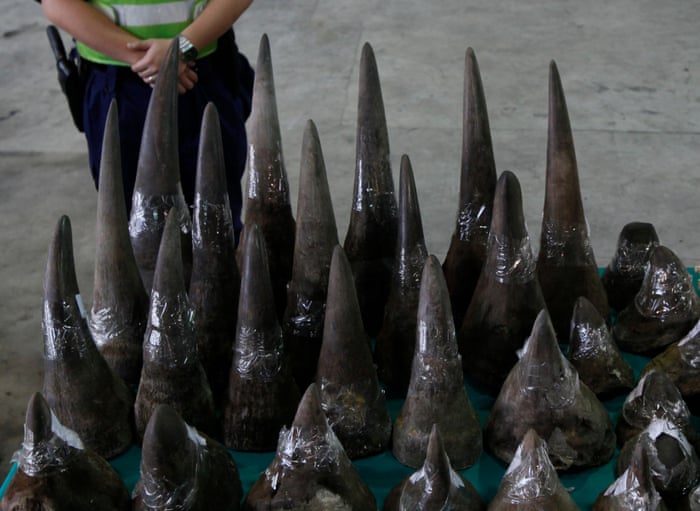 But di Minin said there may be a third way, in which international trade in rhino horn was temporarily legalised. This would raise enough money in the short term to protect the remaining rhinos.
"If we do this in the short term for five to 10 years, we might find ourselves with the rhino population doubled in size in the meantime and we actually move it away from the brink of extinction," he said. This would give time for education and awareness raising to cut demand in China, where young people are being targeted to debunk false beliefs about the medicinal benefits of the horn.
But even though he supports the legal trade in theory, Stiles said the point was essentially moot.
"I just don't see it going anywhere. I don't see China and Vietnam legalising the sale of rhino horn in the near future, it's just not going to happen," he said. "Things are looking pretty bleak for rhinos."
This article was first published by The Guardian on 27 Nov 2015.
---
We invite you to share your opinion whether legalised trade can save Africa's last rhinos from poaching? Please vote and leave your comments at the bottom of this page:
Loading ...
Thank you for voting.