Animal advocates are applauding members of Congress for reintroducing legislation that would protect both us and big cats by banning private ownership.
It's currently estimated that there are more than 10,000 big cats being kept as pets or in roadside zoos in the U.S., but no one knows exactly where they are or who owns them.
While some states have laws banning the private possession of big cats, others have weak or no laws in place at all, leaving them to suffer in any number of situations that can range from simply not meeting their needs to being downright abusive.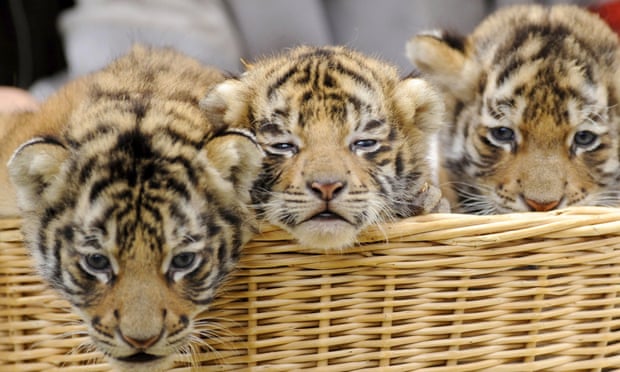 The Big Cat Public Safety Act, which was just reintroduced in the House by Representatives Michael Quigley of Illinois and Brian Fitzpatrick of Pennsylvania, would address this issue by closing loopholes in existing legislation by prohibiting private ownership of big cats, in addition to making it illegal for exhibitors to allow the public to interact with cubs.
"From irresponsible breeding to inhumane living conditions and public exploitation, the mistreatment of big cats comes in a variety of forms,"said Rep. Quigley. "By introducing the Big Cat Public Safety Act, we are working to address a serious issue that causes immeasurable animal suffering and introduces inexcusable threats to human safety. State laws regarding private ownership of big cats are inconsistent or nonexistent, which is why a uniform federal law is necessary to end this dangerous industry once and for all."
Sadly for big cats, their needs simply aren't going to be met by private owners, even when those owners have the best of intentions. While the situations they may be kept in vary, none are appropriate for these apex predators and keeping them confined is not just harming them, but is also putting communities and first responders at risk.
According to a joint statement from a coalition of organizations supporting this legislation, there have been at least 375 dangerous incidents involving big cats in this country since 1990 that have resulted in the deaths of 24 people, including four children, among other critical injuries.
Unfortunately, not only is allowing private ownership hurting individual animals and putting us at risk, there's also the matter of facilities that continue to exploit cubs to draw in visitors. Not only do they separate cubs from their mothers too soon, and allow overhandling of cubs by the public, they continue to support an endless cycle of breeding to keep cubs accessible, which just ends up producing more big cats than anyone wants.
Unfortunately, once these adorable cubs outgrow their cuteness and become too big and dangerous to handle, they're often discarded. Some may be fortunate enough to end up in sanctuaries, but those facilities are already overburdened with unwanted animals, while more concerns have been raised that unwanted big cats are fueling illegal wildlife trafficking.
"There is a big cat crisis in the United States,"said Cathy Liss, president of Animal Welfare Institute (AWI). "There are thousands in captivity, and we don't even know where they are. Private individuals keep big cats as 'pets,' where they languish in grossly inadequate conditions and pose a severe risk to the surrounding community, including law enforcement. The Big Cat Public Safety Act is a smart solution to a dangerous and cruel situation."
Hopefully Congress will finally act to protect big cats and us by passing this legislation.
TAKE ACTION!
You can help by signing and sharing the petition urging Congress to pass the Big Cat Public Safety Act.
This article was first published by Care2.com on 27 Feb 2019.
---
We invite you to share your opinion whether big cats should be protected from the exotic pet trade? Please vote and leave your comments at the bottom of this page.
Loading ...
Thank you for voting.
---
Editorial Comment: The purpose of this poll is to highlight important wildlife conservation issues and to encourage discussion on ways to stop wildlife crime. By leaving a comment and sharing this post you can help to raise awareness. Thank you for your support.