The story of a kill is told in the snow. On the Finnish island of Porosaari, we find the first paw print. "That's a male," says Asko Kettunen, retired border guard, hunter and tracker. How can he be sure? "It's big."
Five ravens rise from dark pines, croaking in the icy silence; they will scavenge anything caught by the wolves. We wade through knee-deep snow. There's a spot of vivid blood and a tuft of moose hair, cleanly cut, which Kettunen deduces has been ripped from a living animal. This, he says, is the moment the wolves made contact. First they try to puncture the intestines; if they succeed, the moose may run on, but the damage is done.
We find moose tracks, each hoof print far apart: the animal was running. Kettunen points to wolf prints on either side, to where a second and third wolf joined the chase. There are blood spots and more hair and a pine sapling snapped in two. "The moose collided with a tree, so it was not that well," Kettunen says, with Finnish understatement.
There are spots of blood by every moose print now. Finally, up the hill, is the kill zone. A young moose has been reduced to two front legs and a skin detached precisely from the body, intestines that spill like butcher's sausages and a mound of freshly chewed grass where its stomach once was. Kettunen thinks that five wolves feasted here the previous night. We find faeces and a curved bed of snow where a contented wolf took a postprandial doze.
Finland has a wolf problem. Five and a half million humans share the country with an estimated 235 wolves, and that's too many, say rural Finns, whose livestock and hunting dogs are being killed. Some parents are scared that wolves will attack their children. "Before, wolves were afraid of people," Kettunen tells me. "Now people are afraid of wolves." For the past three years, the government has assuaged these fears with a wolf cull. Last winter, 43 wolves were killed in a "management hunt", while total fatalities numbered 78, including "problem" wolves shot by police and road casualties.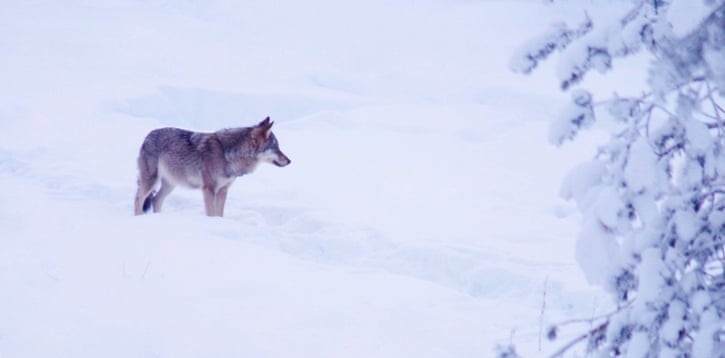 This winter, Helsinki authorised another cull, permitting the death of 53 wolves, to include those shot by police and traffic fatalities. The cull is controversial: the wolf is a protected, endangered species. Critics say Finland is in breach of EU law. A candlelit vigil for slaughtered wolves took place in Helsinki last month, and a wolf hunt saboteur group has sprung up on social media. Hunters say they've been disrupted by fireworks, vandalised trail-cameras and a hunting shelter burned to the ground. One angry hunter offered a bounty of €50 (£42) to Russian hunters for each wolf they kill, promising to tip them off when they spot a wolf crossing from the Russian border.
In this apparently calm and phlegmatic country, the wolf polarises opinion.
***
All across Europe, the wolf is on the rise. Driven to extinction by the middle of the 20th century, it trotted back into France in the 1990s and into Germany in 1998. Wolves are roaming through Denmark, the Netherlands and, late last year, reached the Belgium-Luxembourg border for the first time in 118 years. Europe (excluding Russia, Ukraine and Belarus) now hosts more than 12,000 wolves, twice as many as the United States (excluding Alaska) – despite being half the size and more than twice as densely populated. Recent reports of wolves on the edge of Paris have been treated sceptically by scientists, but they are nevertheless thriving in suburban Germany and other densely populated areas.
Inevitably, there has been a human backlash. Last year, Norway announced plans to kill 70% of its wolf population of just 68, to protect sheep flocks, before outrage prompted the authorities to backtrack and propose a cull of just 15 wolves. Two years before that, Tuscan farmers dumped wolf carcasses in town centres in protest at their burgeoning population. French farmers have also demanded that its authorities shoot more wolves. For them, the wolf poses a threat to their way of life; for others, it stirs deep fears still given cultural expression in everything from fairytales to music videos. The animal may be a symbol of freedom and nature's ability to bounce back, but it also embodies two very contemporary tensions: the gulf between countryside and city, and the chasm between ordinary people and an uncaring political elite.
***
Pia Ikonen's family life is recognisably 21st century: inside her modest bungalow, her eldest child, Lukas, nine, is transfixed by a tablet; Lotta, eight, and Lucia, six, watch Kung Fu Panda 3 on the telly, while Linda, four, reads a picture book showing a wolf pulling a sledge carrying two happy kittens. But during her 10 years living a mile and a half from the Russian border, Ikonen has seen wolves become ever bolder. Four years ago, her dog, Ninni, was snatched in broad daylight from her garden and killed by a pack. This winter, she has found two sets of wolf tracks in her snowbound yard.
Dusk is falling. Would she let her children play on the trampoline outside? "If we have wolves circling, they can't be outside in the daytime alone, and in the darkness, not at all," Ikonen says. "It is very much a problem if you can't let your children run around or walk your dog freely."
The local community pays for an expensive "wolf taxi" to transport her children, and 31 others in the region, from their front doors to school, so they don't have to wait at remote bus stops. Is Ikonen tempted to move to a safer town? She laughs. "It should be the wolves who don't stay," she says. This is a territorial dispute.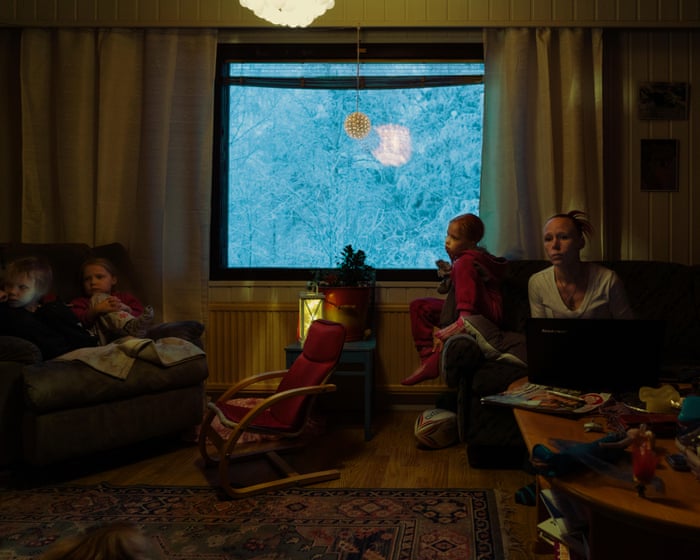 Wolves were driven to virtual extinction in Finland after a spate of attacks on children at the end of the 19th century. The story of a pair of rogue wolves that killed 35 children over 18 months in the early 1880s is still widely repeated. Are such fears of wolves rational, I ask Ilpo Kojola, research professor at the Finnish government's National Resources Institute (its acronym is Luke and its newsletter is Leia; Finnish scientists have a sense of humour). "The risk of a wolf attack is really, really tiny nowadays," he says, explaining that the historic attacks happened in an era when children led cattle into the forests, and when there were no moose for the wolves to eat.
Wolves can kill people – a jogger was killed in Alaska in 2010 – but a scientific study in which humans approached wolves 125 times in Scandinavia found no occasions of aggressive behaviour: on 123 occasions, the wolves ran away; on the other two, an alpha female exhibited harmless "defensive" behaviour near her pups.
Instead, the hostility towards wolves in rural Finland is mostly because they take hunting dogs. Finland has 300,000 amateur hunters, more than 5% of its population. Helsinki airport is decorated with stuffed hares and wolverine, and much of its rich animal life – beavers, lynx, bears – can be shot under a strict licence system. Moose hunting is particularly popular, a pursuit that has evolved over decades, with GPS collar-wearing dogs chasing moose up to 15km beyond the hunter, who follows it on a screen. "They bark when they stop the moose," explains Kai Tikkunen of the Finnish Hunters' Association, and then "it's like an ice-cream truck calling the wolves."
So the wolf is a rival, killing moose that hunters would like to catch? "The big problem is not that they eat the moose; the big problem is that they kill the dogs. It's sometimes very scary when I go to the forest: I don't know if my dog is going to come out alive." Hunters are compensated for dogs killed by wolves, but it can take 18 months and does not bring back a pedigree animal they may have spent years training.
The snowbound track sparkles under my headlights as I drive 18km beyond the nearest shop to meet Ari Määttänen, who lives alone with Minni, his Finnish Spitz. This dainty, bird-hunting dog is on a long leash in his snowy yard, as some dogs are still kept in Finland. "I like the countryside very much," Määttänen says. "It's just nature and it's free. There's no noise and I can see the stars." He also enjoys all but one of his dangerous fellow species. "I like the bears, the lynx, the adder," he says. "If 10 bears are around this house, that's fine. But one wolf? I do not like it, not at all."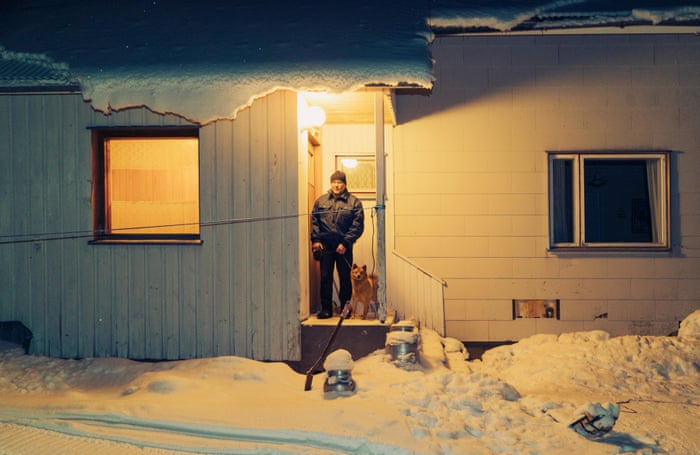 Määttänen's beloved previous dog, Kessu, was killed on 22 January last year. His description of the loss sounds like the abduction of a child. He saw two wolves 30m from his window in December 2015. "They don't jog for pleasure," he says. "They were looking for food. And after that, the wolves knew I had a dog." The "wolf circle", whereby a pack of five or more wolves scour their 1,000 sq km territory for food, takes two and a half weeks in Määttänen's neighbourhood. "They took one circle and the dog was not outside. But on the second circle it was there. It was 12.30pm and I remember Kessu was staring into the forest. He started walking in that direction" – he points to a place where his garden blends into the forest – "and vanished from sight."
Later that afternoon, a neighbour called to warn him that two wolves had crossed the road nearby. "I went out with a gun but it was too late." He found scuffle marks, then wolf tracks. "They had been waiting 100m away for my dog. They had invited the dog to play and then…" he pauses. "My dog ran into the wolf's mouth." There had been no barking. There was no blood. The wolf was so strong it took Kessu without a sound. How does he know the wolf was big? "Because on Sunday the hunters shot it," he says. Local hunters had quickly obtained a permit to kill this "problem" wolf.
Määttänen throws a fluffy object on to the kitchen table. "That's what's left of my beautiful dog," he says. It's Kessu's tail. A few days later, hunters found something else in the snow. Määttänen shows me a photo on his phone: Kessu's head, so neatly severed it looks like a surgical operation.
Ari Turunen, a paramedic who lives with his wife and two young children in a wooded village, is the leader of the local hunting group in Ilomantsi. Underneath his snowsuit, a white and grey camouflage for winter hunting, he wears a black T-shirt that says, in English, "99% bear hunter".
According to Turunen, the local wolf population has grown from two packs to seven or eight. "Five years ago, it was rare for normal people to see wolves. It would be written about in a newspaper. Now they see them daily," he says. "We should never let the wolf population grow this quickly, because it disrupts the balance of nature."
One reason for the wolf's resurgence is rural depopulation. Outside its cities, Finland does not look prosperous: the mechanisation of forestry has stripped jobs from the countryside and picturesque cottages lie derelict in snowy forests. For those who remain, hunting is a social glue. "We don't have any ice-skating halls here," Turunen says. "All my friends and friends' wives hunt. It's part of everyday life. I spend a lot of time in nature, fishing, and picking mushrooms and berries with the kids. I'm a nature conservationist."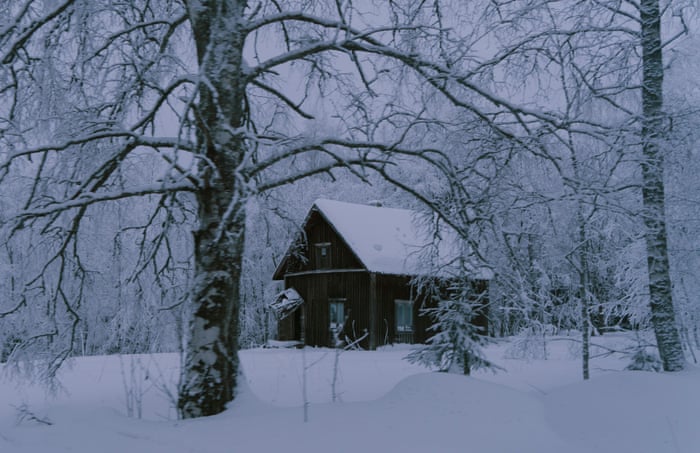 Five days ago, Turunen and his fellow hunters went after two wolves. One of them had been attracted to lard put out for songbirds. It also encountered a jogger near a village. "It was a very bold one," Turunen says. He has taken his three-year-old son hunting since he was a baby, but he doesn't take him wolf-hunting: there's too much waiting around in the cold. On last week's hunt, they began at 4am and killed both wolves by midday. The bodies were then dispatched to government scientists for DNA tests; these help to map the wolf population, and confirm the animals are wolves and not wolf-dog hybrids.
Hunting a wolf is tightly regulated: only a few permits will be issued for each region, and hunters stand more chance of obtaining one if they identify a "problem" wolf. Wolves can't be chased on snowmobiles, and no more than 50 people can hunt at a time. Usually, a few hunters on skis will move through the forest with dogs, attempting to flush resting wolves towards a circle of waiting guns.
Across the nearby border, the Russian authorities reward hunters for killing some of their 50,000 wolves, which are considered vermin. Turunen says it is illogical to have two such different approaches, when wolves move freely between the countries. "It's stupid that, on the other side, it's considered a pest and you get money for killing it, and on this side you go to prison." His own view is that the wolf should be a "valuable and respected game animal", a hunting prize.
Does the Finnish government understand the concerns of rural people? "No," Turunen says. "This discussion is dominated by people who have never seen a wolf or lived in a wolf area. The matter should be decided in the areas where it takes place, and not in Helsinki. If I managed street cleaning in Helsinki they would be equally screwed," he laughs. "And the problem is, some things are not decided in Helsinki but in Brussels, where they understand it even less."
***
On the train from rural Finland to Helsinki, I chat to a young suburban Finn. He says he can understand both sides of the wolf debate; but when I ask him how many wolves there are in Finland, he guesses at 5,000. I tell him there are barely 200 and he changes his mind. "This animal should be protected," he declares.
Most Finns, says Sami Saynevirta, manager of Luonto-Liitto, a Finnish wildlife charity, have no idea the country has so few wolves. "Finnish people are really surprised when we tell them it's an endangered species. They don't realise we have so much poaching." Saynevirta argues that Finland needs help from the EU, punitive or otherwise, to stop the wolf cull. "This is not good for Finland's reputation for ecotourism," he says. "Wolves could be more valuable for Finland alive than hunted."
The Finnish government has calculated that if it maintains a minimum of 25 wolf packs, it won't be breaking EU law. The first year of its wolf hunt, 2015, was considered a success; but the second, last winter, was not, because eight alpha females were killed – too many.
Filmmaker Stefan Gofferje has lodged a criminal complaint against Finnish officials for violating EU law. Gofferje, a German who lives in Finland, tells me he has loved wolves since he was a boy. His pet dog is 55% wolf; he "lives in my apartment, sleeps in my bed, goes for a 30km walk every day and is a local star here in my village. It's practically impossible to train a wolf. When I ask him to do something, I ask him – I'm not telling him."
Gofferje's legal complaint is currently undergoing what he calls "client ping-pong", shuffled between government departments and jurisdictions. He plans further challenges, contrasting the Finns' apparent willingness to shoot any wolves found near houses with Germany, where "problem" wolves spotted close to human habitation are first tracked with GPS to understand their movements, then deterred – and destroyed only if displaying direct and threatening behaviour towards humans. Germany has invested millions in public education programmes focused on its new wolf population; and only education will help people and wolves coexist, Gofferje argues. "It's not enough for the government just to make rules or prosecute poachers. They must educate people," he says. "If your child is afraid of something, do you remove the cause of the fear, or do you educate the child to combat the fear itself?"
"We have people standing on both sides of us kicking our ankles. If both our ankles are sore, then we've done something right," says Sami Niemi, the likable official in Finland's Ministry of Agriculture, who oversees its wolf policy (and doesn't hunt himself). "This is not an issue where you can find a solution that suits all: we have to find the middle way. That leaves everyone unhappy: there are either too many licences or too many wolves, so we can't win."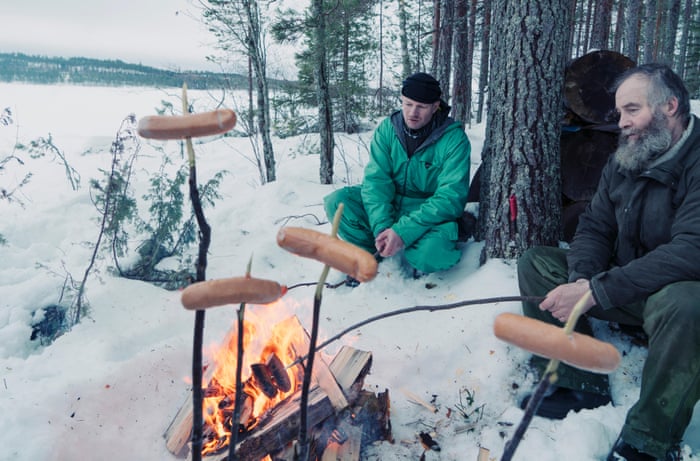 The stated purpose of Finland's cull is to reduce poaching. When the wolf was completely protected, Niemi explains, "illegal hunting was a big problem for us. If the population grew to 140 or 150, the next year it went back down. It's not just hunters, it's local people in general. They put pressure on the hunters to deal with the issue [illegally], so we had to do something."
But conservationists say this argument is equivalent to introducing government burglaries to reduce stealing. The only winner is the government. "With the ministry doing this legal hunt, they get fewer phone calls and emails from angry hunters," says Mari Nyyssölä-Kiisla, chair of Luonto-Liitto's wolf action group. "They think this is a good thing: 'We've got more peace. The people are happy.'"
In a recent study, ecologists Guillaume Chapron and Adrian Treves analysed wolf population growth rates in Michigan and Wisconsin, and found that government-sanctioned culls in those US states caused a change in wolf population, which they suggested was most likely the result of illegal killing. "Wolf culling may have sent a negative message about the value of wolves or acceptability of poaching," they concluded.
In that sense, culling is a political act, Chapron explains on the phone from the Swedish University of Agricultural Sciences. "The wolf conflict is not strictly about wolves," he says. "It's a conflict between people about who controls the land. The wolf is associated with wilderness only in our minds – it is a species that can live everywhere. I'm not saying that wolves do not create damage. But the wolf is like a predatory roe deer, and we don't associate roe deer with wilderness. Hunters often consider that wild animals are their property to harvest, while environmentalists are more fired up by the wolf than the roe deer.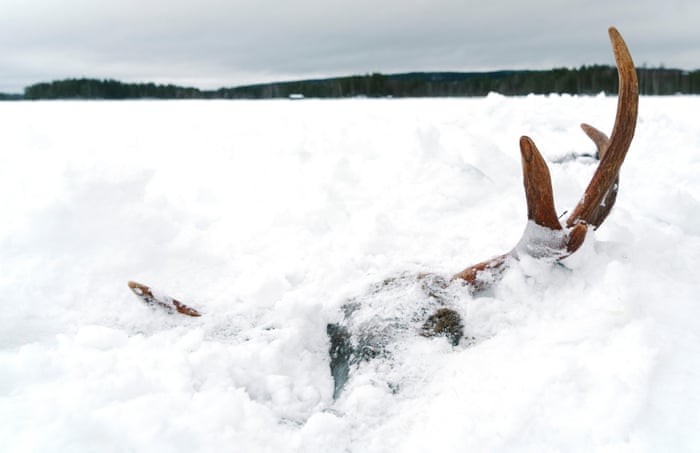 "The wolf asks very disturbing questions," Chapron continues. "In France, when wolves kill livestock in their national parks, farmers say, 'We can't survive with wolves, they are destroying our livestock'. But environmentalists ask in return: 'Why do we even have sheep in our national parks?' The farmers will say that it is a tradition. But is subsidised overgrazing a tradition? The debate becomes very heated, because the wolf is questioning economic practices, land use and the allocation of power in the countryside."
Even in consensus-loving countries such as Finland, wolf-haters and wolf-lovers do battle online, trading threats, insults and wild conspiracies about illegal poaching or zoos deliberately releasing wolves. On the border with Russia, fearful locals share pictures of what they claim is a burgeoning population of Russian wolf-dogs. (The research professor Ilpo Kojola tells me that genetic testing of 450 Finnish wolves over 20 years has revealed only three cases of wolf-dog hybrids.) A suspicion of experts, scientists, entrenched power and political elites is a common thread in many of these discussions.
Among local people who fear wolves, there is a particular dislike of the EU. Chapron is not making a political point but tells me his research has led him to conclude that EU protection has been key to the wolf's resurgence, as well as that of other large predators including the brown bear and lynx. "If there wasn't this strict legislation, there would be very few or no large carnivores in Europe."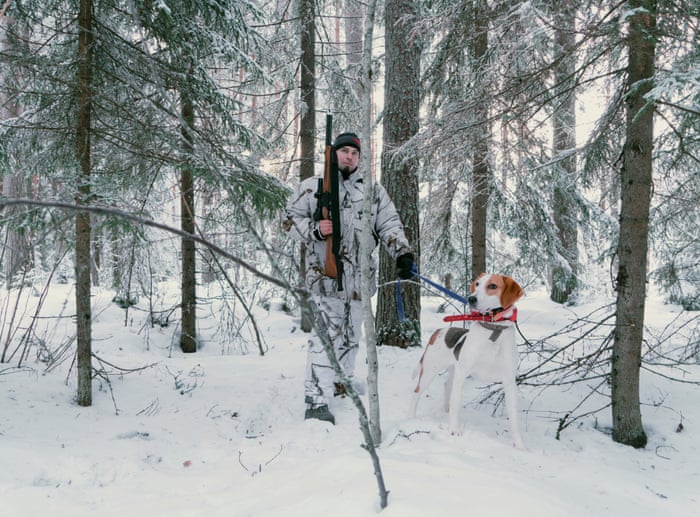 Back in snowbound Finland, I ask local hunter Asko Kettunen, who is also a wildlife photographer, if ecotourism (spotting live wolves) could replace hunting. "No," he replies firmly. "Feeding or photographing the wolves gets them comfortable with people and more problems will come."
Does he hate the wolf? "No. I don't like that they kill my dogs, but I don't hate the animal, not at all. It's so intelligent, it's so difficult to catch and it adapts to its surroundings so quickly, faster than other species. The wolf belongs in Finnish nature, just not in yards and gardens. Many people say that hunters hate wolves, but we tolerate them and hope they don't do any damage. It's not hatred – it's realism."
This article was first published by The Guardian on 25 Feb 2017.
---
We invite you to share your opinion whether Finland's 235 wolves should be culled? Please vote and leave your comments at the bottom of this page.
Loading ...
Thank you for voting.
---
Editorial Comment: The purpose of this poll is to highlight important wildlife conservation issues and to encourage discussion on ways to stop wildlife crime. By leaving a comment and sharing this post you can help to raise awareness. Thank you for your support.