A leopard killed dozens of endangered penguins at a nature reserve outside Cape Town earlier this month, prompting a renewed debate about how best to protect South Africa's threatened species.
Ranger Cuan McGeorge found the bloodied, lifeless bodies of 33 African penguins on 11 June scattered across Stony Point, a reserve at the sleepy holiday town of Betty's Bay that protects one of just four mainland breeding sites.
Authorities were quick to identify a suspect — a roving leopard, itself a threatened species persecuted for centuries.
The Stony Point culprit consumed just two of the 33 penguins it killed, and a local intensive care unit for coastal birds is treating a surviving penguin with puncture wounds to the neck. Cape Nature, the provincial managing authority, said there was no doubt a leopard was responsible.
"This is what we call surplus killing," said Dr Bool Smuts, director of the Landmark Foundation, a conservation organisation. "It happens in unnatural settings when prey species are confined and defenceless."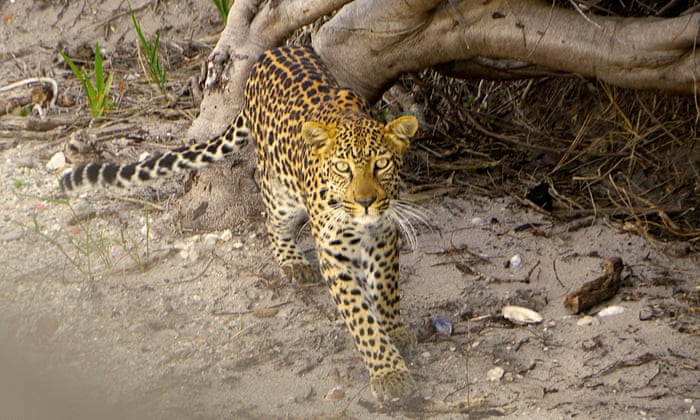 The penguin deaths are distressing for locals and conservationists. Penguins first colonised Stony Point in 1982 from declining populations on nearby islands, and the colony's growth to more than 2,000 breeding pairs has been hard-won.
Charismatic penguins nesting between boulders and beach houses are now a quirky tourist draw and local favourite. They also contribute substantially to the global population that, in 2009, was down to just 26,000 breeding pairs, 20% of the 1950s numbers and a tiny fraction of the 1.5-3 million birds estimated for the early 20th century. Penguins compete with commercial fisheries for their favourite foods —sardines and anchovies.
"It's always tricky when threatened species come into conflict," says Prof Peter Ryan, director of the Percy FitzPatrick Institute of African Ornithology at the University of Cape Town. "However, in this case, it should be fairly clear that the benefit of conserving the only growing African penguin population outweighs the importance of a single leopard."
Leopards have lost 75% of their global range, but across Africa they likely outnumber endemic African penguins two-to-one. On the IUCN red list, "endangered" penguins trump the merely "threatened" leopard.
Locally, however, the leopard is rarer. "The adult leopard population in these provinces [Western Cape and Eastern Cape] is 500-700," said Smuts. "They're critically endangered here and continue to be hammered by human-wildlife conflict. I'm not surprised the leopard took some birds. It's completely natural behaviour."
Guy Balme of conservation group Panthera said: "As long as there's other suitable prey available, leopards and other carnivores can be discouraged."
Cape Nature is targeting the leopard's sense of smell and territoriality. They hope pepper spray, lion scat brought in from a nearby sanctuary, and scent-marking left by dog patrols will deter the leopard, which hasn't been seen since the attack.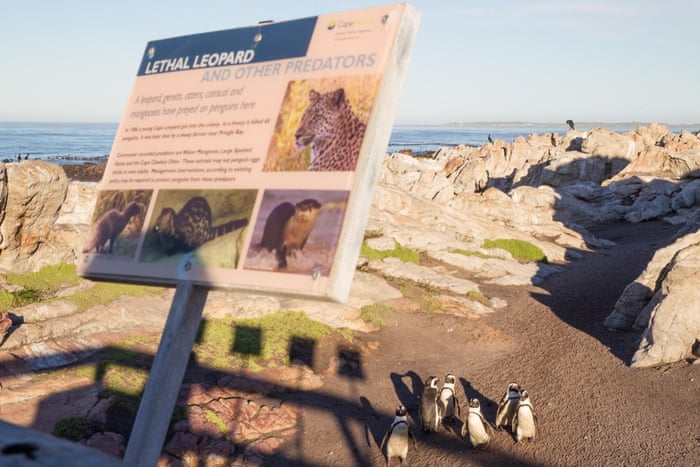 Many locals sympathise with the leopard and don't want to see it harmed or captured. Twin sisters Rene Kaljee and Renette Stone share their dream home's garden at Stony Point with the growing penguin colony, which also happens to be smelly and noisy. "How many penguins can the reserve sustain?" asks Rene. "I hope they don't find the leopard. It sounds crass to say, but let nature take its course."
Renette adds: "We love the penguins, but the colony is growing out of the sanctuary."
According to local realtor Karon Scholefield, residents love Betty's Bay for its rustic charm and the wildlife that often wanders through. "To be privileged to possibly spot a leopard on my walks, that would be awesome. Just knowing there is one around, for as long as he chooses, is really very special."
This article was first published by The Guardian on 22 Jun 2016.
---
We invite you to share uour opinion whether leopards should be culled to protect endangered penguins? Please vote and leave your comments at the bottom of this page:
Loading ...
Thank you for voting.