MPs have criticised the British government for refusing to accept the scientific evidence for a ban on pesticides linked to bee declines. Three neonicotinoid pesticides cannot be used on crops attractive to bees from December, after a decision by the European Union to introduce a moratorium on them amid concerns that they were damaging pollinating insects.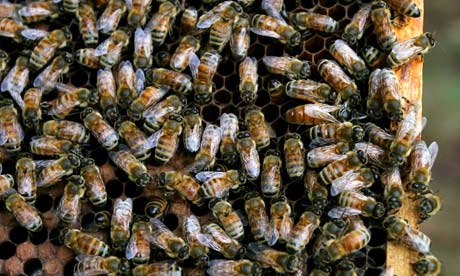 The British government opposed the move and, in its response to the environmental audit committee report on pesticides and pollinators, said its assessment remained that the evidence did not point to risks to pollinators that would justify the proposed restrictions.
But it said it would be implementing the ban, which covers agricultural crops and products for gardens which use the three chemicals.
Joan Walley, who chairs the committee, said: "I am disappointed that the government has not accepted the great weight of scientific evidence that points to the need for the ban on these pesticides in line with the precautionary principle."
The Friends of the Earth nature campaigner, Sandra Bell, said: "The government has again turned a blind eye to the overwhelming scientific evidence on one of the main causes of massive bee decline in the UK, although it begrudgingly accepts that it must follow the temporary EU ban on these powerful chemicals.
"Instead of defending these pesticides and their manufacturers, ministers should help farmers reduce their use and develop techniques to maintain yields."
She called for the government's promised national pollinator strategy to tackle all causes of bee decline, including the use of chemical pesticides.
We invite you to vote FOR or AGAINST a "Ban on the Use of Neonicotinoid Pesticides". Even if you're not from the UK, please vote and also leave your comments at the bottom of this page.
Loading ...
Now that you've voted, please sign the petition:
Don't delay! Do it today.
The editorial content of this article was written and published by the Guardian.