Unregulated culling of Scotland's mountain hares should be banned and the species protected, according to a report that says shooting the animals for sport is inhumane and uncontrolled.
Landowners can shoot the hares without a licence from August to February and claim culls are necessary to protect game, especially red grouse, from disease.
Campaigners say death rates of hares, which are native to the Highlands and thrive on grouse moors, are not monitored. The charity OneKind, in a report published on Monday, said: "Population data is sparse but suggests mountain hares are in decline. Yet they are widely persecuted for sport and as part of organised culls."
At least 25 game estates were currently offering the opportunity to shoot mountain hares for sport, it said, with no guarantees this was not driving decline. It estimates about 40% of hares killed were for shot for sport, while about 50% died as part of organised culls.
It was impossible to know how many were killed as mountain hare killing was secretive and carried out in remote locations, the charity said. One estimate was that 25,000 were killed in 2006-07 – a figure now 10 years old, OneKind said.
The report highlights three culls that it claims took place on grouse moors, including two carried out last year on the Balmoral estate in Royal Deeside.
Mountain hares are classified as a priority species by the Scottish Wildlife Trust.
The Scottish government has called for voluntary restraint on the issue. A spokesman said: "We have been very clear that we will not tolerate large-scale culls of mountain hares but we recognise that numbers need to be controlled in some specific circumstances."
It is setting up an independent review to examine the sustainability of grouse moor management, including hare-culling.
Data on hare populations is widely disputed. The last estimate was made in 1995 when 350,000 mountain hares were thought to exist.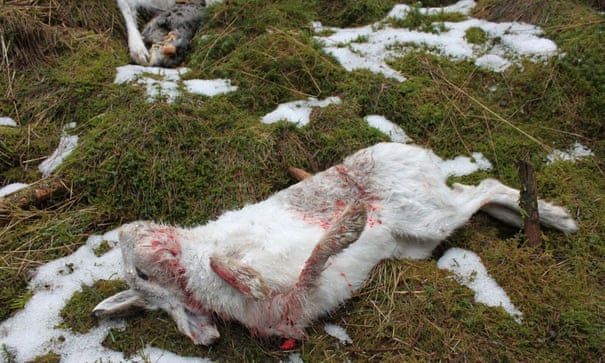 OneKind states the population could be between 175,000 and 500,000 hares, fluctuating year-on-year, but said monitoring by the British Trust of Ornithology – albeit for a limited sample size – suggested an overall decline of 34% between 1996 and 2014.
Harry Huyton, OneKind's director, said: "Mountain hares are an iconic species in Scotland that should be protected. Our report shows that instead they are persecuted in enormous numbers for entertainment. The killing is unregulated, and there are no guarantees that it is not further driving the decline of these species or causing unacceptable suffering.
"Today, the day before the open season begins, OneKind is calling on the Scottish government to take urgent action and introduce a moratorium on large-scale hunts and culls before the season gets into full swing."
Hares can be killed under licence from Scottish National Heritage. But, in addition to organised culls there are driven and walked-up shooting of the hares offered as one of many "country sports" by Scottish estates, the charity said. Its research found 25 companies offering mountain hare hunting online, eight of which were promoted by the Scottish Country Sports Tourism Group, which listed SNH and Visit Scotland as partner organisations.
The report states: "For almost half the year, from March to July inclusive, mountain hares are protected and any persecution without a licence from SNH is illegal. But, for the remainder of the year, they can be killed freely with no permissions and no transparency, and as such are persecuted on a large scale."
Driven hunts involved flushing hares towards a line of waiting guns. But hares were "notoriously challenging to shoot" as they were small and fast and the risk of causing injury rather than clean kills was heightened, it added.
OneKind calls for a ban on hare killing, except under licence, and complete protection within national parks.
This article was first published by The Guardian on 31 Jul 2017.
---
We invite you to share your opinion whether the culling of Scotland's mountain hares should be banned? Please vote and leave your comments at the bottom of this page.
Loading ...
Thank you for voting.
---
Editorial Comment: The purpose of this poll is to highlight important wildlife conservation issues and to encourage discussion on ways to stop wildlife crime. By leaving a comment and sharing this post you can help to raise awareness. Thank you for your support.