The government's killing targets for the controversial badger cull in England are "deliberately being biased down", according to a leading animal population expert.
The badger cull, now rolled out to seven counties in England, is part of efforts to reduce the scourge of tuberculosis in cattle but has been heavily criticised by scientists.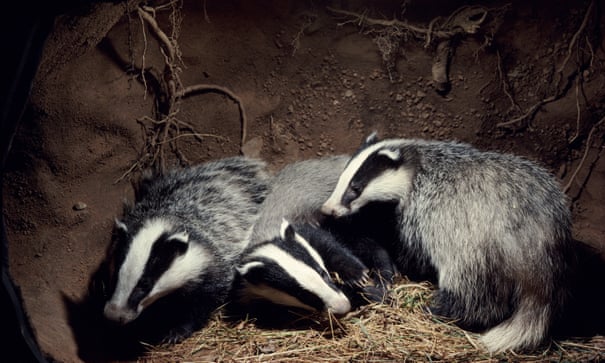 Farmers failed to meet the targets for badgers shot in the first culls and the lower targets have been easier to achieve. But scientists warn that lower targets run the risk of actually increasing TB in cattle, because the remaining badgers roam more widely and can spread the disease further afield.
"The targets are being based on poor estimates of [badger] population size and are deliberately being biased downwards," said Prof Tim Coulson, at the University of Oxford, who was a member of the government's Independent Expert Panel that scrutinised the first year of culling in 2013 before being disbanded.
This less accurate method produces a population estimate with very wide error bars and, rather than using the central estimate to calculate the cull target, the government is using the very lowest figure at the bottom of the range of uncertainty. This leads to a cull target likely to be much lower than needed to remove a high proportion of the badgers.
"The tools are out there to do this properly," Coulson said. The "gold standard" method, he said, was to capture and identify badgers and then recapture them to calculate a good estimate of the population before and after culling, but that this was discontinued after the first year of culling: "The reason for that was primarily financial."
Badger populations are now estimated using sett numbers and other landscape features which Coulson said was not very accurate. Furthermore, the government was setting the killing target at the lowest end of these estimates, he said.
Nigel Gibbens, the UK's chief veterinary officer and also attending a bovine TB symposium in London, defended the approach. He said the government had moved from a "research methodology" in the first year to a more "practically deliverable" approach, which was adjusted as data from culling came in.
"We are applying a practical opening position to set a figure, then using the reality of what happens when culling takes place to understand what is actually happening on the ground," he said. "I think that is a sensible and defensible methodology."
Prof Sheila Bird, a statistician and member of the Department of Environment, Food and Rural Affairs' Science Advisory Council, said: "That sounds a bit like moving the goalposts." In 2013, then environment secretary Owen Paterson explained the failure of the cull to meet its killing targets by saying "the badgers moved the goalposts". Bird said using a "fiddle factor" did not "do the culling any service".
The cull killed over 10,000 badgers in the autumn of 2016 but experts said the expansion "flies in the face of scientific evidence". TB is a serious problem for farmers, with 36,000 infected cattle slaughtered in Britain in 2015 at a cost to the taxpayer of about £100m. The government is also implementing stricter cattle testing and movement rules to tackle the problem and researching both badger and cattle vaccines.
"No-one wants the long term solution to be culling in perpetuity," Gibbens said. "We are where we are with regret, not because it is the place we want to be." He said cattle-to-cattle transmission was a crucial factor to tackle, but that badger-to-cattle transmission was also important. "If we don't deal with both, we won't get rid of the disease."
Wales has seen a decline in cattle TB in recent years, after stricter testing and other measures were implemented. But Christianne Glossop, Wales's chief vet, said culling was set to be used this year to target farms with longstanding TB infections.
Scientists have warned that small-scale culls also run the risk of making TB worse overall by dispersing badgers. But Glossop said: "I know there is a risk attached to this approach but I think it is proportionate."
In the Republic of Ireland, about 6,000 badgers have been culled each year since 2000. This and other measures has seen TB in cattle fall. But James O'Keeffe, head of the Department of Agriculture's Wildlife Unit, said that, following successful trials, the nation would switch to mostly badger vaccination in 2018. He said culling was not sustainable in the long term: "We need to eliminate TB, but also make sure we don't eliminate badgers."
Badger vaccination projects in England have been postponed due to a global shortage of TB vaccine. But O'Keeffe said: "If you pay for it, you get it. We have had no problem getting it."
Ireland has a much lower density of badgers than England and zoologist Prof John Krebs warned: "What worked in Ireland might not work in England." In 2012, Krebs described the government's badger cull plans as "mindless".
This article was first published by The Guardian on 29 Mar 2017.
---
We invite you to share your opinion whether the Government should cull badgers or vaccinate them? Please vote and leave your comments at the bottom of this page.
Loading ...
Thank you for voting.
---
Editorial Comment: The purpose of this poll is to highlight important wildlife conservation issues and to encourage discussion on ways to stop wildlife crime. By leaving a comment and sharing this post you can help to raise awareness. Thank you for your support.