Thai police say they have seized more than a dozen elephants in raids after busting a gang that allegedly provided the animals' owners with false identification papers. Fourteen unregistered or illegally registered elephants were taken in simultaneous raids on tourist destinations in the southern provinces of Phang Nga, Phuket and Krabi, said Major General Norasak Hemnithi of the police force.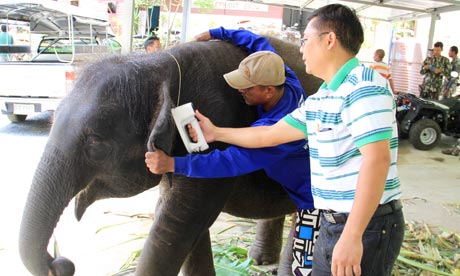 He said the operation, carried out by nearly 100 police and wildlife officials, followed the discovery of identification certificates issued for elephants that were not living in their registered locations.
They were believed to have been illegally held after being either smuggled from neighbouring Burma or taken from the wild.
Two other elephants were seized in the eastern province of Trat, said Traffic, a wildlife trade monitoring network. The total number seized was unclear, with different reports putting it somewhere between 14 and 16.
"Police believe that elephants were taken from the wild, either in Myanmar [Burma] or elsewhere, smuggled into Thailand, where they were trained, transferred to the camps, and then registered at a later date using these falsely provided certificates," Traffic said.
Elephants are the de facto national animal of Thailand and once provided the backbone for a large forestry industry. With development and deforestation their numbers have dwindled and there may be only some 2,000–3,000 left in the wild, with a similar number of domesticated elephants, many serving as tourist attractions.
Registration allows the commercial use of elephants. Normally, only calves born to elephants already legally in captivity can be registered, though proof of birth to a domesticated elephant is not required.
Traffic said the case began after police found suspicious elephant identification certificates in camps in Phuket and Phang Nga. Further investigation uncovered 69 more fake certificates in the homes of two men in the north-eastern province of Chaiyaphum. The two men are being sought for arrest.
Thailand and Burma are both parties to international agreements prohibiting the cross-border trade in elephants. Thai law also bans the capture of wild elephants.
More unregistered elephants are expected to be seized from camps in four other provinces in the coming months, said Traffic, adding that their disposition would be decided on a case-by-case basis.
This article was written and published by The Guardian UK.