Every summer, a wave of intrepid migrants travel from north Africa to Europe, seeking a better life for their offspring. Many thousands, occasionally millions, reach Britain.
The painted lady, a beautiful and powerful insect that is probably the most successful butterfly in the world, will star in a 90-minute BBC4 documentary in July in which Martha Kearney tracks its journey from Morocco to Mablethorpe and beyond.
The filmmakers want viewers to log their own sightings with Butterfly Conservation to help map this migration. I pity the crew filming such unpredictable insects, but I've seen more painted ladies this sodden summer than at any time since the spectacular invasion of 2009, when even central London was festooned with these dynamic, dancing creatures.
After feasting on thistles, their British-born offspring are programmed to return south in the autumn, seeking sunnier climes to continue their lifecycle. Mapping the painted lady migration is complicated by the growing popularity of caterpillar-growing kits for children and the releasing of captive-bred painted ladies at weddings and funerals. I'm a little uneasy about this but have just succumbed to the pleadings of my four-year-old daughter, who is desperate for a caterpillar pet.
After we unsuccessfully attempted to rear an orange-tip caterpillar found in our garden, we resorted to mail-order and 10 tiny painted lady caterpillars have just arrived in the post.
I've "grown" thistles especially but, rather disappointingly, we are told we cannot move the caterpillars from their plastic jar, which contains a mysterious honey-like substance on which they feed. This is a problem because I'm convinced that young children need to be slimed, stung and slithered on by the wild world to be inspired by it. Hopefully we can strike a compromise between responsible husbandry and a caterpillar crawl or two.
Some scientists disapprove of releasing captive-bred insects but we've released butterflies since Victorian times. Unleashing "exotic" species into Britain (such as rhododendron or red-eared terrapin) has often proved cruel and destructive, but I think we can be relaxed about adorning our summer with a few more painted ladies.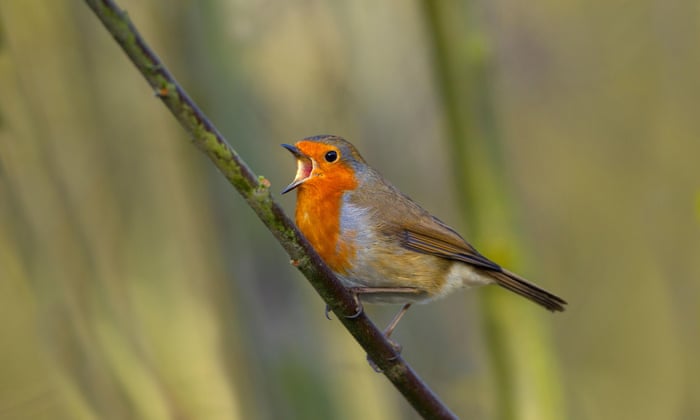 The singing robins
Nearly a quarter of a million people last year voted for the robin as our national bird. This pretty and fiercely territorial garden friend is seen as typically British, but is actually a quintessentially European bird that migrates across the continent.
I've learned this from a new edition of The Life of the Robin, a brilliantly readable classic by schoolteacher David Lack whose clever experiments turned ornithology into mainstream science. He wrote it during the second world war and showed how robins sang aggressively, but wisely avoided fights that entailed mutually assured destruction. Presumably this pragmatic survivor avoids anything as destructive as a referendum too.
European to the core
I spent two days last week walking through the Fens, which leans heavily on migrant labour and voted strongly for leave. The migrant workers bent low picking salad leaves were not the only European presence on these fertile East Anglian plains. At Denver Sluice, I passed signs commemorating Cornelius Vermuyden, the Dutch engineer who first turned this inland sea into farmland in 1691.
There were Dutch gables on old farms and Dutch barges at Ely. There were Konik horses from Poland grazing wetlands established with EU funds, and supermarkets selling Lithuanian groceries in the Hanseatic port of Kings Lynn – the Hanseatic League being the 15th-century version of the EU. By the River Great Ouse I also bumped into three painted ladies. Rural England has long been, and will remain, European.
This article was first published by The Guardian on 27 Jun 2016.