American Dipper(Cinclusmexicanus) photos by Larry Jordan
The Water Ouzel, as John Muir called it, is now known as the American Dipper(Cinclusmexicanus). I still prefer the Water Ouzel(click on photos for full sized images).
This amazing bird is resident on fast-flowing mountain streams and cold coastal streams and usually lives on its territory year round as long as the water flows.
Luckily for me, there is at least one pair of Water Ouzelsthat reside near the ranger station on Manzanita Lake near the north entrance to Lassen Volcanic National Park.
A fellow birder told me that she had seen a family of American Dipperson Hat Creek and I knew exactly where she saw them because we see them every year on our Audubon Outing at Lassen Park in that same location.I had never seen them with their offspring before, so I made my way up there to try to get some video of their amazing talents.
This is the adult showing its foraging prowess to its fledgling that was nearby.It was early in the morning and the sun had not reached this part of the stream yet but, as luck would have it, I sat on the creek bank as the bird came ever closer to me.
TheWater Ouzel'sdistinctive traits include frequent dipping, a blinking white eyelid, and vigorous feeding by jumping or diving into turbulent water even at ambient temperatures well below 0°C1. That's right, this water is freezing, it's snow melt!
The orangish lower mandible on the bird pictured above denotes a juvenile. The white throat is another indicator that this is a juvenile.
This, the only North American aquatic passerine, feeds mostly on aquatic insects and insect larvae.
They feed almost exclusively in water by walking, swimming and diving, but they also pick food from streamside vegetation.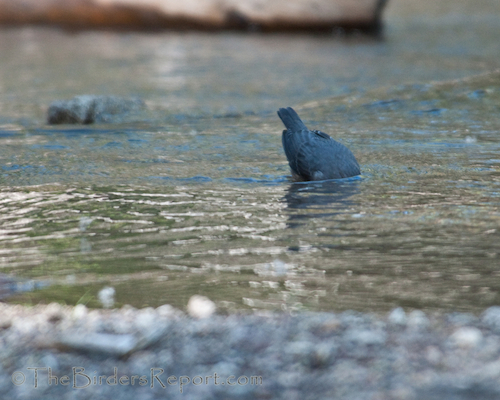 I'm including this slightly blurry photo because it shows the bird's distinctive white eyelid.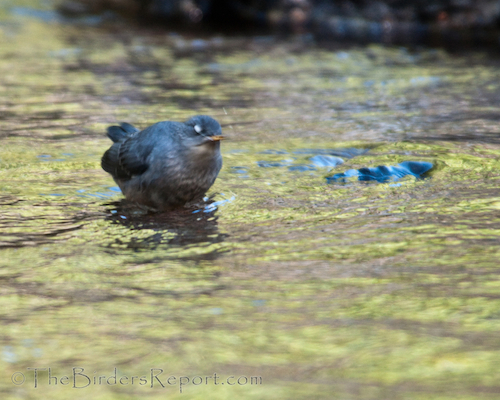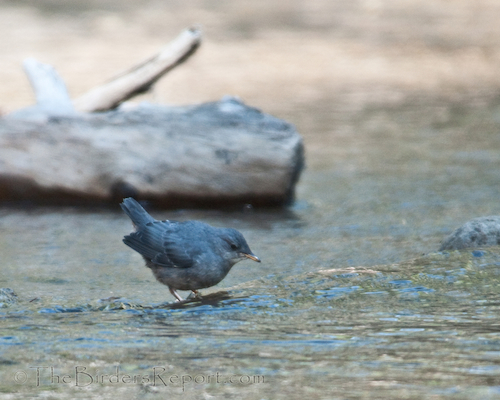 After nearly an hour of feeding, this juvenile hopped up on a log near its parent and preened in the sunlight.
To seethese amazing birds actually flying and feeding underwater, check out this National Geographic video on the Water Ouzel.
To see more great bird photos, check out this new bird meme "the BIRD D'Pot" hosted by Anni of I'D Rather B Birdin'!
References: 1Birds of North America Online
Larry Jordan is an avid birder and amateur photographer living on the Pacific Flyway near the Central Valley of Northern California. He is a board member of his local Audubon Society and is a bird and wildlife conservationist. Larry contributes to several wildlife conservation organizations and is a BirdLife International "Species Champion." He is also Habitat Manager for the Burrowing Owl Conservation Network, an organization dedicated to the protection and restoration of the Western Burrowing Owl population in the United States. Larry has been blogging about birds since September of 2007 at TheBirdersReport.com