The iridescent dragonflies that flit alongside the UK's waterways could become a rarer sight in coming years after this winter's deluge, the Canal and Rivers Trust (CRT) have warned. The mosquitoes and midges that dragonflies prey upon may increase as a result, boosted by the pools and puddles left by southern Britain's wettest winter for at least 250 years.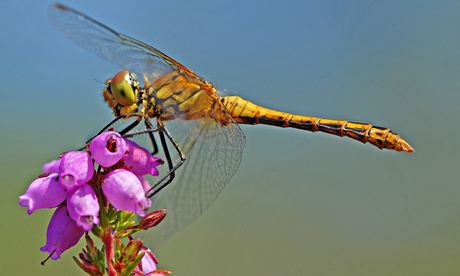 There are 45 dragonfly and closely related damselfly species that breed in the UK. But while they are best known for their colourful, darting summer flights, they actually spend most of their lives as nymphs in rivers, canals and ponds. After three years underwater, they emerge as flying adults to mate and then die as soon as a week later.
Dr Mark Robinson, national ecologist at the CRT, said overflowing rivers are known to wash the nymphs away. "If you think about life in rivers that burst their banks, most of it has been spread over the fields over the last few months," he said. "The nymphs are then just pickings for birds and small mammals. As they spend three years in the water, if you lose a year it can take a long time to recover."
Robinson said the trust is focusing on dragonflies and damselflies because they are top predators: "This makes them a fantastic indicator of the health of a canal or river." The nymphs would normally start to crawl up reeds and grass to hatch into adults in the next few weeks.
Claire Install, conservation officer for the British Dragonfly Society said it was too early to assess the impact of the winter floods and storms on dragonflies: "We won't know until the flying season." She said some nymphs would survive by hanging onto vegetation or hiding in mud. But she noted that the winter storms and huge waves will have driven saltwater into freshwater lakes and rivers near coasts, echoing the great 1953 flood which saw the dainty damselfly driven to extinction in the UK. She also noted that the dredging of rivers, which has now begun in Somerset, is extremely damaging for the nymphs.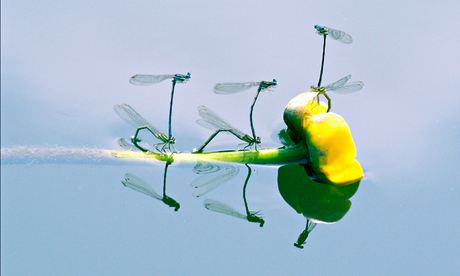 The CRT, which manages the Severn and Trent rivers as well as the canal network, begins its Great Nature Watch on Friday, which asks members of the public to record any wildlife sightings along the banks of a river, canal, reservoir or lake, via its website or its smartphone app.
Among the other species that can be seen on river banks, kingfishers may benefit from freshly exposed banks in which they can make their nests. But water voles may have been harmed by the floods, said Robinson, because they live in colonies. "The bad weather could have dispersed individuals which would then be more vulnerable to predators." Otters, which have recovered strongly in recent years, are less likely to have suffered in the bad weather. "They are much more adaptable and can move their young if needed," Robinson said.
This article was written by Damian Carrington for the Guardian.