The Azores high is seeing small tortoiseshells and meadow browns returning to gardens and the countryside in heartening numbers after butterflies suffered their worst year on record in 2012. People are being urged to help measure how these insects are bouncing back in the sunshine by joining the Big Butterfly Count, the world's largest butterfly survey launched on Thursday by Sir David Attenborough and Joanna Lumley for the charity Butterfly Conservation.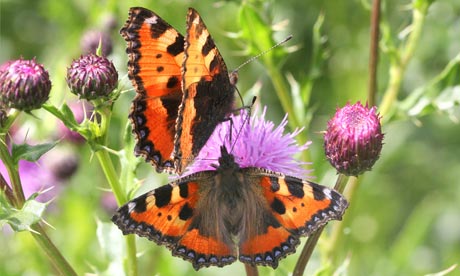 "It's an extremely exciting setup for the Big Butterfly Count," said Richard Fox of Butterfly Conservation. "Last year was awful for almost all our butterflies and at the beginning of this year it was doom and gloom. Conservation bodies and landowners can bust a gut to get habitat managed in the right way for butterflies but if it rains all through the summer there's nothing we can do about that and the butterflies will carry on declining. What butterflies really need in order to bounce back is habitats being right and a decent summer and, lo and behold, that is what's happened."
Last year, thousands of nature lovers spent 15 minutes in a park, garden or the countryside and logged sightings of more than 220,000 butterflies on the Big Butterfly Count's website, revealing dramatic declines in 15 of the 21 common species.
Although spring butterflies emerged three weeks later than normal this year after a long, chilly winter, many butterflies are now doing well, with Fox calling the good numbers of small tortoiseshells seen from Devon to Norfolk "a major surprise and a fantastic relief". Meadow browns and marbled whites – two grass-feeding butterflies which survived well in the gloom last year – are tipped for an excellent year and Britain's most endangered butterfly, the high brown fritillary, has also had an encouraging start to the summer.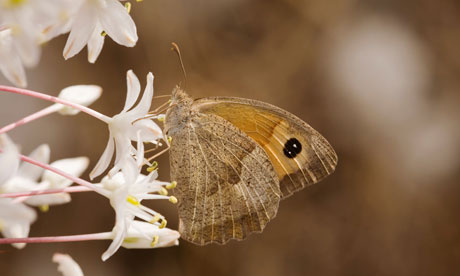 But the once-common small tortoiseshell has still suffered a 74% decline since 1976 and Attenborough, the president of Butterfly Conservation, has noted that there are probably fewer butterflies in the UK now than at any point during his lifetime.
"Their ongoing decline tells us that all is not well in the British countryside. Future generations may not be lucky enough to see butterflies in the same numbers we will experience this summer," he said.
"But, it is not too late. You can help ensure that butterflies still bring that sense of magic to our summertime by taking part in the Big Butterfly Count. The count will tell us if butterflies are recovering after a terrible year and it lets us know how they are faring in our back gardens, parks, fields, towns and cities."
Supported by Marks & Spencer, the count opens on Friday with two teams of butterfly spotters racing across Hampshire and Sussex to see who can find the most species in a day. The eccentric butterfly race, organised by Dan Danahar of Dorothy Stringer School in Brighton, pits the broadcaster Nick Baker against Matthew Oates of the National Trust, who is celebrating his 50th summer in pursuit of butterflies.
The experts hope to find more than 30 of Britain's 59 species in a single day: everyone else can download a butterfly identification guide and log sightings until the end of August.
This article was written by Patrick Barkham for the Guardian UK.