When Australian filmmakers Mick McIntyre and Kate McIntyre Clere went out with their camera crew on a kangaroo hunt, they had to witness horrific images they can never forget.
"It's, it's just . . . ," Mick stammered to find the right words. "I had to experience it filming and there's nothing good about it. There's nothing moral about it."
"It's very tough," said Kate of her experience directing Kangaroo: A Love-Hate Story, and it remains very tough to see those images."
Making a film that includes grotesque brutality is always a challenge: You don't want to repel viewers, but you also must be honest about two million wild kangaroos systematically shot each year in Australia, in part, so Nike and Adidas can sell soccer shoes all over the world.
"It's why the McIntyre's have joined the US-based campaign to get Nike to stop making soccer shoes out of kangaroo skin. After all, the shoe industry led by Nike is the largest single driver of this grotesque shooting of so many wild kangaroos."
"People in America who are buying soccer cleats don't know that wild kangaroos are being shot for their soccer cleats. That's the key," declares Mick.
And yet the film also shows the beauty and majesty of kangaroos in a way no other film has. They used drones and a very long lens to capture astonishing poignant moments of the notoriously shy animals.
"I'm a proud Australian," Mick says, "but I'm really ashamed how we are treating this animal. It's just a shameful, shameful thing."
The McIntryes' film is sweeping film festivals with honors and will be released for worldwide streaming on May 27, 2020. They expect the size of the audience to explode. It's already created a searing debate — especially in Australia where the McIntyres say there is a surprising lack of awareness that millions of the iconic Australian marsupial are being slaughtered for their skin and meat that's used mainly for pet food, and in lesser amounts, human consumption.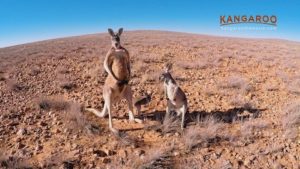 The film seeks to debunk the notion that kangaroos are pests that interfere with ranchers and farmers who, ironically, have taken over the land where kangaroos traditionally roam.
Australian authorities allow farmers and ranchers to kill kangaroos indiscriminately.
The film has drawn incendiary criticism from the kangaroo industry and from the Australian government that permits the slaughter and is subsidizing the industry hoping to create markets around the world for people to eat kangaroo meat.
The Australian Minister of Culture even called the McIntryres "treasonous," the couple said with a nervous laugh.
And, not uncommon in today's social media, there have been "numerous death threats," the McIntyres report. "It's disturbing." But Kate and Mick say they remain undaunted.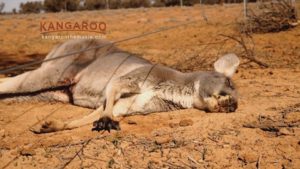 Indeed, the McIntyres have created their own non profit to continue raising awareness of the kangaroo slaughter and a GoFundMe page to support those caring for injured kangaroos.
So passionate are the McIntyres that they acknowledge the $1.3 million film budget has left them in debt. "But we're so proud of what the film has done," Kate commented. "We're very proud of the action that's going on in Europe and the action that's going on in the US," said Mick.
They are seeing a national — and soon to be global — conversation about the commercial slaughter of millions of wild kangaroos.
"We really feel like the film has ignited that," said Kate. Adds Mick, "Time to shine a light on the Kangaroo issue."
Nike is the key funder of a gruesome industry that slaughters two million wild kangaroo every year. It's the largest commercial wildlife slaughter in the world – ten times larger than Canada's notorious seal pup hunt.
Shooters go out in the outback at night in trucks using spotlights. Hundreds of thousands of joeys, often still in the mother's pouch, also die horrific deaths as collateral damage when their mothers are killed. 
California has a ban on kangaroo leather. But Nike is knowingly violating this ban through its website and in its retail stores. Nike was alerted but declined to stop.
The Center's website is now live: www.kangaroosarenotshoes.org
This article was kindly provided for publication by The Center for a Humane Economy, a new NGO campaigning against Nike aimed at getting them to stop using kangaroo skin in soccer shoes.
---
What you can do
Support 'Fighting for Wildlife' by donating as little as $1 – It only takes a minute. Thank you.
Fighting for Wildlife supports approved wildlife conservation organizations, which spend at least 80 percent of the money they raise on actual fieldwork, rather than administration and fundraising. When making a donation you can designate for which type of initiative it should be used – wildlife, oceans, forests or climate.