Wildlife charities have resumed vaccinating badgers against bovine TB after a global shortage of the vaccine caused it to be suspended last year.
But more badgers than ever before are set to be culled this summer as Wales follows England in introducing a targeted cull in a bid to reduce bovine TB.
While the Department for Environment, Food and Rural Affairs is not recommencing its badger vaccination programme until 2018, Derbyshire Wildlife Trust successfully obtained its own vaccine supplies after obtaining permission to import the InterVax TB vaccine from Canada.
Their success has helped other vaccination projects, including those of Chester Zoo, Nottinghamshire Wildlife Trust and Berkshire, Buckinghamshire & Oxfordshire Wildlife Trust (BBOWT), acquire the vaccine. The Somerset Badger Group is also poised to resume vaccinating badgers in Somerset, Dorset, Wiltshire and Gloucestershire this summer.
Badgers have been trapped, injected with a vaccine and released by a growing number of wildlife groups as an alternative to England's badger cull, which began in 2013 and has seen almost 15,000 badgers killed. The cull's aim is to reduce bovine TB in cattle but in the 12 months to April this year, 30,079 cows were slaughtered because of the disease in England, up 4% on the previous year. Some scientists believe culling causes "perturbation", where badgers roam more widely, potentially spreading more bovine TB across the countryside.
Derbyshire Wildlife Trust aim to vaccinate more than 100 badgers this year after so far vaccinating 30 badgers, including 12 cubs. They restarted their programme after the Derbyshire Wildlife Trust chair and veterinary surgeon, Dr Sue Mayer, secured the vaccine from a Canadian company.
"Unicef now say all country needs for human TB vaccine can be met so we wanted to start vaccinating badgers as soon as we could," said Dr Mayer. "Vaccination is a better solution than culling which research indicates can spread the disease further. It's also cheaper and avoids the indiscriminate killing of healthy animals."
Tim Birch, who is leading Derbyshire Wildlife Trust's vaccination effort, said the Trust was getting "more and more landowners and farmers" seeking to join their vaccination effort, rather than support badger culling.
"Once farmers see we are reasonable people, they can work with us," said Birch. "We're very resourceful and we've built up a real expertise and, through word of mouth, people genuinely respect what we do. We've been getting a lot of interest from farmers saying, 'We don't like the idea of culling, we'd like you to come on to our land and vaccinate badgers.'"
Derbyshire's vaccination programme is currently working with farmers and landowners and groups including the National Trust, the National Farmers Union and the Country Land and Business Association (CLA). Other vaccinators are also working alongside small but growing numbers of farmers: the Somerset Badger Group is vaccinating badgers on 10 commercial farms.
An oral vaccine for badgers is still being developed by scientists and critics argue that trapping and injecting badgers is labour-intensive and expensive. But the Wildlife Trusts, which opposes the badger cull, believes it is cheaper than culling and highly effective. In 2014, 11 Wildlife Trusts delivered 317 doses of vaccine across 31.4km/sq of countryside at a cost of £293 per dose.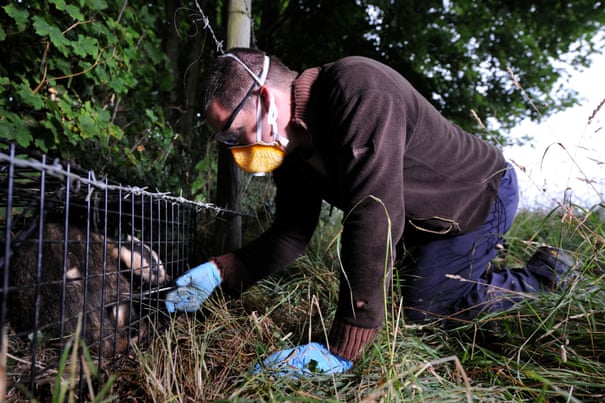 Volunteers receive government training to become qualified vaccinators, and 80 members of the public are assisting the Derbyshire programme. "We're showing we can use a large number of enthusiastic volunteers and train them up and it's way, way cheaper than shooting badgers," said Birch. "The number of enthusiastic volunteers who will do anything to join the programme is really inspiring. If there were more resources available we could do a hell of a lot of vaccination over a much wider area."
During the first two years of the badger cull, it cost £6,775 to cull each badger, including police costs, although this expense is understood to have fallen with the expansion of the cull to 10 areas in Devon, Somerset, Dorset, Gloucestershire and Herefordshire in 2016.
Unlike England, Wales has successfully reduced bovine TB in cattle without culling badgers. New herd incidents – a key measure of the disease's spread – have fallen by 40% in Wales since 2009. The Welsh government's success has been attributed to tighter movement controls, improved bio security, and better TB testing. But Wales is this year introducing a very targeted badger cull on 60 farms with a chronic TB problem. Badgers will be tested for the disease and culled if they are found to carry it.
This article was first published by The Guardian on 06 Jul 2017.
---
We invite you to share your opinion whether bovine TB should be controlled by culling or vaccinating badgers? Please vote and leave your comments at the bottom of this page.
Loading ...
Thank you for voting.
---
Editorial Comment: The purpose of this poll is to highlight important wildlife conservation issues and to encourage discussion on ways to stop wildlife crime. By leaving a comment and sharing this post you can help to raise awareness. Thank you for your support.