The call came from a wildlife trapper working in the wetlands of central California. "I think I caught a nutria," the man said. Greg Gerstenberg, a state biologist, was thrown."I was like, 'a what?'"
A year and a half later, Gerstenberg strode up to his waist into the sludgey wetlands, pulling a kayak through mats of green slime and the methane stink of decomposing plant matter. He checked dozens of traps piled with tempting watermelon slices and sweet potatoes. His .22 rifle was on his truck, ready.
The name "nutria" evokes something you'd find in a health food store, but in fact they are dog-sized invasive rodents with curved orange incisors that have decimated marshes and swamps worldwide and have, worryingly and mysteriously, appeared in California, perhaps 500 miles from the nearest known population in Oregon. Gerstenberg's goal: total extermination.
Although nutria are native to South America, since the 19th and early-20th centuries they have been raised in North America, Europe and Asia by those who wanted to create a market for their glossy brown fur.
"It's just like a mink coat – gorgeous," the nutria expert Gary Witmer, a biologist at the National Wildlife Research Center, said.
But fur is out of fashion, and escaped or released nutria have proven voracious. A nutria can consume a quarter of its body weight in plant material per day, chowing through the vegetation that holds wetlands together and burrowing through levees meant to prevent flooding.
In Louisiana, it has been reported that nutria have converted more than 40 square miles of marshland to open water since 2000. To make matters worse, they are prodigiously fertile. Females can have litters three times a year, producing five or six pups each time.
Gerstenberg said it was hard to fathom why anyone would purposely introduce them to California. Some have hypothesized that a landowner wanted them to keep water hyacinth down, or that they were unwanted pets. "They're kinda cute when they're small," he said. "But they don't stay small."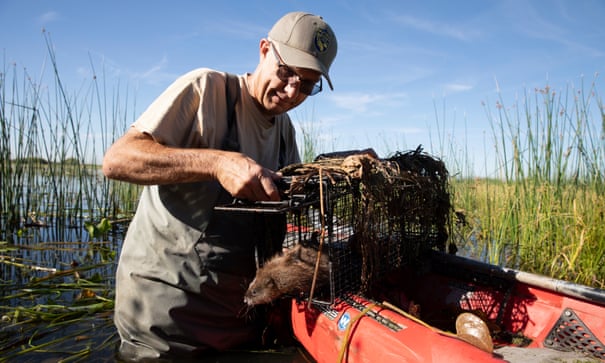 Less than 5% of California's wetlands remain, and they are managed at great cost, providing one of America's most important stop-offs for migrating birds. "We've spent millions rehabbing these wetlands in California," said Gerstenberg. "If it gets to where there's 50 nutria per acre, there won't be anything green here."
When the carcass of the first nutria was delivered to Gerstenberg, he found that it was a pregnant female, indicating it was not alone. Six weeks later, wildlife cameras provided proof of this. Gerstenberg was one of those put in charge of heading the response, though he says he is critically underfunded and can only rely on a team of six loaned staffers in the field.
Driving to a pond near the town of Los Banos, 120 miles south-east of San Francisco, he saw distant smoke billowing from the Ferguson fire, near Yosemite national park, on the horizon, and noted that it was being tackled by 3,000 firefighters. "When you compare it, that's gonna be out in a couple weeks, it'll be nothing. This is something – if we don't deal with it now, it's gonna keep growing."
Paddling across the unruffled water in a kayak, he checked his traps. He had caught three mallards, a muskrat and a bullfrog, but no nutria. This does not mean his job in the pond was complete – it is a credo in the animal-extermination world that "a 99% successful eradication is a 100% failure", because the escape of just one pregnant female can nullify the enormous expense and effort of mobilizing to kill them in the first place.
So far, more than 200 have been eliminated. Gerstenberg anticipates bringing in sniffer dogs to hunt the animals. And he wants to deploy "Judas nutria" – sterilized nutria fitted with radio collars that researchers hope will lead them to unlucky stragglers they might have missed.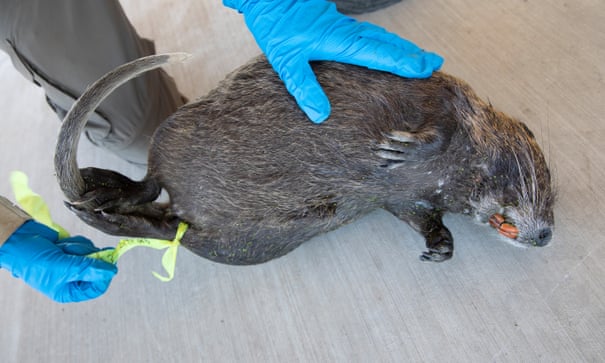 Successful eradications have been notched in England, where their population was around 200,000 in the 1960s, and in Maryland's Chesapeake Bay, where they were removed from over a quarter-million acres. The specter that looms in the background is Louisiana. "I hope we don't get there," Gerstenberg said.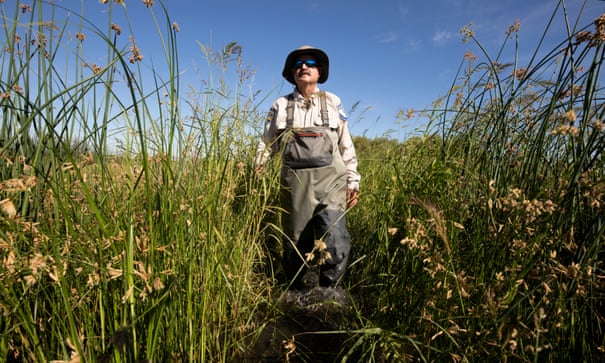 An astonishing 1.8 million nutria pelts were produced in the state in 1976. But their wholesale destruction of wetlands has prompted the state to offer private hunters a bounty, currently $5 for at least 7 in of severed tail. In the 2016-17 season, they killed 216,000 of them. The state has also tried other methods of stemming their numbers, for instance by promoting them as a culinary delicacy.
"I think they were calling them 'swamp rabbits' because they didn't wanna call them rodents," said Witmer, the nutria expert. "It just didn't go over with people and died down pretty quickly."
(Witmer had some nutria meat in his own freezer for a few years. "Maybe I was afraid to eat it or maybe I overlooked it, who knows," he said. "They say it tastes like chicken, because that's what people say about anything.")
Arthuer Matherne, an airboat tour operator in the south- eastern Louisiana town of Des Allemands, has a message for California: a nutria problem can rapidly spiral.
When he started hunting them for the bounty, 15 years ago, he bagged 6,800 in just 15 days. "Just riding around with a .22 and shooting 'em," he said. "An easy buck, and fun doing it." He used to sell the fur to clothing companies and the meat to alligator farms, though now their numbers have fallen in his area.
"Everybody been after them and they knocked the population off pretty good," Matherne said. "But it won't take long for them to come back."
This article was first published by The Guardian on 15 Aug 2018.
---
We invite you to share your opinion whether California should be allowed to exterminate the nutria? Please vote and leave your comments at the bottom of this page.
Loading ...
Thank you for voting.
---
Editorial Comment: The purpose of this poll is to highlight important wildlife conservation issues and to encourage discussion on ways to stop wildlife crime. By leaving a comment and sharing this post you can help to raise awareness. Thank you for your support.