Conservation and animal advocacy organizations are taking legal action to protect grizzly bears in Wyoming from a newly passed law in the state that opens the door to hunting them for the first time in decades.
There was once estimated to be 50,000 grizzly bears in the U.S., but by 1975, there were only 136 left in the Greater Yellowstone Ecosystem (GYE), which includes parts of northwestern Wyoming, southwestern Montana and eastern Idaho.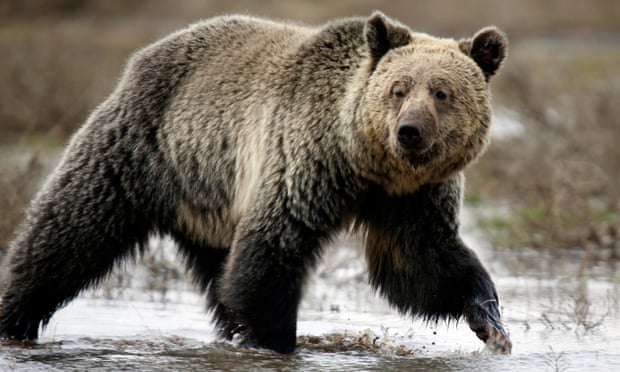 Protection under the Endangered Species Act (ESA) has helped them slowly start to recover, and their presence draws millions of people every year who want to see them in one of the few places they still exist in the wild in the lower 48.
Unfortunately, despite the threats they continue to face, not everyone wants to see them stay protected. Even following a population decline, in 2017, the U.S. Fish and Wildlife Service announced they were recovered and would be stripped of protection.
The move sparked widespread outrage, but states almost immediately began working to open the door to allow trophy hunting for the first time in decades, which would further threaten their chances of survival.
Wildlife officials in Wyoming released a draft regulation that would have allowed the killing of up to 24 grizzly bears, including 10 males and two females in the GYE, in addition to another 12 of either sex outside the monitoring area.
Fortunately, a federal court shut it down by ruling to uphold their protection last year – yet they're still in the cross hairs.
Last week, lawmakers in Wyoming passed legislation, which was signed by Governor Mark Gordon, that gives the state's Game and Fish Commission the authority to manage grizzlies, and give it the ability plan future grizzly bear hunts, in addition to allowing the agency to ship "nuisance" bears out of state.
"The state of Wyoming has continually made it clear that they want to offer sport hunting of grizzlies for "recreational opportunity." Going so far as to defy federal law to cater to the bloodlust of trophy hunters is incomprehensible," said Kristin Combs, program director at Wyoming Wildlife Advocates.
In response, conservation and animal advocacy organizations including the Sierra Club, Center for Biological Diversity, Humane Society of the United States, Western Watersheds Project, and Wyoming Wildlife Advocates, have filed a notice of their intent to sue over this new law.
They're arguing that state is violating the ESA and the Supremacy Clause of the U.S. Constitution, which takes precedence over state laws.
"This is an egregious attempt to ignore federal law protecting Yellowstone's iconic grizzly bears," said Bonnie Rice, Senior Representative with Sierra Club's Our Wild America campaign. "We will not idly stand by while Wyoming moves to illegally take authority for managing grizzly bears and subject them to trophy hunts."
Hopefully it won't take a lawsuit to stop Wyoming from opening the door to trophy hunters who want to kill these iconic grizzlies for nothing more than their own amusement, and officials will instead work to promote coexistence with a species who is clearly worth more alive than dead.
This article was first published by Care2.com on 21 Feb 2019.
---
We invite you to share your opinion whether legal action should be taken to protect grizzlies from trophy hunters? Please vote and leave your comments at the bottom of this page.
Loading ...
Thank you for voting.
---
Editorial Comment: The purpose of this poll is to highlight important wildlife conservation issues and to encourage discussion on ways to stop wildlife crime. By leaving a comment and sharing this post you can help to raise awareness. Thank you for your support.