Two decades after he first aimed his rifle at one of the world's rarest mammals, Karmal was again on the hunt for the elusive snow leopard. Stalking through the mountains of north-eastern Afghanistan, he was getting closer. There were paw prints in the sand and scratch marks on the limestone boulders, signs that the leopard was marking its territory. Karmal knew it could be anywhere, peering down at him from an unseen bluff. He moved quietly.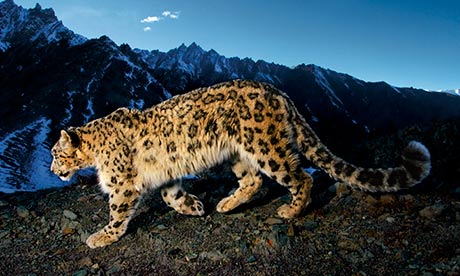 But this time, Karmal wasn't carrying a gun. He held a metal snare that he would use to trap the animal. He was working for an environmental conservation organisation attempting to better understand one of the most vulnerable species in the world. After Karmal caught the animal, it would be tagged with a GPS collar and tracked as it traversed Afghanistan's hinterlands.
When the Taliban was toppled nearly 12 years ago and US forces surged into Afghanistan, a small number of biologists saw an opportunity on the margins of the war effort. The country's far reaches had barely been examined and were thought to contain some of the world's least understood species. But studying them would require complex, and sometimes tense, negotiations with some of the world's most isolated people. "It was like a black box," says biologist Christopher Shank, who worked in Afghanistan in the 1970s and returned after the fall of the Taliban.
When they arrived in the Wakhan corridor, scientists learned that local hunters had targeted snow leopard, ibex and Marco Polo sheep populations. The foreign experts met men like Karmal, who killed the animals for their pelts, for food or simply for sport.
But when the scientists set up motion-sensor cameras to gauge what kinds of animals remained, they were shocked. Persian leopards still lurked in the mountains of central Afghanistan, a fact no biologist had surmised. Snow leopards had endured in the Wakhan, possibly becoming one of the world's most vital populations of the species.
The biologists received funding from the US government to set up small camps in the remote corridor and to hire wildlife rangers who would helpmonitor and protect the species of the Wakhan.That's how Karmal ended up hunting snowleopards with a GPS collar instead of a gun.
"It still feels strange sometimes," he says. "But it's my job, and I like it."
With fighting still heated a year before US forces are due to withdraw from Afghanistan, wildlife conservation is no doubt a peripheral concern to most American and Afghan officials. But in addition to its scientific importance, the effort is at the forefront of concerns in the Wakhan, where the Taliban are nonexistent. The preservation campaign is a source of jobs, pride and, occasionally, conflict.
If the Wildlife Conservation Society (WCS), the only source of western funds in much of the Wakhan, loses financial support as the war winds down, dozens of wildlife rangers will lose their jobs. If hunters again prevail over conservationists, the trickle of foreign tourists could abruptly dry up.
With Congress due to determine its financial pledge to Afghanistan this autumn, the future of the wildlife effort remains uncertain. Karmal knows that this summer could be his last time hunting snow leopards without a gun. He says he won't return to shooting the animals, but other residents of the Wakhan don't share his commitment. Environmental protection, they say, often feels like an imposition on a traditional way of life.
Last year, a snow leopard leapt into Hassan Beg's corral and slaughtered 12 of his sheep – a massive blow to his family's livelihood in a place that measures wealth in livestock. He wanted to shoot the animal. Fifteen years ago, that's what he would have done. "But now, I knew I'd be arrested. I knew the conservation people wouldn't allow it," Beg says.
He isn't the only one conflicted about the rare animals. In the village of Qal-a-Panja, many residents complain about snow leopard attacks. Jama Gul lost six sheep and four goats. Faizal lost three sheep and a goat.
The men say they value the snow leopards, but in a place where survival can be difficult, they're entitled to do what's necessary to keep their animals alive. Residents sometimes clash with the Afghan conservationists, as they did in a recent meeting.
"Wildlife Conservation Society is helping the snow leopards survive, but they're very dangerous. They're killing our animals," says Faizal.
"They are killing your animals because for decades you hunted all of their prey. They have nothing else to eat," responds Hafizullah Noori, a research assistant with the conservation society.
The split between the two groups exists in some form wherever the WCS has worked in Afghanistan. But the biologists say it's not a big problem. "We see a bit of this, but really, looking across the six years I've been in Wakhan, it's insignificant and on the whole there's good support for conservation," says Anthony Simms, a technical adviser for the conservation society. "This can be demonstrated by the fact that there's virtually no hunting these days."
WCS has done research showing that snow leopard attacks account for less than 0.1% of yearly livestock losses in Wakhan.
The organisation has helped create some of Afghanistan's first "protected areas" – places of particular biological importance, where the environment remains pristine. In Bamyan province, one of them now draws thousands of domestic tourists every year. In the Wakhan, biologists say, hundreds of square kilometres of nearly unpopulated grassland present another opportunity to preserve something unique in Afghanistan. Already, one protected area there has been formalised.
The last time conservation was discussed in the Wakhan was in the 1970s, when King Zahir Shah opened a luxury hunting lodge for western visitors. Now, posters of Afghanistan plastered in embassies abroad bear the photos of the new parks that the country is eager to promote.
Zahir Shah's grandson, Mustafa Zahir, is the head of the country's nascent national environmental protection agency, overseeing conservation efforts. "There's no place in the world like this," he said on a recent visit to the Wakhan.
But the future of Afghanistan's protected areas is as uncertain as the country's fragile political situation, and the work of conservationists is still incomplete. Snow leopard pelts can still be purchased in downtown Kabul. Last year, a border police commander stole a wild Marco Polo sheep from the Wakhan and tied him to a tree in his front yard.
Karmal knows all about the challenges facing his own job and the causee's come to champion. But he's still proud ofwhat he's done, tracing thefootsteps ofthe pecies he knows well.
"It'simportant work," he says. "This is a population that matters to us and toeveryone."
This article appeared in Guardian Weekly, which contains material from the Washington Post