The controversial badger cull in England has failed to kill even half the minimum number of animals needed to ensure tuberculosis in cattle is curbed, sources have told the Guardian. Scientists say the failure may well result in more rather than fewer bovine TB infections, while cull opponents are calling for an immediate end to the "botched" policy.
The first six-week cull began in Somerset on 26 August and is due to end on Tuesday. But Paul Caruana, field manager for the government's decade-long culling trial that ended in 2006, said it had failed to reach the target of 2,100. "They have killed 750-800 badgers [in Somerset] as of Friday evening, and things were slowing down," he told the Guardian. Caruana no longer works for the Department for Environment, Food and Rural Affairs (Defra) but helped the National Farmers Union find workers for the latter stages of the Somerset cull.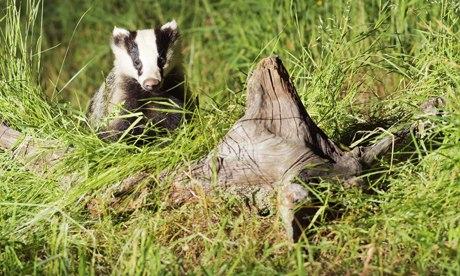 "Three weeks ago they hit the panic button and contacted people to try to get the show back on the road," said Caruana, who supports targeted culling. After being contacted, he helped the NFU find staff to deploy cages in Somerset to trap badgers and therefore make them easier to shoot. He said cage-trapping had a "big impact" on the numbers killed and the total would have been even lower without it: "It would have been a total disaster."
An unofficial source within Defra close to the cull confirmed that the night-time shoots have killed fewer than half the target of 2,100 badgers. The official report on the outcome of the culls, which will be scrutinised by an independent panel, is not expected for many weeks.
The culls in Somerset and Gloucestershire (the latter ends next week) were intended to demonstrate that shooting free-running badgers at night could kill sufficient numbers and do so humanely. The previous decade-long randomised badger culling trial (RBCT) used only cage-trapping and shooting, but this is a far more labour-intensive and expensive technique and was rejected as the sole method by ministers in the new culls.
Killing a high number of badgers – over 70% – is crucial because the RBCT showed that low kill rates can drive up TB infections in cattle as fleeing badgers spread the disease more widely, a phenomenon called perturbation.
Professor Rosie Woodroffe, a badger expert at the Zoological Society of London and a key member of the RBCT team, told the Guardian: "If the [Somerset] badger population estimates are correct, then culling 800 badgers would be in the region where I would expect cattle TB incidence to be elevated rather than reduced by culling." Earlier work by Woodroffe showed large uncertainties in the estimates of the initial badger populations, on which the minimum cull target was based.
Wildlife disease expert Chris Cheeseman, also a member of the RBCT, said: "If the 750-800 numbers are correct, then I would expect the perturbation effect to be marked. It would be utterly stupid to roll this cull out as a policy. I would expect environment secretary Owen Paterson to try some other means of culling, but that will take time to develop. What a farce." An unofficial Defra source said Paterson had been repeatedly warned of the risk of failure by officials: "It is hard to feel sorry for him, as this is a spectacular own goal."
A spokesman for Defra said the department would not comment on operational matters related to the cull. "All information will be made public after the end of the pilot badger culls," he said. The National Farmers Union, which represents those conducting the cull, declined to comment.
Farming minister David Heath was sacked in Monday's reshuffle.
The outgoing shadow environment secretary, Mary Creagh, said: "Scientists have warned that a botched cull is worse than no cull at all. We are now facing the worst case scenario: badgers have been killed, TB in cattle may well get worse and we are no closer to tackling this terrible disease. Ministers have to lift the veil of secrecy and come clean on what is actually happening."
Dozens of scientific experts warned in 2012 that the badger culls are a "costly distraction", and cull opponents argue that vaccination of cattle and badgers along with stricter controls on cattle movements are a better strategy for controlling bovine TB. The disease, which is on the rise, led to 28,000 cattle being slaughtered in 2012 at a cost of £100m to taxpayers. Ministers argue a cull is a necessary part of an eradication strategy that encompasses all approaches.
The badger culls have prompted the biggest animal rights campaign since the ban on fox hunting with dogs. "This news confirms that free shooting of badgers simply cannot be used as a method of controlling bovine TB," said David Bowles, the RSPCA's head of external affairs. "However, the government should ensure that they don't use this as an excuse to employ other inhumane methods such as gassing."
Jeff Hayden, of the Badger Trust, said: "Apart from the financial cost, it has also divided communities, and in some cases, families. Almost certainly there will be perturbation and some farmers, who otherwise would have been safe, will be suffering herd breakdowns."
Wendy Higgins, at the Humane Society, said: "It's clear now that every aspect of this badger cull catastrophe has unravelled. As the guns fall silent in Somerset we urge Defra to call off the cull."
• Note: The original version of this article could have been construed as suggesting Paul Caruana was directly involved in the Somerset cull. He was not and this has been clarified above.
This article was written by Damian Carrington for the Guardian.