Sixty species new to science, including a chocolate-coloured frog and a tiny dung beetle less than 3mm long, have been discovered by scientists in Suriname. An expedition of scientists spent three weeks in 2012 exploring an area of rivers, mountains and rainforest in the south-eastern region of Suriname that has "virtually no human influence". The Conservation International team found 11 new species of fish, one new snake, six new frogs and a host of new insects in the South American country.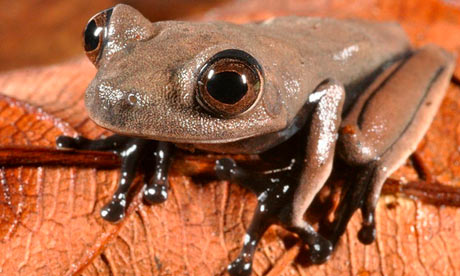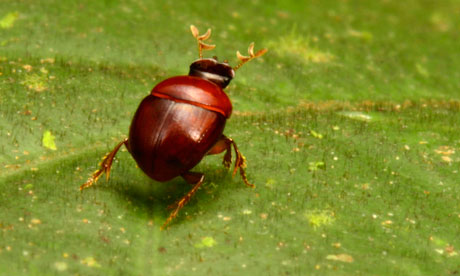 Conservation International scientists exploring a flooded forest in Suriname
Dr Trond Larsen, one of the field biologists, said they were particularly surprised by the number of frogs. "With many frog species rapidly disappearing around the globe, we were surprised and uplifted to discover so many frogs potentially new to science, including a stunningly sleek 'cocoa' tree frog," he said.
The cocoa frog (Hypsiboas sp) was named after its chocolate colouring, and described as an "especially heartening" find by Larsen. It lives on trees, using the round discs on its fingers and toes to climb.
Among the other new finds were a ruby-coloured lilliputian beetle (Canthidium cf minimum), named after its tiny dimensions that make it possibly the second smallest dung beetle known in south American.
The remote nature of the area saw the team travel first by plane, then helicopter and then by boat and on foot, with help from 30 men from indigenous communities. At one point "relentless" rain saw the team forced to move after their campsite was flooded.
In total, they found 1,378 different species, and their report concluded "there are very few places left on Earth that are as pristine and untouched as this region."
But despite the relatively pristine environment, it was not entirely free of human fingerprints – water samples showed mercury above levels safe for human consumption even though there is no upstream mining. The scientists concluded that the mercury was blown in on the wind.
"This demonstrates that even the most isolated and pristine parts of the world are not entirely sheltered from human impacts — all systems are interconnected," said Larsen.
This article was written by Adam Vaughan for the Guardian.