The number of black snub-nosed monkeys in southwestern China has increased by more than 50 percent since the 1990's due to conservation efforts, reports Chinese state media. A survey launched last month in the high elevation forests of China's Yunnan Province and Tibet Autonomous Region indicates that there are now more than 3,000 monkeys, up from less than 2,000 in the 1990's.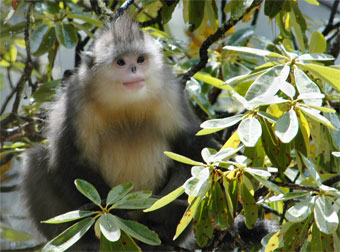 Some 1,800 snub-nosed monkeys live in Yunnan's Baima Snow Mountain Nature Reserve, a nine-fold increase over the population found in the protected area in 1987.
The species was close to extinction in the 1980's due to hunting for food and their pelts. Since then, authorities have established protected areas, enacted a hunting ban, banned logging, and confiscated hunting guns.
The Yunnan golden or black snub-nosed monkey (Rhinopithecus bieti) dwells in the most extreme environment of any monkey: high-altitude evergreen forests at elevations from 3,000 to 4,500 meters (9,800 to 14,800 feet), where temperatures may fall below freezing for several months in a row.
This article was written for Mongabay.com and re-posted on Focusing on Wildlife.