With the number of Sumatran Rhinoceros (Dicerorhinus sumatrensis) now under 200 and declining rapidly, a group of conservationists have organized an emergency summit to discuss courses of action to save the world's smallest remaining rhino from extinction.
The Sumatran Rhino Crisis Summit is being convened by International Union for Conservation of Nature (IUCN) Species Survival Commission from 31 March to 4 April, 2013 in Singapore. The meeting aims to come up with a plan and funds to prevent the rhino's extinction.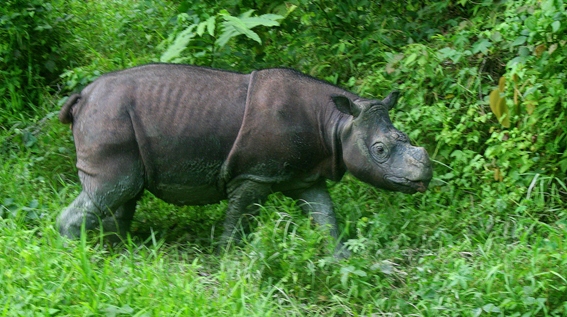 Past efforts to protect the Sumatran Rhinoceros — including a disastrous captive breeding program — largely failed. The species, which clings to life in parts of peninsular Malaysia, Sumatra, and Malaysian Borneo, is most immediately threatened by its low population density in the wild, poaching for their horns, and habitat loss.
Organizers of the event include the Borneo Rhino Alliance (BORA, Malaysia), Land Empowerment Animals People (LEAP, Malaysia), Fauna and Flora International (FFI Indonesia), Rhino Foundation of Indonesia (YABI), Indonesian Zoo and Aquarium Association (PKBSI), International Rhino Foundation (IRF), Leuser International Foundation (LIF, Indonesia), Wildlife Conservation Society (WCS Indonesia), Taman Safari Indonesia (TSI), WWF and SOS Rhino US.
Read more at http://news.mongabay.com/2013/0317-sumatran-rhino-summit.html