A gray wolf killed last year by a Utah hunter was "Echo", a female that had garnered international attention after roaming from Wyoming to become the first of the protected animals seen at the Grand Canyon in Arizona in 70 years, US wildlife managers said on Wednesday.
News that the lone wolf spotted last fall near the north rim of the Grand Canyon was the same animal later killed in Utah by a hunter who said he mistook it for a coyote ignited outrage among wildlife advocates.
"It's tragic that Echo traveled over 500 miles (800km) only to be cut down by an incredibly irresponsible coyote hunter," said Bethany Cotton, wildlife program director for WildEarth Guardians.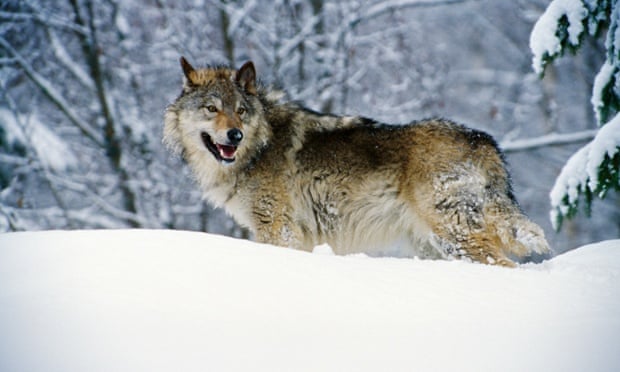 Authorities have not released the name of the coyote hunter, who in December reported to Utah wildlife officers that he had accidentally shot and killed a radio-collared wolf near the border with Arizona.
It is illegal to kill wolves without a special permit in the lower 48 states, where most wolves are protected under the US Endangered Species Act. Wolves in just two states – Idaho and Montana – are not on a federal list of endangered and threatened species and can be legally hunted.
Federal wildlife officials said an investigation into the incident is ongoing. Echo was the first gray wolf to appear in the national park in Arizona since the 1940s, when the last of the creatures there was killed as part of an extensive eradication campaign, the US Fish and Wildlife Service said.
The carcass of the wolf was confiscated by federal authorities, who submitted it to the University of Idaho for genetic testing that confirmed it was the same animal first collared in Wyoming in January 2014 and seen later that year in the Grand Canyon, Fish and Wildlife Service spokesman Steve Segin said.
Gray wolves have been at the center of a bitter debate in western states since several dozen were released in Yellowstone National Park and the central Idaho wilderness in the mid-1990s in a push by US wildlife managers to restore an animal that had been hunted, trapped and poisoned to near extinction in the northern Rockies.
Ranchers and hunters in the region blame wolves for preying on livestock and big-game animals like elk favored by sportsmen. Conservationists argue wolves are restoring public rangelands and mountain forests damaged from overgrazing by deer and elk whose populations swelled in the absence of natural predators.
This article was first published by The Guardian on 11 Feb 2015.