In Indonesia, a moving experience with a bird caused a wildlife poacher to have a change of heart.
Khaedir used to poach endangered hornbills in the Indonesian Leuser rainforest, according to a BBC report.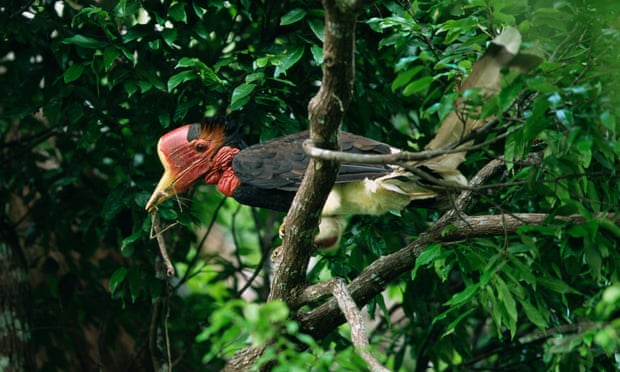 Khaedir turned to poaching as a means of supporting himself financially, feeling he had no better way to earn money.
But a chance encounter with one of the hornbills he was poaching broke his heart — and changed his outlook on poaching entirely.
The hornbill is a bird found in tropical and subtropical regions of Africa and Asia. And its brightly colored bill, often with a solid keratin casque, is a popular target for poachers.
The bills sell at several times the price of elephant ivory, according to The Guardian. The helmeted hornbill's beak is even referred to as "red ivory" and is in high demand on the Chinese black market.
Some hornbills are now listed as critically endangered, thanks to the greed of those consumers creating the need for this black market.
Khaedir was hunting for hornbills to sell on this black market with other poachers when they came across a bird who refused to die. Despite shooting the bird repeatedly, when they got close to the hornbill they saw it was still breathing.
What broke Khaedir's heart was watching the bird cry, he told BBC. The bird's pain and subsequent death taught Khaedir a valuable lesson about the importance of wildlife and how wrong it is to take a life for profit.
So he became a wildlife ranger in the same forest he used to poach from — educating others about the hornbills, as well as destroying illegal traps and catching poachers. Khaedir described his new life's work as "atonement" for all the birds he killed.
And Khaedir isn't the only poacher who had a change of heart.
Kapuna Lepale, a herder from Kenya's Samburu people, used to poach elephants with a bow and arrow, according to the Independent. He lived on the run as he sold tusks through a middleman on the black market, avoiding authorities wanting to imprison and fine him.
But in 2001, Lepale's tribe threatened to curse him if he didn't stop poaching. The elders encouraged him to learn more about elephants and animal behavior to conserve wildlife in the area. And now, Lepale is a community conservation champion for Lewa Wildlife Conservancy.
Similarly, former poachers in the Masjed Mountains in Iran used to target rams, goats and other wildlife to sell on the black market, according to National Geographic.
Masjed forms a natural corridor for migratory species traveling between the Siakooh and Marvast Protected Areas — and thus makes a great area to target for poachers looking to make quick money.
Formerly some of those poachers, several rangers now patrol the 55,000-acre Masjed Protected Area, using their knowledge to prevent further poaching.
The WWF, the International Fund for Animal Welfare and many other organizations are working hard to fight wildlife crime, including illegal trafficking and poaching.
Their work is vital, but Khaedir and other former poachers perhaps stand an even better chance of making a difference.
Their firsthand experience can educate others on why poaching should never happen.
These former poachers are the ones who truly can turn the tide on the poaching climate. We can't wait to hear more stories like Khaedir's!
This article was first published by Care2.com on 8 May 2019.