It was, joked Matthew Oates, a "lunatic fringe" mission. Scouring the hedgerows for the caterpillar of a butterfly that has been extinct for more than half a century might not be most people's idea of fun, but Oates, a National Trust naturalist, has spent 50 summers tracking down the most elusive British butterflies.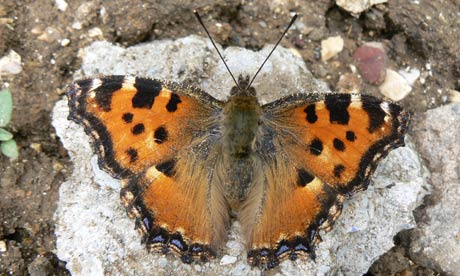 I joined him in the Isle of Wight this week on the trail of the large tortoiseshell, a powerful and mysterious butterfly which vanished from Britain in the 1950s. Ever since, like big cats or Yeti, there have been fleeting sightings of this secretive insect but no-one can be sure if it is really exists, once again, in our countryside.
For all Oates' joking, however, our journey to a fabulous National Trust wood and meadows by the estuary of Newtown, was not a completely crazy leap of faith. Butterflies are unpredictable creatures and something is stirring again on the Isle of Wight. On St George's day this year, butterfly lovers including Oates saw and photographed several large tortoiseshells in the countryside around Newtown.
They were tatty, which suggested they had hibernated on the island. More excitingly, Oates chanced upon two females. If they found the males, these butterflies would breed.
Almost every year over the past decade, one or two large tortoiseshells have been spotted on the Isle of Wight. Some sightings over the years have been captive specimens released by maverick butterfly breeders but others will have been genuine migrants, crossing the Channel from France. There is only one way to prove that this butterfly has returned to breed in Britain, however: find eggs, caterpillars or pupae.
The trouble, as Oates points out, is that our knowledge of this butterfly's lifestyle has been wiped out: the collectors who remember large numbers from the 1940s are long dead. No one knows what the caterpillar prefers to eat in Britain – it can be found on trees including elm, willow, aspen, cherry and fruit trees – and the chrysalis is almost invisible, resembling a dead leaf.
But if anyone in the country can find large tortoiseshell caterpillars, it is Oates. This is his 50th summer of butterflying and he has devoted his life to understanding some of our rarest insects, especially the purple emperor. I've been with him to hunt for their impossibly camouflaged caterpillars in the autumn and he finds them as if by magic.
We eased ourselves into our large tortoiseshell hunt by visiting Compton Bay, where the rare Glanville fritillary flies. We soon found 40 of this graceful creature.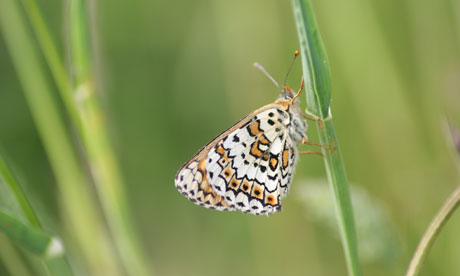 Oates also demonstrated his caterpillar skills, by locating a Glanville caterpillar on its foodplant, ribwort plantain, which thrives on the fast-eroding cliffs of the island.
I'm passionate about butterflies but I just don't have the skills of someone like Oates, the last of a generation who grew up collecting and breeding butterflies as a boy. Like many whose love of nature was fuelled by a childhood roaming the countryside (reconnecting children with nature is a big theme for the National Trust this summer), Oates became a conservationist when he witnessed butterflies' disappearance from our fields and woods with the rise of industrial agriculture and the planting of conifers in the 1960s and 70s. This, and possibly Dutch elm disease, caused the extinction of the large tortoiseshell.
On the Isle of Wight, young elm is thriving in the hedgerows again and we began our hunt on Elm Lane, where Oates spotted a female large tortoiseshell this spring. We were looking for leaf damage caused by hungry caterpillars or, more dramatically, dirty grey "webs" spun by the large tortoiseshell, who live communally in groups of up to 100.
Next stop was Walter's Copse, the wood where the males and one female had been spotted this spring. "He was last seen here beating up a comma butterfly," said Oates. "Look for the silk web, like that spun by a small tortoiseshell or peacock but up there." He pointed his umbrella at the treetops. "We would pick it up instantly but it's just a question of where would they be."
I was not quite so confident – we had to check so many trees: elm, aspen all trembling in the wind, sallow, crab apple and random fruit trees which popped up in this lovely wood.
"Hello precious!" Oates was suddenly alert. There was a gobbet of white on the top of a sallow. Could it be a large tortoiseshell web? "Massive cuckoo spit. Very exciting," he said, without a trace of disappointment in his voice. "Good. That gets my blood up!"
Unfortunately we couldn't find any caterpillars in Walter's Copse. The next day we walked miles along the gorgeous tumbling hedges that line the tiny unspoilt meadows managed by the National Trust around the village of Newtown. Full of orchids, and the first meadow brown of the year, these fields were a remnant of the wildlife-rich countryside we have lost in the last half-century. "This is my childhood. Welcome to it," sighed Oates with delight.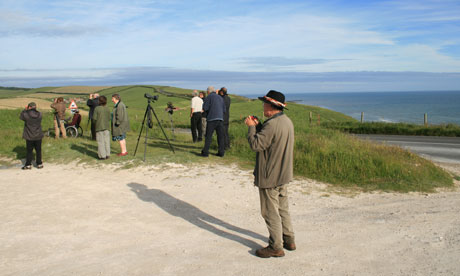 My eyes felt quite strained by now and despite hedges full of elm, we drew a blank. But it didn't feel fruitless because it was such a joy to spend time in unspoilt countryside. And Oates was far from dismayed.
We had seen plenty of suitable habitat on other parts of the island that other butterfly lovers will hopefully search in the future. With more eyes trained on the island – and some decent weather – the large tortoiseshell may yet be conclusively found gracing our countryside once again.
"I'm convinced it's trying to get back," beamed Oates at the end of our search. "It's trying to come home."
This article was written by Patrick Barkham for the Guardian.co.uk