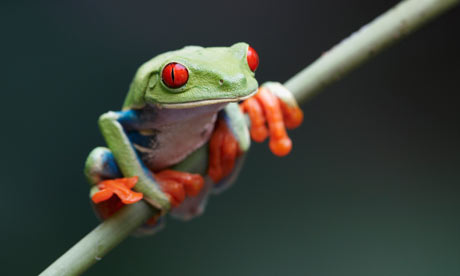 One-third of common land animals could see dramatic losses this century because of climate change, scientists predict. More than half of plants could be hit the same way as habitats become unsuitable for numerous species.
The collapse of ecosystems would have major economic impacts on agriculture, air quality, clean water access, and tourism. Global temperatures are set to rise 4C above preindustrial levels by 2100 if nothing is done to stem greenhouse gas emissions.
This could have a hugely destructive effect on thousands of common as well as rare and endangered species around the world, according to the researchers. An estimated 57% of plants and 34% of animals were likely to lose half or more of their habitat range.
But the damage would be greatly reduced if emissions were scaled down in time, the study shows. Losses are reduced by 60% if global warming is cut to 2% above preindustrial levels, with emissions peaking in 2016 and then being reduced by 5% a year. If emissions peak in 2030, losses are reduced by 40%.
Lead scientist Dr Rachel Warren, from the University of East Anglia's school of environmental science, said: "While there has been much research on the effect of climate change on rare and endangered species, little has been known about how an increase in global temperature will affect more common species.
"This broader issue of potential range loss in widespread species is a serious concern as even small declines in these species can significantly disrupt ecosystems.
"Our research predicts that climate change will greatly reduce the diversity of even very common species found in most parts of the world. This loss of global-scale biodiversity would significantly impoverish the biosphere and the ecosystem services it provides."
The findings, published in the journal Nature Climate Change, are based on information from a biodiversity database listing 48,786 animal and plant species and computer-run climate simulations.
Reptiles and amphibians were especially sensitive to changes in the environments where they lived, the study showed.
The largest numbers of plants and animals were likely to be lost from sub-Saharan Africa, Central America, Amazonia and Australia. Major losses of plant species were also predicted for North Africa, Central Asia and south-eastern Europe.
A small proportion of species – 4% of animals and no plants – were expected to benefit from climate change by increasing their habitat ranges by more than 50%.
Human populations depend on natural ecosystems in a number of ways, explained Warren. For instance, wetland vegetation helped to filter and clean fresh water.
Air quality was also affected by chemicals released and extracted by living systems, while tree and plant cover prevented soil erosion and limited flood damage.
"It's important because the erosion of species richness among widespread and common species means that the functions ecosystems provide for humans across the whole global land surface will be very significantly reduced," said Warren. "These are important services such as air and water purification, soil stabilisation and nutrient recycling that we take for granted."
This article was written and published by the Guardian UK.