Poachers took 15,000 birds every day for two months last autumn on Dhekelia Sovereign Base Area as conservationists warn killing is at unprecedented levels.
Almost a million birds were illegally killed in just two months on a British military base in Cyprus last year, according to the RSPB.
Dr Tim Stowe, the RSPB's international director, called on the Ministry of Defence (MoD) to do more to stop local poachers, who reportedly took 15,000 birds every day during September and October from British Dhekelia Sovereign Base Area (SBA).
"The report highlights the illegal trapping of songbirds on the British military base has escalated and we are urging the Ministry of Defence and the Base Area authorities to resolve it before this autumn's migration," said Stowe.
But the MoD rejected the RSPB's findings and questioned the methodology of the survey.
"We do not accept the report's unverified claims about loss of bird life during this period, which was based upon data collected from a very short period," said an MoD spokeswoman.
"We are committed to tackling poaching which is why we arrested nearly 50 poachers and seized 450 nets and 286 piece of poaching equipment during the last migration period. When we catch poachers we can fine them €17,000 [£12,000], or send them to prison for up to three years. We continue to work with local organisations to discuss how we can work as effectively as possible."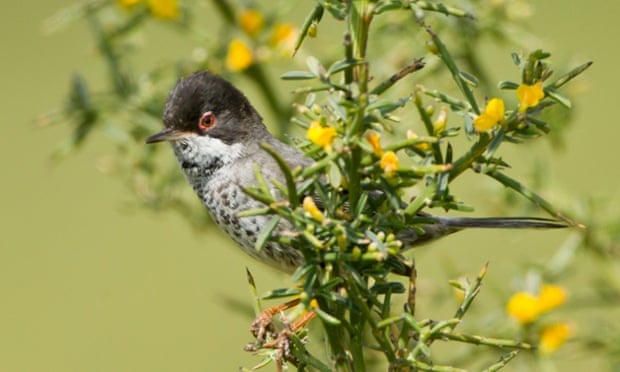 RSPB overseas territories team leader Jonathan Hall said the MoD had signed off on the 12-year-old survey's methodology and that, if anything, the numbers were conservative.
"It is unfortunate to be questioning something which they previously accepted. We are confident that the methodology is as robust as we can make it, does allow valid year on year comparisons, and that our real priority is to direct energy towards solving the problem," he said.
BBC wildlife presenter Chris Packham, who has reported extensively from Cyprus and campaigned against the bird hunt said he believed the numbers, which were gathered in conjuction with Birdlife Cyprus.
"Birdlife and the RSPB are highly credible organizations and could and would not be guilty of exaggeration. So yes, incredible but credible. As for the base, its a disgrace that these figures are so high but perhaps in times of hefty cuts to their resources and significant military duties their focus has been understandably elsewhere.
"I've worked with the bases on Cyprus before, and know of their commitment, so I am again confident that action will be taken now. However, what about what is going on off the bases ? The Cypriot government need to be seriously reprimanded and reminded of their duties to uphold their laws to protect birds, something our government should be lobbying for."
The RSPB believe that organised crime groups are now involved in the sale of the birds' meat as a black market delicacy. Their monitors have noted the large scale planting of acacia scrub that both attracts birds and creates corridors for poachers' nets to hang. Stowe said the military had made good initial steps to remove acacia scrub.
Each autumn, vast numbers of songbirds use Cyprus as a place to rest and feed as they migrate south from Europe to Africa. For centuries Cypriots have hunted the birds each September and October to make a local dish called Ambelopoulia.
Traditionally trapping was done using branches covered in sticky lime that birds would land on and be unable to escape. But the invention of large-scale, indiscriminate netting techniques that capture thousands of birds, including threatened species, lead to the outlawing of both the dish and the hunting in 1974.
Despite the ban, those in the know can still find Ambelopoulia in the local tavernas and illicit demand is driving number of birds killed to unprecedented levels. The RSPB said the amount of birds captured in Dhekelia has tripled since their monitoring started in 2002.
The majority of the birds captured by the poachers are common species such as robin and blackcap and the practice of netting them has a negligible effect on their conservation. The RSPB said the practice is problematic because it also captures rare species including the Cyprus wheatear and Cyprus warbler.
The SBA is home to almost 16,000 people, half of them British military personnel and half Cypriots. The RSPB has suggested the MoD is loth to come down too hard on the poachers because it will antagonise the local community.
Please help to stop the slaughter of migrating songbirds on Cyprus by donating the price of a cup of coffee (in any currency) to BirdLife International Charity Reg. No. 1042125 adding your name and comment.
This article was first published by The Guardian on 09 Mar 2015.