A documentary examining the treatment of killer whales in captivity claims that the giant mammals that have delighted generations of children are being deeply traumatised by their conditions.
The movie, which is called Blackfish and will be released in July in the UK and the United States, focuses on an animal called Tilikum who has been involved in the death of three humans, including the killing of trainer Dawn Brancheau in 2010.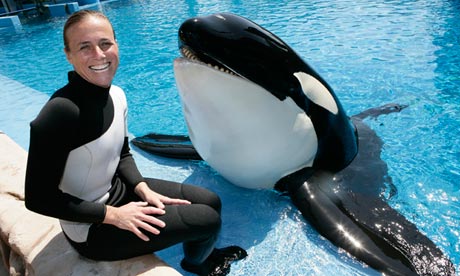 Tilikum, who was born in the wild and caught off Iceland in 1983, is still a main attraction at SeaWorld in Orlando, Florida. He performs regularly in front of crowds, though his direct interaction with trainers is strictly controlled.
The movie argues that Tilikum – whose name means "friend" in the Native American Chinook language – has been mentally scarred by his experience of being captured while young and then subjected to rough training techniques in confined spaces. He was also bullied by other whales that he shared a tank with. The result, Blackfish suggests, is not the frolicking, happy, tame beast that SeaWorld presents to thrill millions of visitors each year, but an aggressive animal who is a danger to his trainers.
The film details the first death – in 1991 of young trainer Keltie Byrne in the now closed Canadian park Sealand of the Pacific – and then a second incident in 1999, in which a man who stayed behind at SeaWorld after it shut ended up dead in Tilikum's tank after apparently sneaking into the water with him.
Finally, it examines Brancheau's death, which played out in front of a crowd, many of whom did not fully understand what was going on as the experienced trainer was dragged under water and flung around the tank. Brancheau had been one of the best-known handlers at SeaWorld and was used in advertising posters for the theme park.
The movie, made by relatively inexperienced film-maker Gabriela Cowperthwaite, has already won rave reviews and prompted a surge of criticism of SeaWorld. "There are probably no words to assuage this damning indictment of the theme park's role in the death of a whale trainer at SeaWorld Orlando, nor to convince anyone of the humaneness of keeping wild animals in captivity for human entertainment," wrote film critic Carrie Seidman in Florida's Sarasota Herald-Tribune.
Justin Chang, a reviewer for the film industry bible, Variety magazine, called the film a "compelling psychological profile" of Tilikum. "The impression the film leaves is of a deep-pocketed institution that, for all its claims of humane and professional treatment, tolerates practices that are fundamentally at odds with the animals' wellbeing and refuses to accept any portion of responsibility," Chang wrote.
Cowperthwaite interviewed former staff members at SeaWorld who expressed concerns and doubts about the concept of keeping the animals in captivity. The movie also uses disturbing footage of other incidents and "near misses" where killer whales have threatened or injured trainers. Many of those clips were filmed as "home videos" by park employees and Cowperthwaite was only able to obtain them because the government sued SeaWorld following Brancheau's death and they became accessible to the public.
The director also worked closely with writer Tim Zimmermann, who in 2010 published an acclaimed article on Tilikum called "The killer in the pool" in Outside, an American lifestyle magazine. Zimmermann also speculated that captivity lay at the heart of why Tilikum ended up a killer. "Tilikum, before 26 years in marine parks . . . once knew what it was like to swim the ocean alongside his mother and family. And perhaps, just perhaps, that also explains why Dawn Brancheau died," he wrote.
No one from SeaWorld responded to a request for comment from the Observer. Nor did the park provide anyone to appear on film in Cowperthwaite's documentary. But SeaWorld has previously denied any examples of wrongdoing. In a statement the firm has said that many of the allegations in the movie are "unfounded". It added: "The film fails to make the most important point about SeaWorld – the company is dedicated in every respect to the safety of our staff and the welfare of our animals."
The film's release comes at a sensitive moment for the theme park operator. SeaWorld is currently planning on floating on the New York Stock Exchange later this year in a move that will value the firm at around $2.5bn.
The giant corporation owns 11 theme parks and earned some $1.4bn in revenue last year from 24 million visitors. With such a major corporate development on the horizon – and with its killer whale attractions being so core to its identity – the company will be keen to avoid any bad publicity.
We invite you to vote FOR or AGAINST the keeping of whales and dolphins in captivity for our entertainment. Please vote and also leave your comments at the bottom of this page.
Loading ...
Now that you've voted, please sign the petition:
Don't delay! Do it today.
The editorial content of this article was written by Paul Harris for the Guardian.