Last year more than 30 young elephants were captured from the wild in Zimbabwe and flown by plane to China. The elephants – some reported to be as young as three – were dispersed to a number of zoos throughout the country, including the Shanghai Wild Animal Park, the Beijing Wildlife Park and the Hangzhou Safari Park, according to conservationists.
But what are their lives like now?
This week, 12 of the calves went on show at the Shanghai park. The Weibo page for the zoo says their average age is four. The photos there were reviewed by Yolanda Pretorius, vice-chair of the Elephant Specialist Advisory Group of South Africa, who commented: "Overall their body condition seems to be slightly below average but it does not look as if they are starving. One of the elephants has temporal gland secretions and I am not sure whether this is a good or bad sign. In the wild, elephants mostly secrete from their temporal glands when they get excited."
Meanwhile, recent photos and video said to show some of the elephants currently in Hangzhou reveal the animals behind bars and walking on concrete floors. The images were obtained by the animal welfare advocate Chunmei Hu, former secretary general of the Chinese Green Development and Endangered Species Fund.
The video has been reviewed by elephant experts, including Joyce Poole, co-founder of the Kenya-based Elephant Voices and renowned specialist on elephant behaviour. "They appear rather listless," she says. "Perhaps waiting for something, but without much attention… Their housing is totally unstimulating. They look like sad, locked-up little kids."
Aside from these snippets of evidence, there is little information on the conditions faced by these once-wild elephants. There is no official figures for how many elephants were sent to each zoo, although conservationists believe 17 of the calves ended up in Shanghai, 15 in Beijing and six in Hangzhou.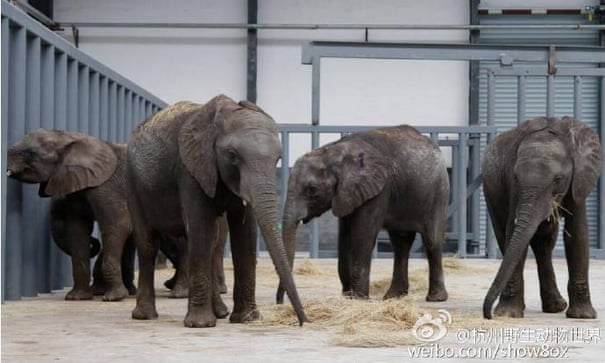 "It is heartwrenching not knowing the current fate of these animals," says Iris Ho, wildlife campaign manager at Humane Society International. "It's like knowing that someone – or children in this case, since they are baby elephants – is in danger or trapped in misery for the rest of their lives but there is nothing you can do about it."
A 2016 report on elephants in Asia said that 47 zoos in China together hold at least 200 captive elephants – but the precise situation is "unclear". Owners are supposed to register births, deaths, trade and movements, but the rule isn't enforced or enforceable: "It appears that registration relies on voluntary compliance unless it becomes necessary in the interest of the owner."
In 2012 a shipment of eight elephants was sent to China from Zimbabwe. Distressing footage was shot of one of those reportedly sent to Taiyuan zoo. In the video, the sickly-appearing calf seems to be trying to smash his way out of his confines. Named Xiaofei, he still lives alone at the Taiyuan zoo, according to Hu.
She believes that the other elephants imported into China that year are dead.
Compared with the trade in ivory, which has led to the slaughter of tens of thousands of elephants in Africa, the live trade in elephants receives far less attention. This is probably because it is legal, sanctioned by Cites, the Convention on the International Trade in Endangered Species.
A video of Xiaofei, shipped from Zimbabwe to China in 2012. Xiaofei lives alone at the Taiyuan zoo in China, according to animal welfare advocate Chunmei Hu.
A review of the Cites database shows many other wild elephant exports that took place over the last few years. Seven elephants were shipped from Tanzania to China in 2011, and two from Tanzania to South Korea. In 2011 and 2012 Monaco sold a total of 12 elephants, originally from Zimbabwe, to Denmark and the Czech Republic. They were probably performing animals. African elephants are a regular feature of the Monte Carlo International Circus.
In 2012, Namibia reported exporting 18 elephants to Mexico (Mexico says that only nine arrived), while in 2013 Namibia sent six to Cuba.
In July 2015, 27 wild elephants were shipped to Chinese zoos from Zimbabwe. Hu believes that one of those elephants is dead and that the others aren't on public display. In September of the same year, China Central Television reported that 24 of the elephants were at the Changlong Breeding Center of Rare and Endangered Species of Wild Animals and Plants would be used for research.
Last year, 17 elephants were sent from Swaziland to three zoos in the US. Initially, there were to be 18, but one reportedly died before leaving Swaziland.
One of the conservationists' concerns about the live trade is that there isn't an independent body that adequately oversees these animals once they are captured and ultimately exported.
Cites allows live animals to be sent to "appropriate and acceptable destinations". But the decision about what is "appropriate and acceptable" is left to the importing country's scientific authority. It has to be satisfied that the animal is suitably housed and cared for, while the country of export must be satisfied that trade promotes conservation of elephants in the wild.
That's not good enough for Keith Lindsay, a collaborating researcher with the Amboseli Trust for Elephants in Kenya: "There currently is under Cites no independent, objective mechanism of oversight or monitoring of the welfare conditions of elephants (or any animals) when they enter the live export chain."
The minimal welfare standards that do exist are left entirely to the authorities that are already involved in the import and export. "If both countries say they are happy with the welfare aspects of the trade," Lindsay says, "no matter how genuinely inadequate, there is nothing anyone else can say."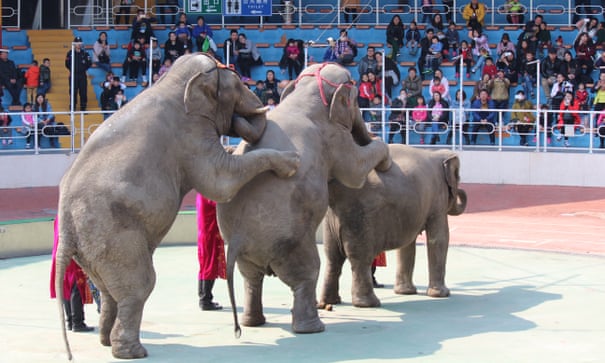 What is needed, Lindsay argues, are Cites resolutions that specify stringent welfare conditions for the entire chain of live trade, including the eventual captivity: "The latter should replicate in every way the conditions of the native ecosystem, and there should be no impacts on the populations from which the animals are taken."
There was an effort at the most recent Cites conference in Johannesburg to stop the live trade in elephants, led by the African Elephant Coalition, a group of 29 African nations. But China, the EU, the US and Zimbabwe did not support the resolution and it failed to gain the necessary two-thirds majority to pass into law.
Meanwhile, rumours continue to circulate that China has a standing order for 100-200 elephant calves from Zimbabwe. And according to Jess Isden of Elephants for Africa, a conservation and research organization based in Botswana, recent captures in Hwange National Park are already damaging elephant behaviour. Large numbers of elephants have begun migrating into Botswana from Hwange, some making it as far as the Botetei river, hundreds of miles from their home range.
"The research is not yet conclusive," she says, "but these animals, mostly young males, could be moving out of Hwange in direct response to the violent captures going on in Hwange."
As for the elephants most recently sent to China from Zimbabwe, it is unclear if they will be forced to perform, but it appears likely in some cases.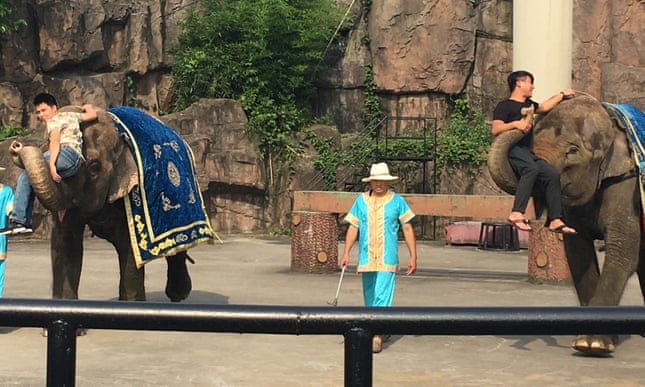 China's State Forestry Administration issued a directive in July 2010 to end acts of cruelty in safari parks, including a ban on animal performances. However, Hu claims, in many cases these rules are being ignored. Just weeks ago, she says she photographed elephants, tigers, macaques and bears being forced to perform tricks at the Shanghai Wild Animal Park.
Photos of elephants said to have been taken at Hangzhou Safari Park in June 2016 also showed elephants performing tricks, including lifting people with their trunks and standing on stools.
For Scott Blais, founder of the Global Sanctuary for Elephants, who has worked with elephants for decades, such "tricks" are often taught by brutal means: "Elephant experts and advocates across the globe oppose the horrific training these elephants will endure. These practices are well known to be detrimental, violent and grossly inhumane, causing immeasurable psychological and emotional trauma."
Efforts to ask Zimbabwean and Chinese Cites authorities about the condition of the elephants recently shipped to China met with no response.
This article was first published by The Guardian on 06 Apr 2017.
---
We invite you to share your opinion whether wild elephants should be sold to Chinese zoos? Please vote and leave your comments at the bottom of this page.
Loading ...
Thank you for voting.
---
Editorial Comment: The purpose of this poll is to highlight important wildlife conservation issues and to encourage discussion on ways to stop wildlife crime. By leaving a comment and sharing this post you can help to raise awareness. Thank you for your support.