Puffin numbers in one of Britain's best-known habitats have risen after the population fell under difficult conditions in previous years. A team of 11 National Trust rangers has carried out a full census of the puffins on the Farne Islands, something that happens only once every five years. There are now just under 40,000 pairs of nesting puffins across the eight islands, an 8% increase from the last census, but well below the 55,000 pairs recorded in 2003.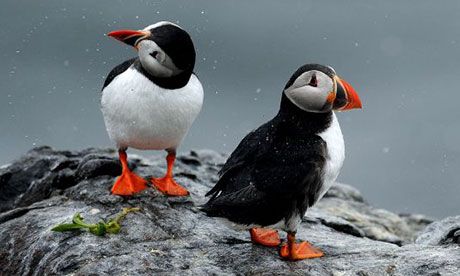 Patrick Barkham heads to the north-east of England to visit the Farne Islands, where the National Trust is embarking on an epic census of the puffin population Link to video: Puffin census examines impact of winter on breeding numbers
David Steel, head ranger on the Farne Islands, said: "It is a positive result and a step forward following worrying declines in recent years.
"It comes as a real relief following some difficult years for them – with the flooding of burrows last year and a very challenging winter.
"We had feared that the numbers of puffins would be down again as has happened on other colonies, including those on the Shetland Islands.
"The bad weather during recent seasons has had some impact on numbers, but with a good nesting habitat secured by us and a plentiful supply of food in the area, numbers have been recovering pretty strongly, which is great news for the puffins and other seabirds."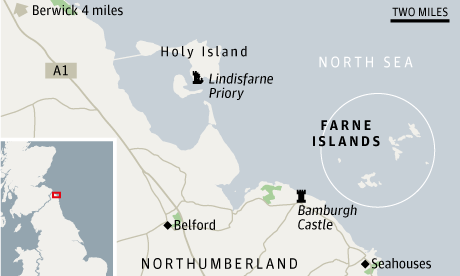 The 2008 survey revealed a drop in numbers by nearly one third and earlier this year storms resulted in the deaths of thousands of seabirds along the coasts of north-east England and Scotland.
But the recovery appears to be under way and the late start to the breeding season could mean visitors get longer than normal to see the birds.
Steel said: "This late start may result in puffins remaining at the colonies until later in the summer than normal, giving people even more opportunity to enjoy watching them."
This article was written and published by the Guardian UK.