Rewards totalling £26,000 have been offered by Scottish bird lovers and landowners for the conviction of the perpetrators of one of the UK's largest mass poisonings of protected birds of prey. The rare alliance between landowners and ornithologists emerged on Wednesday as Police Scotland said the total number of birds killed had increased to 19, including five buzzards and 14 red kites – the largest single killing of the species in modern times.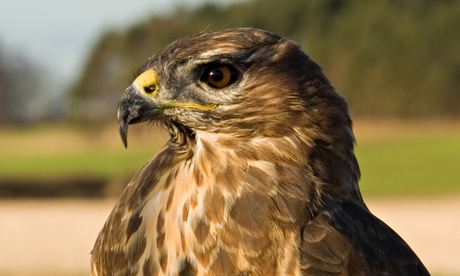 The police confirmed 12 of the birds, all found within a two-mile square area south-east of Conon Bridge, north of Inverness, had been poisoned. Tests on the remaining seven are expected to confirm the same combination of poisons. Investigators are focusing on the baits and site where the attack occurred.
The Royal Society for the Protection of Birds said its reward, which would be paid after a successful conviction, had increased to a record total of £14,000 after a public appeal raised £4,000 and an anonymous donor doubled the charity's initial £5,000 reward to £10,000 last week.
Duncan Orr-Ewing, RSPB Scotland's head of species and land management, said: "The public outrage over the deaths of these birds is clearly reflected in the comments posted by those donating. Many more will share their anger and frustration and back the repeated calls for tough penalties against the perpetrators."
The influential landowners organisation Scottish Land and Estates, which has been in repeated conflict with the RSPB in the past over raptor persecution cases on grouse moors, said their members in Ross-shire had collected £12,000 as their own reward for a conviction.
Alex Matheson, an SLE member who runs the Tollie Red Kites centre on his estate at Brahan near Conon Bridge, said: "We have been appalled by these tragic and senseless bird deaths. By pulling together as a community to do all we can to help we want to send a strong and clear message that any form of wildlife crime is totally unacceptable."
Jim Whiteford, regional chairman for the National Farmers Union Scotland, said: "This is a horrifying and disgusting incident … I hope that those who are responsible are found and prosecuted."
Paul Wheelhouse, Scotland's environment minister, said he had been assured the police were taking the attacks extremely seriously. "Any poisoning of our beautiful birds of prey is a shameless and selfish act, carried out by a persistent minority," he said. "It is horrific that so many birds have been found dead."
The scale of the donations towards new rewards, he added "not only shows the strong attachment that people have for Scotland's wildlife, but also their desire to put an end to these abhorrent acts."
This article was written by Severin Carrell for the Guardian.