The RSPB has admitted killing hundreds of birds on its reserves, prompting an accusation of "extraordinary hypocrisy" from the Countryside Alliance.
The RSPB recently criticised the licenced destruction of buzzard eggs and nests to protect a pheasant shoot and said a cull of lesser black-backed gulls should be halted.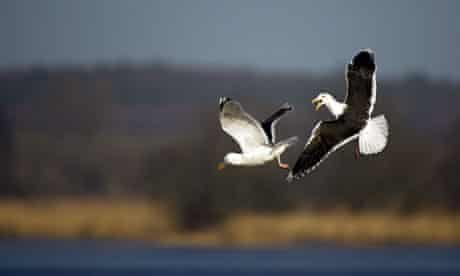 But on Thursday the charity revealed it too had destroyed lesser black backed gulls and other birds that were harming native species.
Tim Bonner, the Countryside Alliance director of campaigns, said: "The RSPB's use of the licence system seems to be perfectly legitimate and justified but looks extraordinarily hypocritical in light of its recent comments about other licence applications. If the licence system is correct when used by the RSPB, then it must also be correct when used by other applicants."
The RSPB said the use of licences to destroy birds to protect struggling native species was different to killing birds to protect game shoots populated by non-native species.
Martin Harper, the RSPB conservation director, said lethal control was a last resort and only used when all other methods had been tried unsuccessfully. "In most cases, this is to recover the numbers of threatened wild birds," he said.
The RSPB said that in 2011-12, it had destroyed 76 large gull nests – mostly of lesser black-backed gulls – and shot three adult lesser black-backed gulls to protect breeding terns from predation. It also prevented 73 greylag goose eggs and 25 Canada goose eggs from hatching – by oiling them – to prevent collisions with aircraft. Almost 200 eggs of barnacle geese were destroyed elsewhere to protect other birds. All the geese were introduced species, Harper said. Almost 300 carrion crows were also killed to protect breeding wading birds, such as black-tailed godwit or lapwing.
Harper said the RSPB was making the information public in the "interests of openness". He said: "We're not obliged to submit records on the number of birds killed, which we think is wrong, but we keep the records anyway."
The Countryside Alliance said the release was in response to freedom of information requests it had made about the licences to Natural England. Bonner said: "They used highly emotive language to decry these activities, but now we find out that they have been carrying out exactly the same sort of actions."
In May, it was revealed that Natural England had licensed the destruction of the eggs and nests of buzzards to protect a pheasant shoot. At the time, Harper said: "Most people would prefer to see buzzards soaring in the sky. They are big, majestic creatures in the wild and we don't have many of them in the UK."
In the same month, the RSPB called for a halt to the killing of tens of thousands of lesser black-backed gulls on one of England's largest shooting estates. It said while the original purpose had been to protect water quality, it now appeared to be being carried out to protect a grouse shoot.
This article was written by Damian Carrington for the Guardian UK.